I love my berries- especially pink and beautiful raspberries. Trust me, nothing gives me more satisfaction than a big bowl of fresh raspberries and I can not stop dreaming about the various different ways I can incorporate it into more desserts! These eggless raspberry lemon cupcakes are another sweet addition the list!
These raspberry lemon cupcakes are easy, effortless, and feel like a breath of cold air on bad summer days. They keep you going and are not at all heavy as we have substituted the eggs with flax seeds. This takes the heaviness away and does not make these sweet little raspberry lemon cupcakes heavy for your stomach!
Ingredients of these eggless raspberry lemon cupcakes
I get asked so often about how do I get fresh fruits, flowers, and other ingredients for my baking. Although I love the INA market, for which I have filmed a haul on my IGTV, I also trust popular grocery chains for catering to my needs of fresh produce. For these eggless raspberry lemon cupcakes, I have got the raspberries from INA and though fresh, pulpy raspberries ensure a better quality of your eggless raspberry lemon cupcakes, you can also use frozen raspberries after thawing them properly. The flax seeds are nowadays easily available. There are also a plethora of online grocery markets delivering all ingredients at your very doorstep!
Why Flax Seeds?
According to my observations, most Vegan bakers use flaxseed as an appropriate substitute for egg. Because of the high fatty acid content, flax seeds are very well capable to not only substitute eggs but also substitute butter and vegetable oil. In this recipe of the eggless lemon cupcakes, I have mixed flax seeds with water to form a slurry resembling the consistency of an egg white. This process of using flaxseeds is highly useful where moistness is a desired quality in the desert. Flax seeds are also very rich in nutrients, contain high-quality protein, lower blood pressure, and help in reducing cancer risk!
Tips to bake these eggless raspberry lemon cupcakes in the microwave
Looking for an eggless raspberry lemon cupcakes recipe in the microwave?  All you have to do while baking these eggless raspberry lemon cupcakes in the convection microwave is to reduce the baking time by 25%. So in the microwave, this will only take about 15 minutes at 180*C. Everything else remains the same.
More cupcake recipes from the blog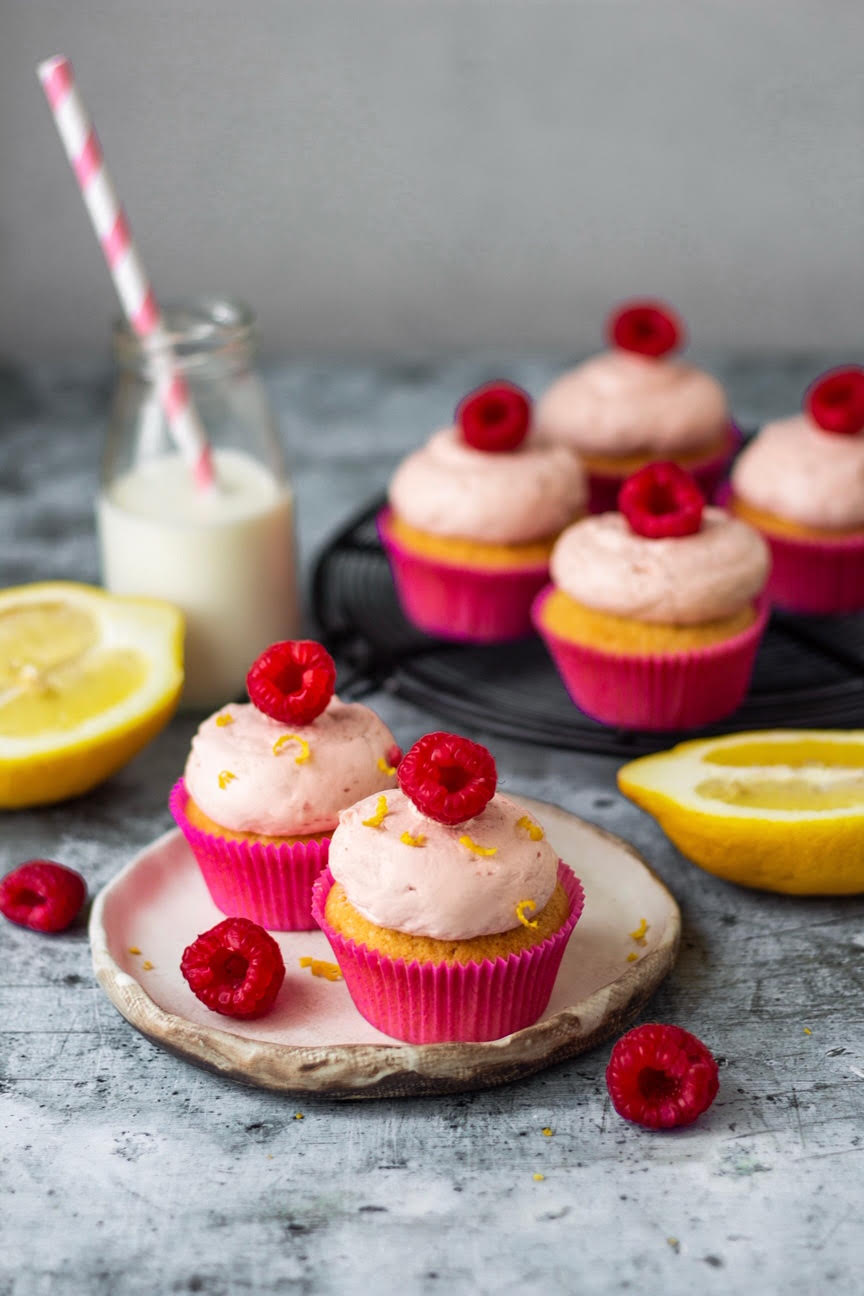 Raspberry Lemon Cupcakes Recipe
Raspberry lemon cupcakes
Ingredients
For the cupcakes
2 tbsp ground flaxseeds
4 tbsp water
½ cup vegetable oil
1 cup castor sugar
1 cup sliced raspberries
4 tbsp fresh lemon juice
1½ cup whole milk
1½ cup all-purpose flour
2 tsp baking powder
1 tbsp lemon zest
½ tsp salt
For raspberry cream cheese frosting
1 package cream cheese, softened
¼ cup butter softened
1 cup confectioners' sugar
¼ cup sliced raspberries
Instructions
Preheat the oven to 180 degrees C. Line a cupcake tray with liners.
In a small bowl, combine flaxseeds and water. Mix well and allow it to rest for 5 minutes.
In a large bowl, beat oil and sugar until the mixture is pale. Beat in the flaxseed mixture and the lemon juice. Whisk in the milk.
Sift in the all-purpose flour, baking powder and salt into the wet ingredients. Using a spatula, mix the batter until it is smooth and lump-free. Mix in the lemon zest and the sliced raspberries.
Using an ice-cream scoop, transfer the batter into the cupcake cavities, filling almost to the top.
Bake at 180 degrees C for 25-30 minutes. Let the cupcakes cool.
For the frosting, beat cream cheese and butter in a bowl with an electric mixer until smooth. Add confectioners' sugar and raspberry. Beat until smooth.