Eggless black forest tart with cherry compote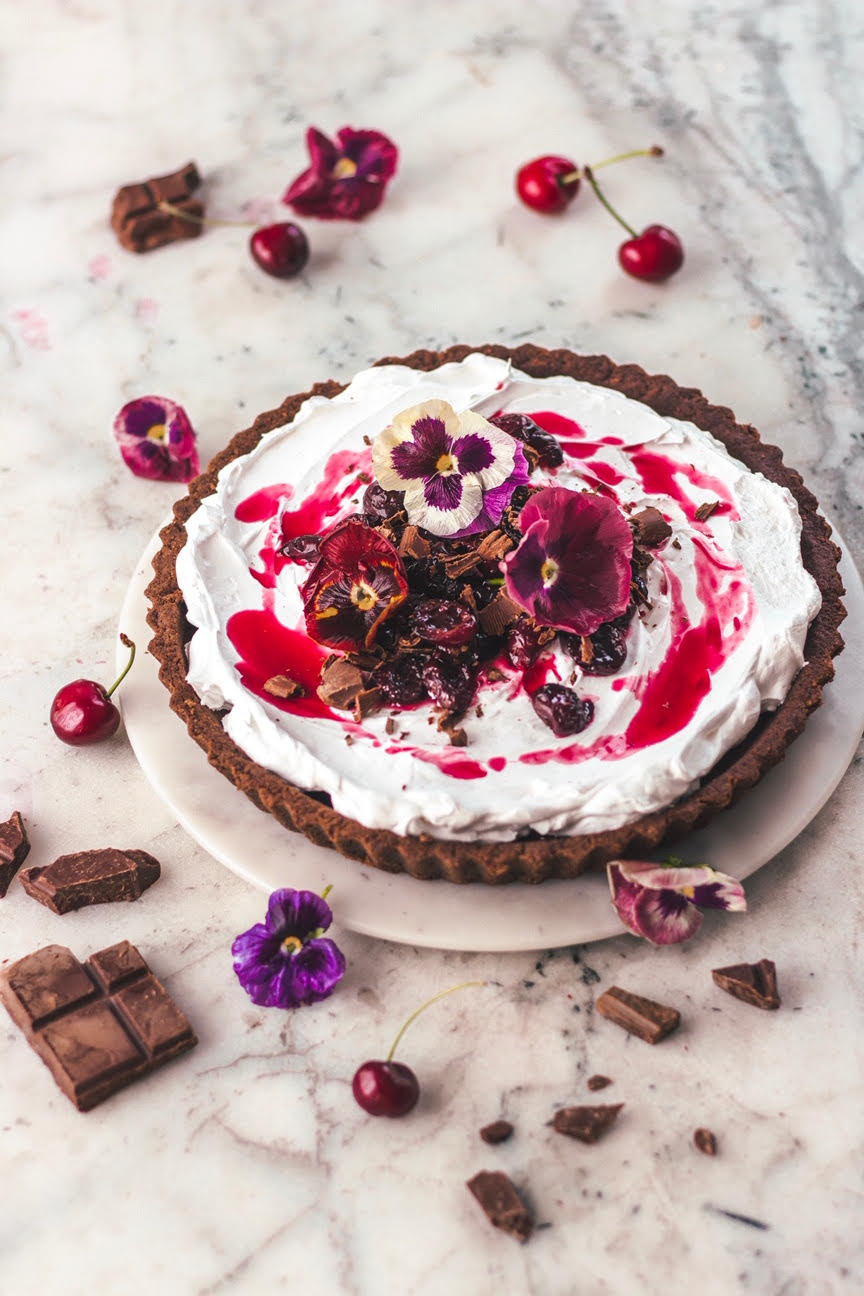 ½ cup (113 grams) butter, softened
4 tablespoons caster sugar
1 + ¼ cup all-purpose flour
4 tbsp cocoa powder
3 tablespoons icing sugar
½ teaspoon vanilla extract
½ cup heavy cream, whipped to firm peaks
4½ cups pitted fresh cherries
1 cup lemon juice
½ cup sugar
To make the tart shell, beat the butter and sugar together.
Fold in the flour and the cocoa powder and mix until the dough begins to come together.
Transfer the dough to a 9" tart pan with a removable bottom. Use your fingers to press the dough into the bottom and the sides of the pan in an even layer.
Refrigerate for at least 30 minutes.
Pre-heat the oven to 180C.
Once the tart shell has chilled completely, prick all over the bottom of the tart using a fork.
Bake at 180C for 10-15 minutes or until the tart shell is golden-brown.
Let it cool completely and remove from the tart shell.
For the filling, beat the whipped cream with sugar and vanilla until it is light and soft.
Transfer the filling to the baked and cooled tart shell
For the cherry compote, Bring all ingredients to a boil in a large heavy saucepan; reduce heat and simmer until cherries are softened and start to release juices, about 10 minutes.
Using a slotted spoon, transfer cherries to a medium heatproof bowl.
Simmer juices until thick for about 15–20 minutes.
Pour the syrup over the cherries and let this cool down a little.
Top the black forest tart with the cherry compote and chocolate shavings.
Recipe by
Bake with Shivesh
at https://bakewithshivesh.com/eggless-black-forest-tart-with-cherry-compote/