I can not believe that we are halfway through the first month of 2020! We are literally entering into the last week of January and I think we all agree that the weather has been surreal. This is the best time of the year according to me. The winds have just the perfect temperature of chill which makes us wear those sweaters yet lie in the sun. It is also the perfect time for picnics, barbecues, hot chocolate slumber parties, and more! Slumber parties remind of late-night snacking on Maggi or Pizza, and of course a dessert. Now, what could be better than some Almond Chocolate Chip Cookies that are ready within 30 minutes and taste heavenly!
I can only imagine how dreamy it must be to bite into a perfectly crunchy and soft cookie after your late-night snack. These Almond Chocolate Chip Cookies will provide you the perfect respite from that hunger for something sweet. Plus, you can have as many as you want in a completely guilt-free manner because well, almonds are nutritious, haha.
These Almond Chocolate Chip Cookies are my recent favorite because of super obvious reasons like how they are so easy to mix, are eggless, are made with healthy whole wheat flour and flax seeds. Plus, I think we all love some yummy cookie dough. And the dough of these Almond Chocolate Chip Cookies promises to deliver!
Ingredients of these Eggless Almond Chocolate Chip Cookies
The ingredients for these Almond Chocolate Chip Cookies are pretty straightforward. The recipe actually uses comparatively healthier ingredients than a normal cookie dough recipe. This makes it all the better and yummier for the health-conscious too. I have used easily available honey for these Almond Chocolate Chip Cookies.
To make these cookies more organic and healthier, you can always go for a jar of fresh farm honey! All your desserts require the best quality vanilla. While I too started with the small jars of liquid vanilla, your recipes can get an upgrade with good quality vanilla extract. I use the one from Sprig and it is absolutely amazing. Get your hands on it here. For these Eggless Almond Chocolate Chip Cookies, you can also use organic wheat flour for increased nutrition.
The 'Flax Egg'
You might have questions regarding the flax egg, but it is hardly a worry.
Just get a packet of flax seeds- easily available at any grocery store, grind it to a powder and mix it with the required amount of water. Mix thoroughly and let this mixture rest for some time. Eventually, you shall notice that the consistency of the mixture has turned into that of an egg white. This consistency helps your dessert in the same way an egg does!
This is all you have to do to make the flax egg. I believe that any recipe, including this one of the Almond Chocolate Chip Cookies, is easy if you stick to the recipe in a disciplined manner.
The ground almonds
This recipe of the Chocolate Chip Almond Cookies clearly requires you to use ground almonds. You might think that this is just about grinding the almond in your mixer and that is it. However, this is where you might mess up! Baking might not be rocket science and all, but everything in this world birthed out of science and so did the method of grinding almonds. The inherent qualities of almonds allow it to quickly get converted into a buttery mix upon excessive grinding.
So, when you go ahead to grind your almonds, make sure they are completely dry and you are grinding them in pulse mode. Throwing the almonds into your mixer and letting them grind away is basically converting them into an almond butter mixture. This is a strict no-no for this recipe of Almond Chocolate Chip Cookies.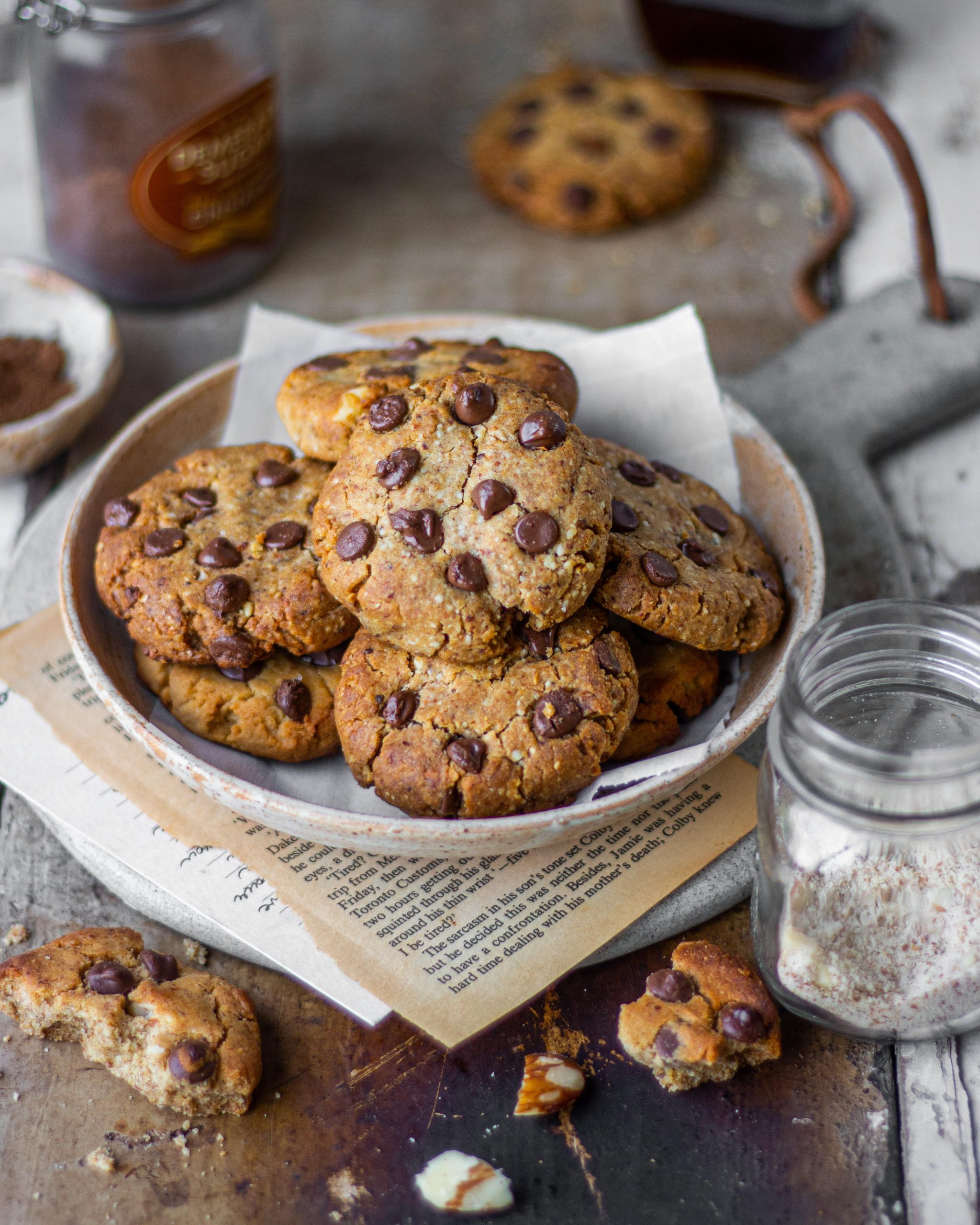 Tips for baking with flax seeds
Flax seeds are jam-packed with wholesome and healthy nutrients. They are super-rich in omega-3 fatty acids and essential nutrients like copper, magnesium, thiamine, and manganese. Why it is used as an easy substitute for eggs is because of its high oil concentration. When you mix it with water, allowing it to rest is necessary for it to gain the consistency like that of an egg white. This consistency is what helps your dessert taste yum!
But, you need to be a bit careful with this powerhouse of nutrition. Recipes that use flax seeds like these very Chocolate Chip Almond Cookies, turn brown more quickly than other recipes. You need to keep a sharp check on them. Further flax seeds also make denser and less spongey cakes or muffins. And thus, when you back with flax seeds, expect the finished item to be chewier than normal.
Tips for baking these Chocolate Chip Almond Cookies perfectly
Use an ice-cream scooper to place the perfect amount of dough on your tray. Not only does this help to get a good starter shape for your cookies, but it also helps you to make uniform cookies.
Always pre-heat the oven. Moreover, have the patience to not keep on peeking and touching the cookies. Your cookies are different from your cakes. Test your patience rather than testing the cookie with a toothpick!
Allow the cookie dough to rest in the fridge at least for 20-30 minutes. Freshly prepared dough, when baked, spreads out more.
Let these Chocolate Chip Almond Cookies cool down after being taken out of the oven. This allows them to build their structure.
In case your tray was small and your cookies have spread too much and stuck together, take a knife and segregate the cookies nicely. This is to be done when they are fresh out of the oven.
Read more about how to bake your cookies right.
Almond Chocolate Chip Cookies Recipe
Almond Chocolate Chip Cookies- Eggless Recipe!
Ingredients
½ cup butter, softened
2 tbsp honey
1 flax egg (1 tbsp flax seed powder+2tbsp water)
1 tbsp vanilla extract
1 cups ground almonds
1 cup wholewheat flour
½ tsp baking soda
½ cup chocolate chips
Instructions
In a large bowl beat the butter and honey until light and fluffy.
Add the flax egg and the vanilla extract.mix well.
In a separate bowl add the ground almonds, wholewheat flour and the baking soda.
Add the dry ingredients to the butter mixture. And mix until a dough is formed.
Add the chocolate chips to the dough and combine well.
Refrigerate the cookie dough for 30 minutes.
Pre-heat the oven to 180*C and line the baking tray with parchment paper/ silicon mat.
Use an ice-cream scoop to transfer the dough into balls on the baking tray.
Press them lightly with your fingers. Sprinkle your chocochips
Bake the cookies at 180*C for 10 minutes until the edges of the cookies are golden-brown. Let the cookies rest on the baking tray for another 10 minutes (outside the oven) before you lift them.