It's officially the season of boozy cakes and hot cocoa, but this year has been quite experimental and I've been going out of my comfort zone to bake and try different kinds of desserts for the holidays! That being said, one great dessert for this time of the year is a Swiss Roll. If you know me, you'd know that I absolutely love the flavor of orange in my desserts so I decided to make an Orange Swiss Roll with Mocha Frosting.
A great Swiss roll is all about that swirl between the spongey layer of cake and delicious creamy frosting. For this Orange Swiss Roll with Mocha Frosting, I was inspired to use Sprig's Jar of  Bliss Mocha and Cocoa Bliss spread which is basically cold-brewed Mocha coffee beans and luscious slow-cooked caramel combined with rich, dark Cacao. I honestly couldn't think of a better frosting for this Orange Swiss Roll and you can also buy it here on Sprig's official website.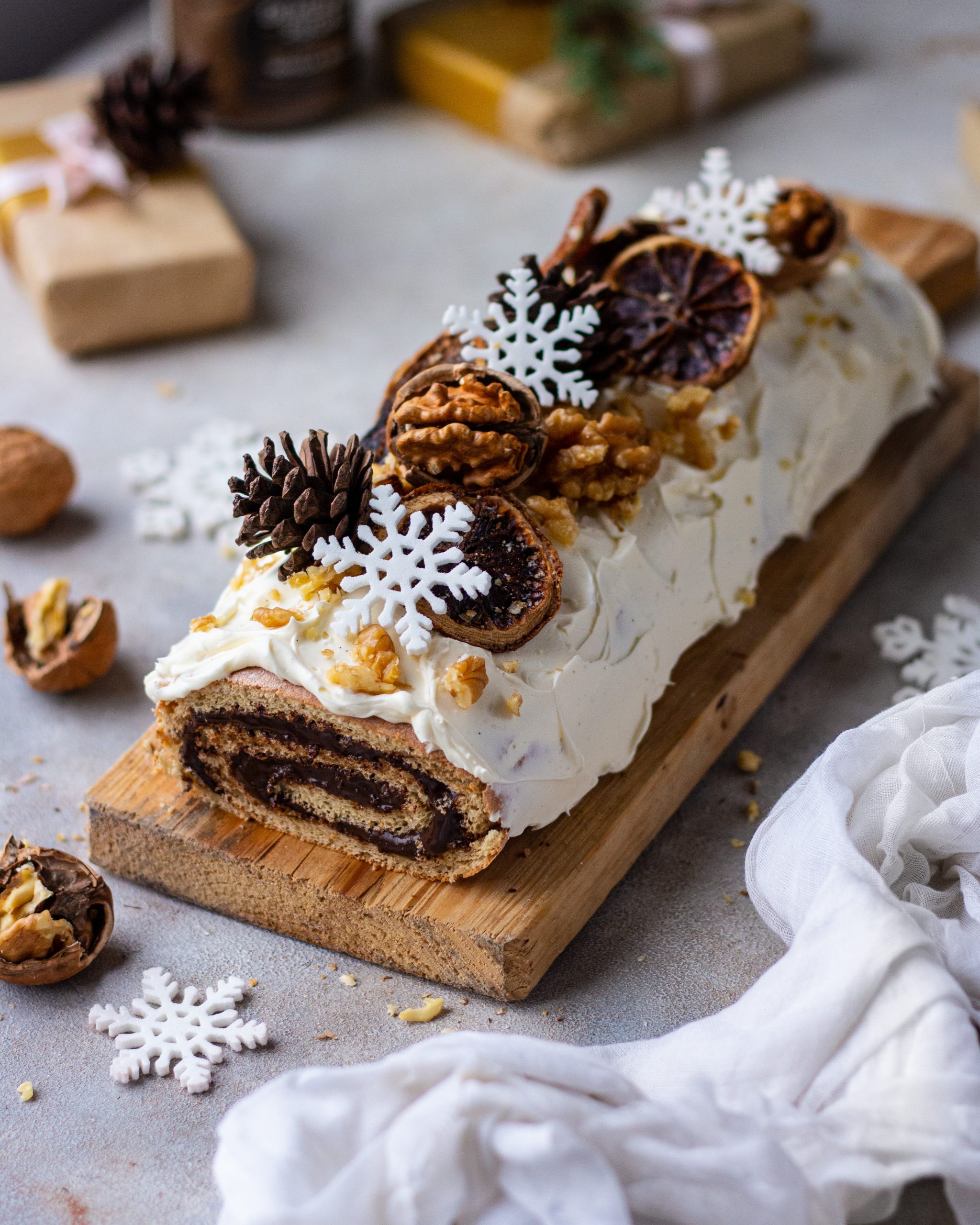 Tips for Making Orange Swiss Roll with Mocha Frosting
I know from experience that a swiss roll recipe isn't one of the easiest desserts to bake but if you keep in mind these few tips and tricks, I promise you'll never go wrong with your Orange Swiss Roll ever again.
It is very important to line your 15 x 10-inch sheet pan with parchment paper and brush it with butter and flour. This will prevent your orange swiss roll from sticking to the pan while baking.
Whipping your eggs and sugar till it comes to the right consistency is what makes all the difference! Do not skip this step as this is what incorporates air into your batter.
Make sure you level the batter evenly on the entire pan as this will ensure that your batter is not too cakey from one end or from the other.
Preparing the Swiss Roll
When your Orange Swiss Roll is completely baked to a nice, warm golden color, take it out of the oven. At the beginning of the recipe, you are required to cover a clean towel with icing sugar. This has the purpose of helping you to roll your cake well. Very gently, shift the warm cake on to the towel. Do not delay this shifting process because if your cake cools down too much, rolling it will create cracks in the cake and it won't be a beautiful looking orange swiss roll. In addition to this, don't forget to shift the rolled cake in the fridge. cooling it down will help it to shape up. Subsequently, we'll be able the add the Sprig's Bliss Mocha and Cocoa frosting easily.
If you like this Orange Swiss Roll with Mocha Frosting recipe, do check out the Pumpkin Swiss Roll recipe on the blog.

Orange Swiss Roll with Mocha Frosting
Ingredients
3 Egg Yolks
2 Whole eggs
¼ cup sprig demerara Sugar
¼ cup castor sugar
1 tsp SPRIG natural bourbon vanilla extract
⅓ cup Flour
3 tbsp Cornflour
¼ tsp Baking powder
1 Orange zest
2 beaten egg whites(with 1 tbsp castor sugar
1 jar SPRIG mocha and cocoa bliss spread
Instructions
Preheat the oven at 230 degrees and prepare a 15x10 inch sheet pan with parchment paper and brush with butter and flour.
In a bowl, beat the egg yolks, whole eggs and both the sugars. Beat until pale and fluffy and form a ribbon consistency
In a separate bowl, add the flour,cornflour and baking powder.
Zest the orange to this flour mixture.
Gently fold the flour mixture to the yolk mixture. And mix until there are no large flour pockets.
Now fold in the egg whites using a spatula in three parts. Do not over mix as it will knock out the air.
Transfer the Swiss roll batter onto the prepared baking tray and bake for for 7-9 mins at 230 degrees or until it turns golden.
Meanwhile, lay a clean kitchen towel and dust it with icing sugar.
Once baked, Immediately turn cake out onto line towel. Peel off parchment paper and gently roll cake up in the towel, starting with the short end.
Let it cool completely.
Place the roll in the refrigerator for 30 minutes to chill.
Once cool, spread the Sprig jar of Mocha and Cocoa Bliss generously and evenly on the roll.
Roll back the Swiss Roll in the towel and let it chill in the fridge for 2 hours before serving.
If you have any queries regarding the recipe, ask me in the comments below. Also, if you happen to make this recipe, don't forget to take pictures and tag me on
Instagram
with #Bakewithshivesh. Happy Holidays!