The season of strawberries is one of my favorite times of the year. The fruit adds a totally new dimension to a dessert. I absolutely love experimenting with strawberry desserts and hence, I have this yummy eggless whole wheat strawberry cake recipe for you!
I posted a whole wheat strawberry cake recipe on the blog last year and a lot of you asked me for an eggless version of the recipe. So here's an even healthier version of the fuss-free and delicious strawberry cake. This strawberry cake is studded with lush red strawberries which perfectly compliments the fine crumbs of the simple cake.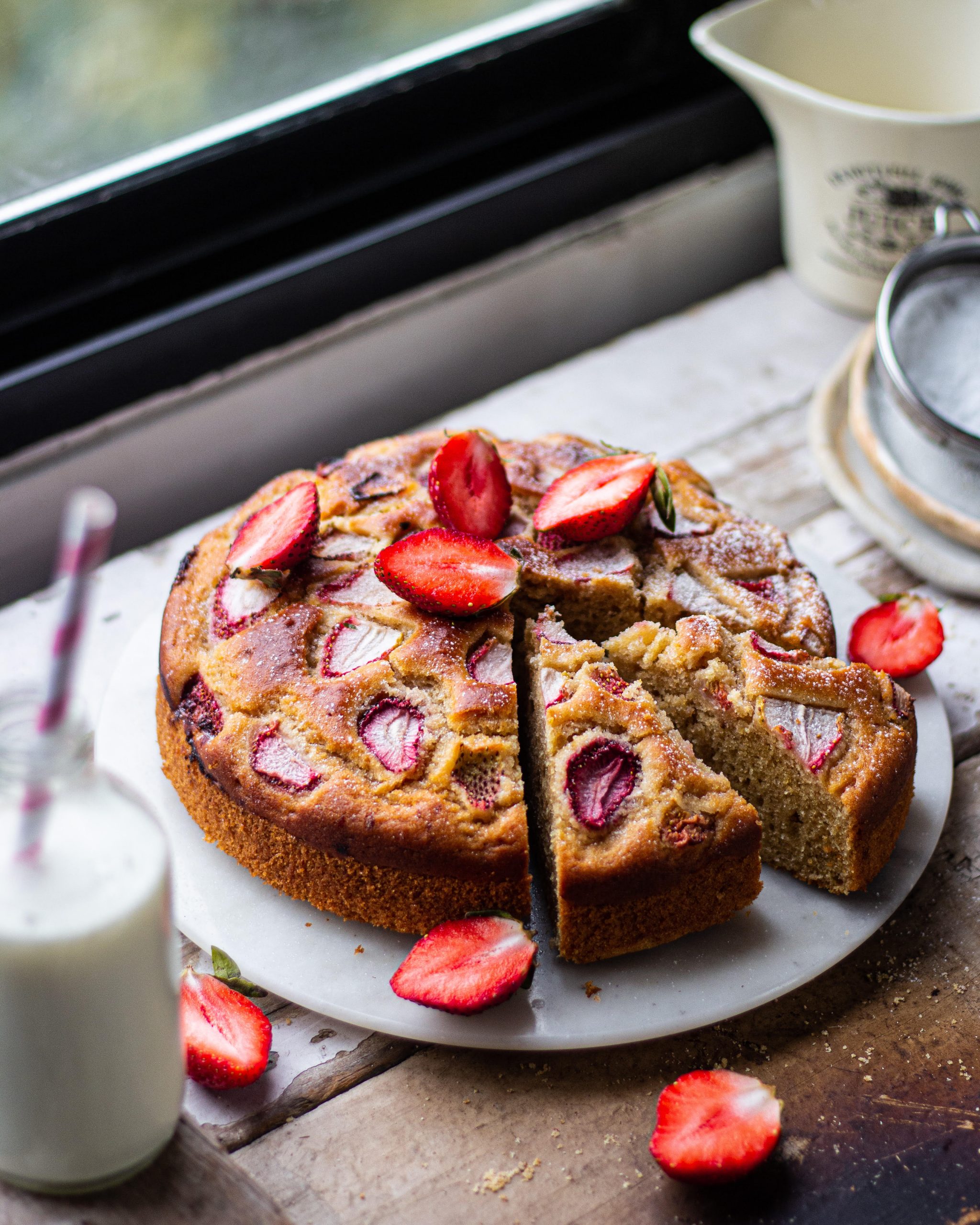 Tips on ingredients used for eggless whole wheat strawberry cake
This eggless whole wheat strawberry cake uses very simple ingredients and comes together in less than 15 minutes. Follow these few tips to make sure you never go wrong with your cake:
Always use castor sugar instead of granulated sugar in your cake as it dissolves quickly while baking and gives the cake a nice texture.
I prefer using plain and flavorless vegetable oil, like sunflower oil or canola oil for my cakes. It makes the cake light and fluffy.
Make sure you use the best quality strawberries you can get your hands on. I source my fresh strawberries from INA market in Delhi, but you can also check out places like Food Hall, Modern Bazaar, etc. for good quality ingredients.
If you want some quick tips on how to bake a cake perfectly, you can check out my article on Baking tips for beginners.
Tips to make Eggless Whole Wheat Strawberry Cake in microwave
To make this eggless whole wheat strawberry cake in the microwave, reduce the baking time by 25%. So, in the microwave, this cake will take only 22-25 minutes at 180*C. Everything else remains the same.
How to make Eggless Wholewheat Strawberry Cake at home
This brings me to another very important ingredient of this simple strawberry cake- yogurt!  I use a normal market bought yogurt for this recipe but you can also use homemade yogurt. Just get rid of all the extra water and use only thick yogurt for this recipe.
Other Strawberry Recipes on the blog
Eggless Whole Wheat Strawberry Cake
Ingredients
1 cup yogurt
½ teaspoon baking soda
1+1/2 cup whole wheat flour
1 teaspoon baking powder
¾ cup castor sugar
½ cup vegetable 0il
1 teaspoon Vanilla Extract or Vanilla beans
9-10 sliced strawberries
⅓ cup milk
And 1 tablespoon lemon juice
Instructions
Pre -heat the oven to 180 degree C and line an 8 inch round cake pan with parchment paper.
In a bowl add the yogurt and sprinkle baking soda over it and set it aside to foam up.
In a separate bowl add the flour and baking powder and whisk together.
Whisk together castor sugar and oil in a separate bowl until pale and well combined.
Now pour the yogurt mixture to the oil and sugar mixture and mix well.
Add the vanilla extract.
Gently fold in the flour and mix until everything is well combined there are no large flour pockets in the batter. Do not over mix at this stage.
Add the milk gradually. Add the lemon juice.
Transfer the batter to the prepared cake pan and place sliced strawberries on top.
Bake at 180C for 30-35 minutes or only until a skewer inserted in the center comes out clean.
So that was the recipe for the best eggless whole wheat strawberry cake. If you happen to make it, don't forget to take pictures and tag me on
Instagram
with #Bakewithshivesh. Happy Baking!