Even though most of us are not huge fans of these whimsical Delhi winters, we all gotta love the fruits this weather gives. My blog has a lot of galette recipes, but this Pear and Cranberry Galette has got to be my favorite! This Pear and Cranberry Galette is loaded with the fresh flavors of US Cranberries. What's more, is the multitude of textures. The galette has the soft pears, the semi-soft cranberries, and the crunchy flaked almonds. It is basically an explosion of flavors and deliciousness in one's mouth!
You guys do know that I love berries to an enormous extent. But, the issue arises when one can not get good quality berries. To start with, berries- fresh or dried- are expensive, loaded with artificial colors or insecticides and what not. I give a lot of importance to organic and natural ingredients and it just becomes a bigger problem for me. But with US Cranberries, I am worry-free because they're fresh, amazing to bite into, and have a splendid taste. Cranberries are also known as 'super-fruits' because of their nutritional quality. They are good for your heart, have tons of Vitamin K, are fat and cholestrol free, and so much more!
Tips for the Perfect Pear and Cranberry Galette
I really love it when you guys try my recipes! Especially, recipes like galettes or tarts, which are not 'basic'. There is a multitude of myths and doubts when it comes to baking such recipes like this Pear and Cranberry Galette. People think they are complicated, require expensive ingredients, or are just a Baker's dream. Trust me, this is not so. By keeping in mind the following tips, you can easily whip this Pear and Cranberry Galette up and fall in love with it too!
Follow the recipe ardently and do not land up with a wet or moist dough because it simply would not hold the filling inside.
Try to get the perfect dough. It shouldn't be too thick because you will end up with a chewy Pear and Cranberry Galette. Moreover, it shouldn't be too thin because it won't hold the filling.
Do not push your filling to the top. Over-piling is a strict no-no!
Keep an eye on your Pear and Cranberry Galette while it is in the oven. Do not let it 'over-brown'.
Do not over-do with the egg splash. It is a egg and milk mixture that imparts a beautiful sheen to your crust. Overdoing anything is just wrong.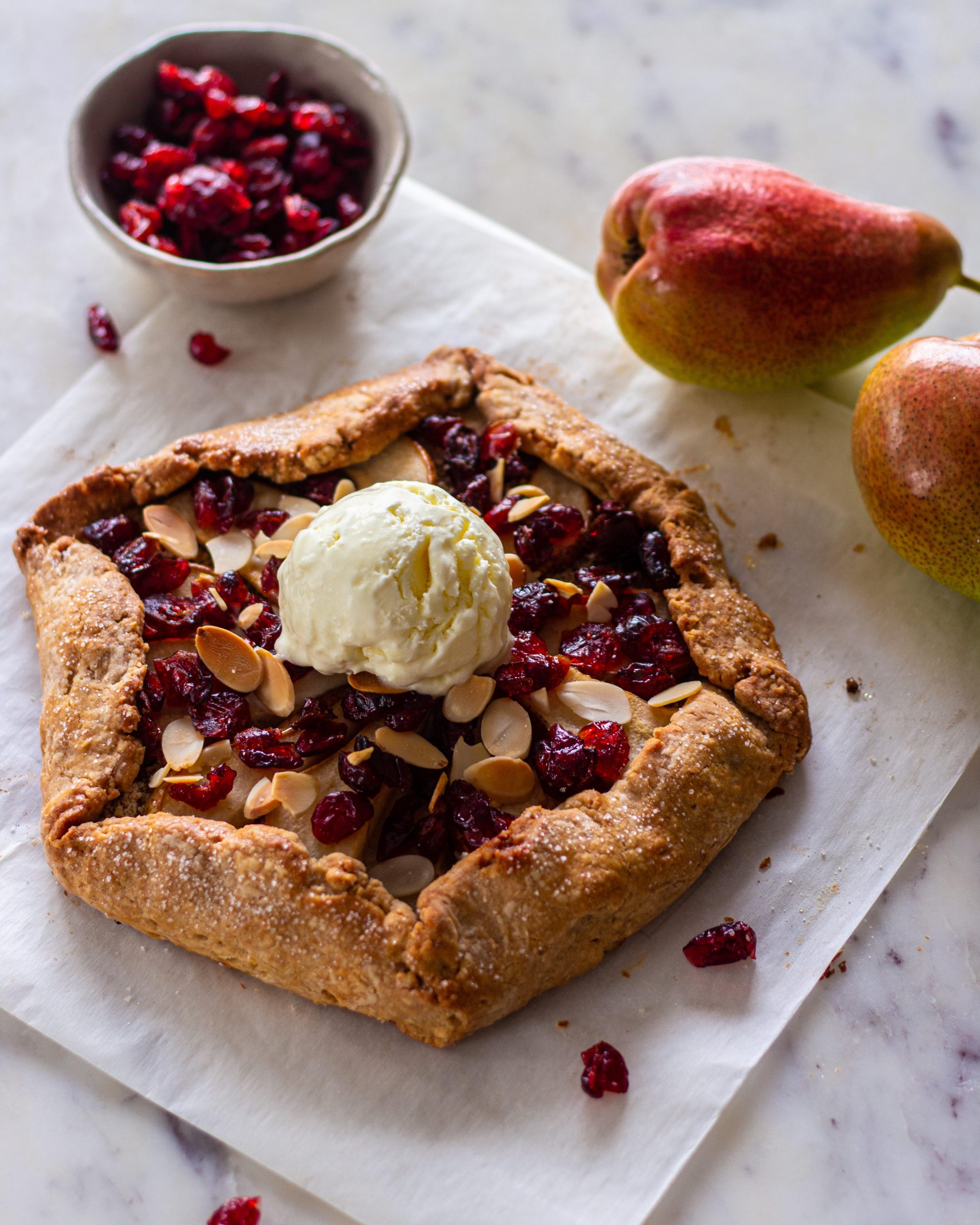 Ingredients for this Pear and Cranberry Galette
This Pear and Cranberry Galette requires for basic and simple ingredients. Just remember to use cold butter and do not over-do the butter or it takes away the sandy texture of your dough. The recipe uses castor sugar and I would advise you to use castor sugar only. A lot of types of sugars are used from granulated to castor to icing. The best results are obtained when you strictly use the sugar recipes ask you to use. Moreover, granulated sugar caramelizes during baking because of the high heat. Thus, most recipes won't suggest you use it. If you don't have store-bought almond flakes, you can always try to cut your almond into thick slices and then using it.
For the cranberries, you can find them easily at most departmental stores. I highly recommend using US Cranberries!
More Galette recipes from the blog
Peach and Cranberry Galette Recipe
Pear and Cranberry Galette
Ingredients
1 cup whole wheat flour
¼ cup rolled oats
½ cup cold butter
4 tablespoons granulated sugar
4 tablespoons ice cold water
¼ cup almond flour
1 pear, sliced
½ cup US cranberries
3 tbsp lemon juice
1 tbsp cornflour
2 tbsp castor sugar
¼ cup almond flakes, to top
Instructions
In a food processor, combine whole-wheat flour, oats, cold butter and sugar.
The mixture will have a sandy texture. add in the cold water and pulse until the mixture begins to hold together when pinched.
Flatten the dough into a disk. Wrap it in plastic wrap and refrigerate for 30 minutes.
Meanwhile, make the filling. Combine the sliced pear, cranberries, lemon juice, cornflour and sugar.
preheat the oven to 200°C.
On a parchment, roll out the dough into a circle of about ¼-inch thickness.
Leaving 1-inch borders around the edge, evenly spread the almond flour on the rolled-out dough.
Arrange the peach slices and cranberries on the layer of almonds flour.
Fold the edges of the galette over the fruit.
Generously brush the overlapped edges with egg wash (egg lightly beaten with a splash of milk). Simply brush with milk if you want to avoid using egg. Add the flaked almond on top.
Bake at 200°C for 20-30 minutes or until the crust is golden-brown.
Let it cool on the baking tray completely before lifting. Serve with whipped cream or vanilla ice cream.