The market is flooded with citrus of all shapes and sizes. It is so exciting to use the freshest oranges and grapefruits to make my desserts this season. I wanted to make a whole wheat dessert that did not take too much effort. For this Citrus Galette, I made a simple dough using oats and 24 Mantra Organic's whole wheat flour and organic sugar. Sliced some oranges and grapefruits and made a rustic galette in my skillet. That's what I love about making galettes- it doesn't have to be perfect. I call it a lazy man's pie. It tastes like a pie (and even better with organic products) and takes no work!
This Citrus Galette ends up with a very beautiful flaky texture with a rustic flavor. I also used the food processor to bring the dough together which helps the galette dough come together in a splendid manner and it also helps in the baking process as it allows you to skip being messy with the dough, haha. You can also use the fruits of your choice and I am sure you guys will love it!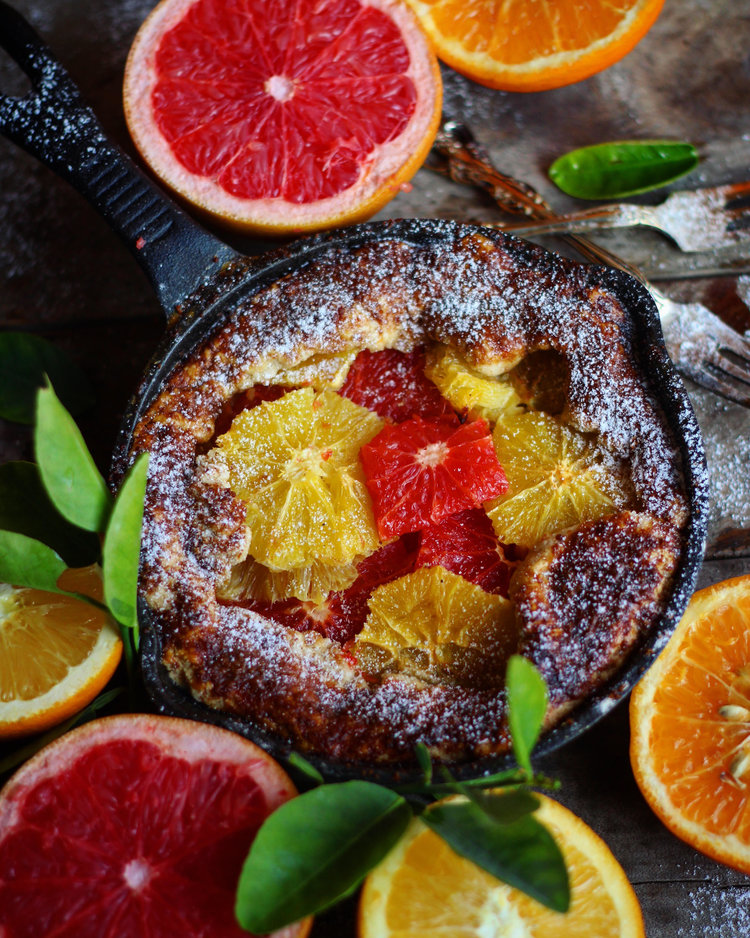 CITRUS GALETTE
Ingredients
¾ cup organic whole wheat flour
½ cups old fashioned oats
3 tbsp organic sugar
⅓ cup cold butter, cubed
1 tbsp cold water
1 orange and grapefruit, sliced
brown sugar, to sprinkle.
Instructions
Pre-heat the oven to 180C.
In a food processor, combine flour, oats, sugar and cold butter. Pulse until the mixture resembles a course meal.
Add water and mix until the dough begins to come together.
Transfer the dough onto a plastic wrap and refrigerate for 30 minutes.
Roll out the chilled dough on a lightly floured surface.
Transfer the dough to a skillet. Place orange and grapefruit slices and fold over the edges over the fruit.
Sprinkle with brown sugar
Bake at 180C for 20 minutes or until the crust is golden-brown.