CITRUS GALETTE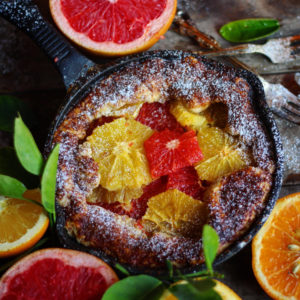 ¾ cup organic whole wheat flour
½ cups old fashioned oats
3 tbsp organic sugar
⅓ cup cold butter, cubed
1 tbsp cold water
1 orange and grapefruit, sliced
brown sugar, to sprinkle.
Pre-heat the oven to 180C.
In a food processor, combine flour, oats, sugar and cold butter. Pulse until the mixture resembles a course meal.
Add water and mix until the dough begins to come together.
Transfer the dough onto a plastic wrap and refrigerate for 30 minutes.
Roll out the chilled dough on a lightly floured surface.
Transfer the dough to a skillet. Place orange and grapefruit slices and fold over the edges over the fruit.
Sprinkle with brown sugar
Bake at 180C for 20 minutes or until the crust is golden-brown.