It's strawberry season and I cannot keep my excitement contained. I'm obsessed with strawberries and strawberry season is the happiest baking season! Over the years I've shared so many strawberry dessert recipes with yáll and the most popular so far has been the Eggless Strawberry Tea Cake with Fresh Strawberries. It is such a simple recipe that guarantees the fluffiest and the yummiest cake.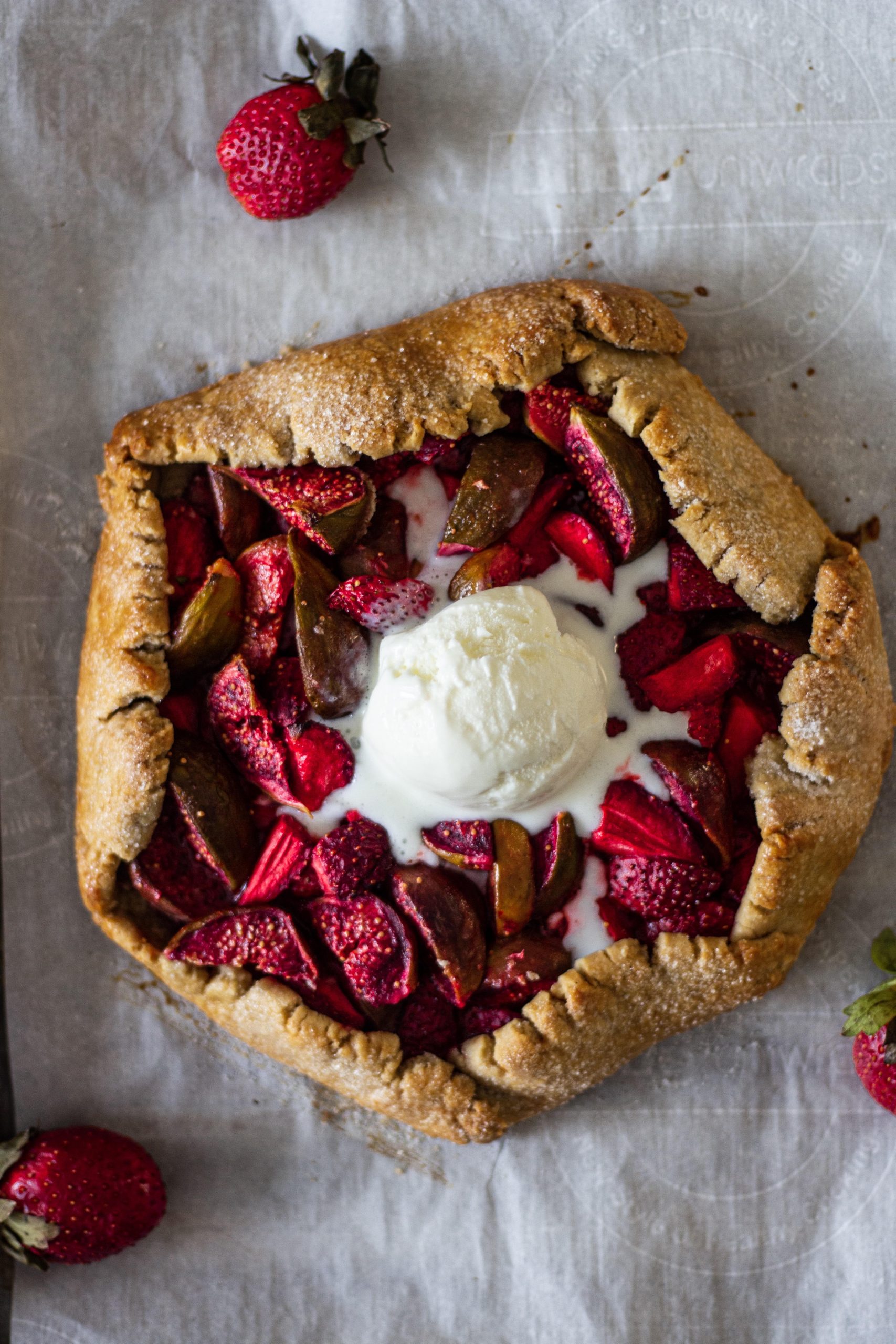 Today I'm sharing yet another strawberry dessert recipe which I am sure you all will enjoy baking and eating. This strawberry galette with fresh figs is the one new dessert that you need to make when you're wanting to bake something unique and different from a cake. This Strawberry Galette is so easy to make, uses fresh ingredients and serves as the perfect example of how simple desserts are also beautiful.
Ingredients Used in the Strawberry Galette
Apart from being super easy to make and even more delicious to eat, the best part about this strawberry galette is that it is made using whole wheat flour and rolled oats instead of plain old all purpose flour.
While making this strawberry galette, make sure you're using the best strawberries that are beautifully fresh and juicy. In addition to strawberry I also used figs in this strawberry galette. Figs are such a beautiful fruit. They have honey like sweetness with a hint of berry and they go perfectly with the strawberries in this recipe.
Also, this strawberry galette is eggless. One step does include using egg wash but you can easily replace egg wash with milk
A little about Galettes
I love galettes for the simple fact that they are rustically beautiful. They are not difficult to make like pies are and taste equally good. I am always intimidated by making pies but galettes are much simpler.
Fun fact: Galette comes from a Norman world 'gale' meaning 'flat cake'. In French desserts, galette us used as a term to address various types of flat round or freeform crusty cakes.
I've shared a few galette recipes on the blog before. You can check these out if you like!
Things to keep in mind while making a galette
The butter should be cold at all times. Cube your butter and keep it in the freezer for at least 30 minutes before adding it to the dough.
Your pie dough should come together but should not be wet. If you think your dough is wet or sticky, add more flour
It is very important to let the dough chill in the fridge for at least an hour before you begin to roll it. If you feel your dough is breaking at any stage of the process because the butter has softened too much, put your dough into the fridge and start again!
Do not be tempted to not let your galette rest in the freezer for an hour before popping it into the oven. This helps the galette to retain it's shape.
If you don't want to make a big galette, you can use the same recipe to make four mini galettes instead. If you don't consume eggs, simply brush your galette with milk instead of egg-wash.

STRAWBERRY AND FIG GALETTE
Ingredients
For dough-
1 cup whole wheat flour
¼ cup rolled oats
½ cup cold butter, cubed
4 tablespoons granulated sugar
4 tablespoons ice cold water
For filling-
1 cup strawberries
5-6 figs
1 tablespoon lemon juice
1 tablespoon corn flour
Instructions
In a food processor, combine whole wheat flour, rolled oats, cold butter and sugar
Add in the cold water and pulse till the mixture holds together when pinched
flatten the dough into a disk and refrigerate for 30 minutes
To make the filling, combine the strawberries and figs
Toss them in lemon juice and corn flour slurry (cornflour mixed with water)
On a parchment, roll out the dough into a circle of about ¼ inch thickness
Leaving about 1 inch borders, spread the filling onto the dough
Fold the edges of the galette over the fruit filling
Brush the edges with eggwash/milk
Bake at 200C for 20-30 minutes or until the crust is golden brown
Let it cool on the tray before lifting and serving with vanilla ice cream
If you make this beautiful strawberry galette, don;t forget to share a picture of it on my instagram @shivesh17 and use the hashtag #bakewithshivesh