Pear and Cranberry Galette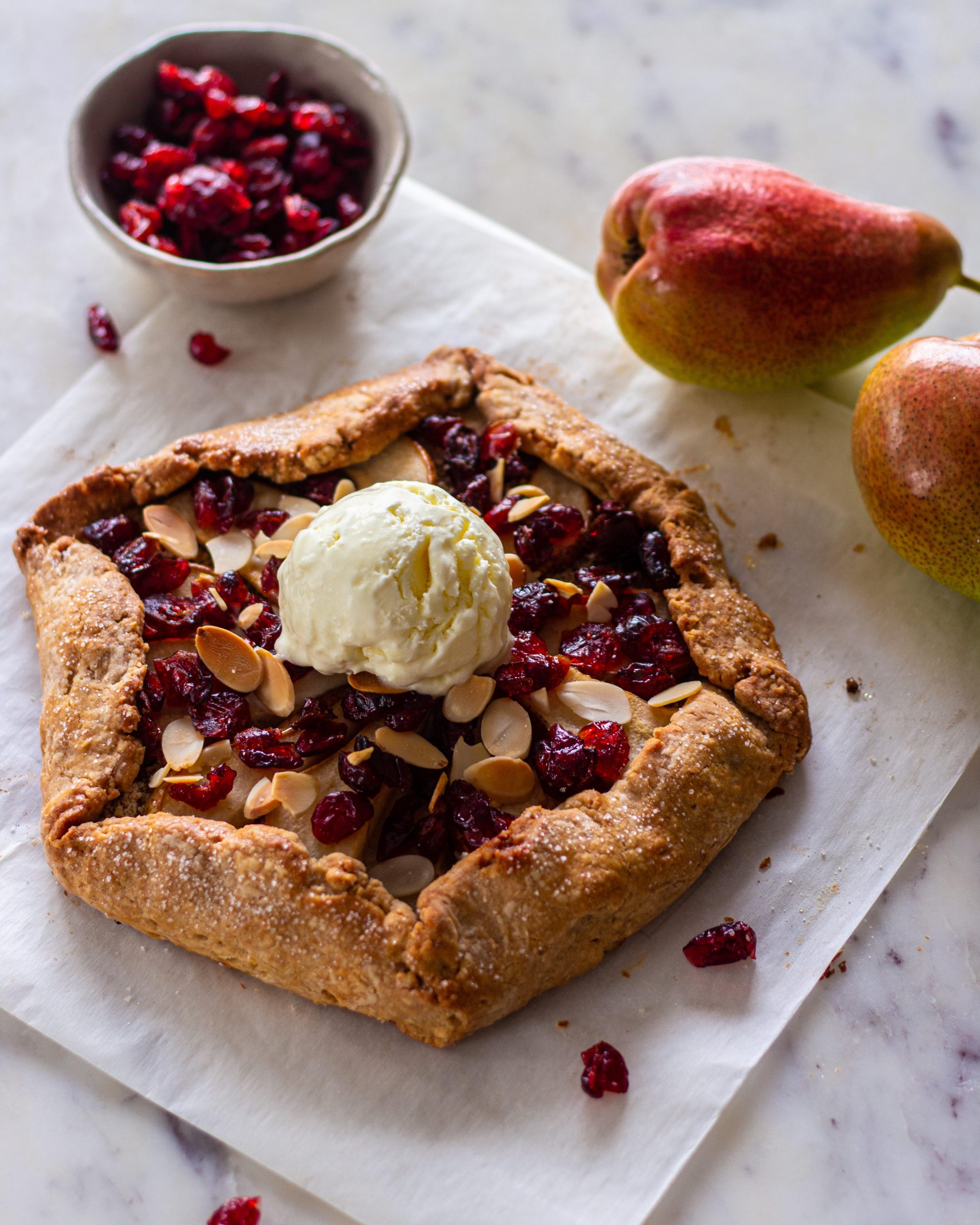 1 cup whole wheat flour
¼ cup rolled oats
½ cup cold butter
4 tablespoons granulated sugar
4 tablespoons ice cold water
¼ cup almond flour
1 pear, sliced
½ cup US cranberries
3 tbsp lemon juice
1 tbsp cornflour
2 tbsp castor sugar
¼ cup almond flakes, to top
In a food processor, combine whole-wheat flour, oats, cold butter and sugar.
The mixture will have a sandy texture. add in the cold water and pulse until the mixture begins to hold together when pinched.
Flatten the dough into a disk. Wrap it in plastic wrap and refrigerate for 30 minutes.
Meanwhile, make the filling. Combine the sliced pear, cranberries, lemon juice, cornflour and sugar.
preheat the oven to 200°C.
On a parchment, roll out the dough into a circle of about ¼-inch thickness.
Leaving 1-inch borders around the edge, evenly spread the almond flour on the rolled-out dough.
Arrange the peach slices and cranberries on the layer of almonds flour.
Fold the edges of the galette over the fruit.
Generously brush the overlapped edges with egg wash (egg lightly beaten with a splash of milk). Simply brush with milk if you want to avoid using egg. Add the flaked almond on top.
Bake at 200°C for 20-30 minutes or until the crust is golden-brown.
Let it cool on the baking tray completely before lifting. Serve with whipped cream or vanilla ice cream.
Recipe by
Bake with Shivesh
at https://bakewithshivesh.com/pear-and-cranberry-galette-with-vanilla-iceream/