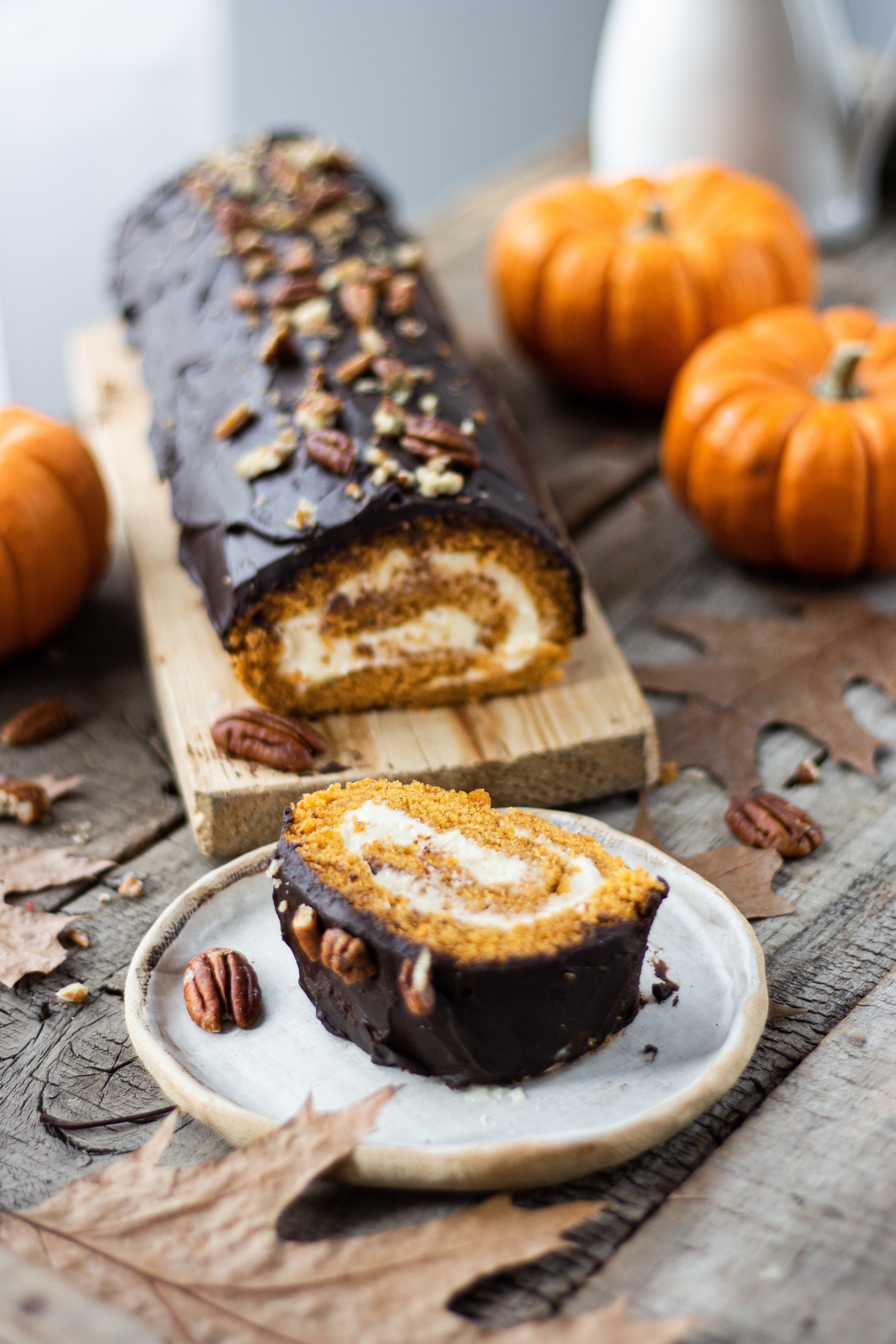 This is officially the first swiss roll recipe on the blog and I am ever so glad to be posting this delectable recipe of the pumpkin swiss roll! Tis' the season of Halloween, fulfilling and hearty desserts, falling leaves, and what not! Fall is here in full swing and I just can not be gladder about the weather situation. In case you guys didn't know, fall just happens to be my most favorite season. I would give anything to be surrounded by heaps of leaves, with the cold breeze tingling all around us. This Pumpkin swiss roll feels like such a hug- it's actually inexplicable.
To talk about this delicious pumpkin swiss roll, I won't lie- this recipe does seem complicated and too twisted for amateur hands. However, keeping some tips in mind, it doesn't become too hard to cook. Plus, one glance at it and it makes your mouth too watery to not give it a shot. If you do follow my recipe of the pumpkin swiss roll attentively, I am sure you'll crack it! If you won't try it out, you'll forever be stuck with the market-bought swiss roll. We all know that you deserve better. Haha!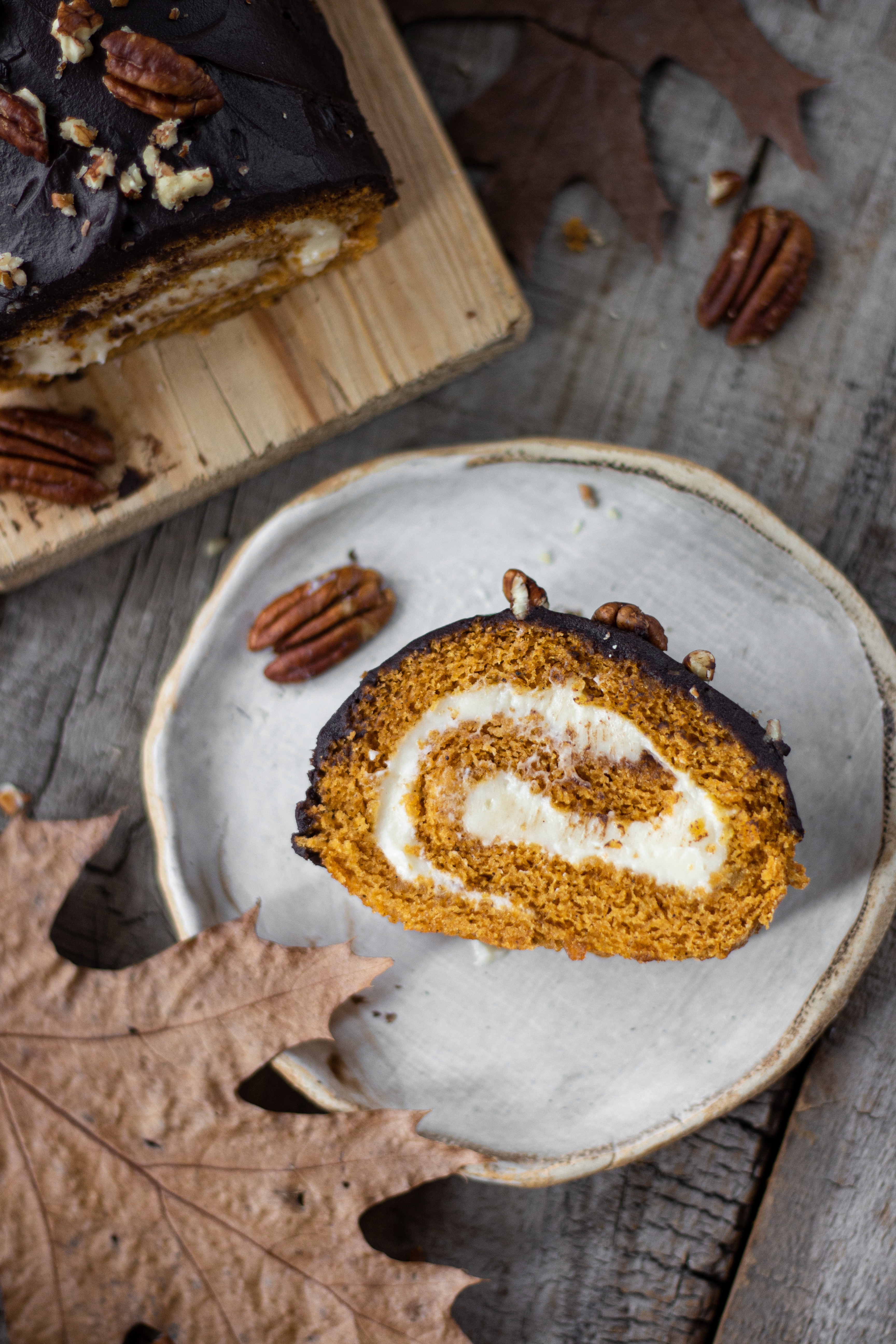 Tips for the perfect pumpkin swiss roll
I am going to provide you guys with a complete guide to making the most heavenly swiss roll. Certainly, this recipe is not as forgiving as most of my other recipes. And so, it becomes increasingly important to follow each step of the procedure in a religious, dedicated manner. If something does go wrong, you can always post your queries here. But, if you do end up acing this amazing pumpkin swiss roll, do not forget to tag me on Instagram!
Preparing the pan for the pumpkin swiss roll
To start with, the preparation of the pan is the most important part of this recipe. You need to take a 15X10 inch pan or basically, a flat baking tray with some depth. Cut your parchment paper in a manner that it fits perfectly onto your tray. Also, do not leave the edges uneven or protruding too much out of the pan. You just need to cover the bottom and the sides completely. For our pan, we needed two sheets of parchment paper to completely cover it. After you have cut out two uniform sheets of parchment, apply softened butter generously in different corners of the pan. This will help your parchment to stick to the baking pan completely. After one sheet of your parchment is firmly fixed, use more softened butter to have an even layer of parchment on your pan.
This preparation becomes important because this is what will help you achieve a nice texture and shape of the pumpkin swiss roll.
Preparing the pumpkin puree for this pumpkin swiss roll
Believe it or not, we prepared our own pumpkin puree for this pumpkin swiss roll. To make the puree, take about half a pumpkin, peel it, de-seed it, and cut it. Shift the cut pumpkin pieces into a saucepan, fill water until the level of the pumpkin, and let it boil for 25 full minutes.
To check if your pumpkins are done, take a butter knife and carefully try cutting one piece of pumpkin. Your butter knife should technically glide through the piece. Once you are sure that your pumpkin is soft, carefully take the saucepan off the heat and pour the content over a sieve. Let your pumpkin cooldown on the sieve. After they have cooled down, transfer into a bowl, take a fork or a spoon and mash your pumpkin into a smooth puree.
Preparing the cake batter
The cake batter is fairly easy to prepare. You only need to ensure that you are not over-mixing anything. When you add the dry ingredients into the egg mixture, mix only until the ingredients are well incorporated.
You need to be careful only when shifting the batter into the pan. Please ensure that your pan is well prepared and there are no tears or cracks in your parchment paper. The best way to go about this transfer is to gently pour the batter in the middle of the pan. This will allow the batter to spread uniformly as you keep pouring it. Use a spatula and gently level the batter. This leveling is important in order to ensure that your baked pumpkin swiss roll is not too cakey from one end or from the other.
If you do have some queries about the preparation of the batter, you can check out my article- Baking tips!
Preparing the swiss roll
This is the part where you are actually supposed to be a teeny-bit scared. When your pumpkin swiss roll is completely baked a nice, warm golden color, take it out of the oven. At the beginning of the recipe, you are required to cover a clean towel with icing sugar. This has the purpose of helping you to roll your cake well. Very gently, shift the warm cake on to the towel. Do not delay this shifting process because if your cake cools down too much, rolling it will create cracks in the cake and it won't be a beautiful looking pumpkin swiss roll. In addition to this, don't forget to shift the rolled cake in the fridge. cooling it down will help it to shape up. Subsequently, we'll be able the add the cream cheese frosting easily.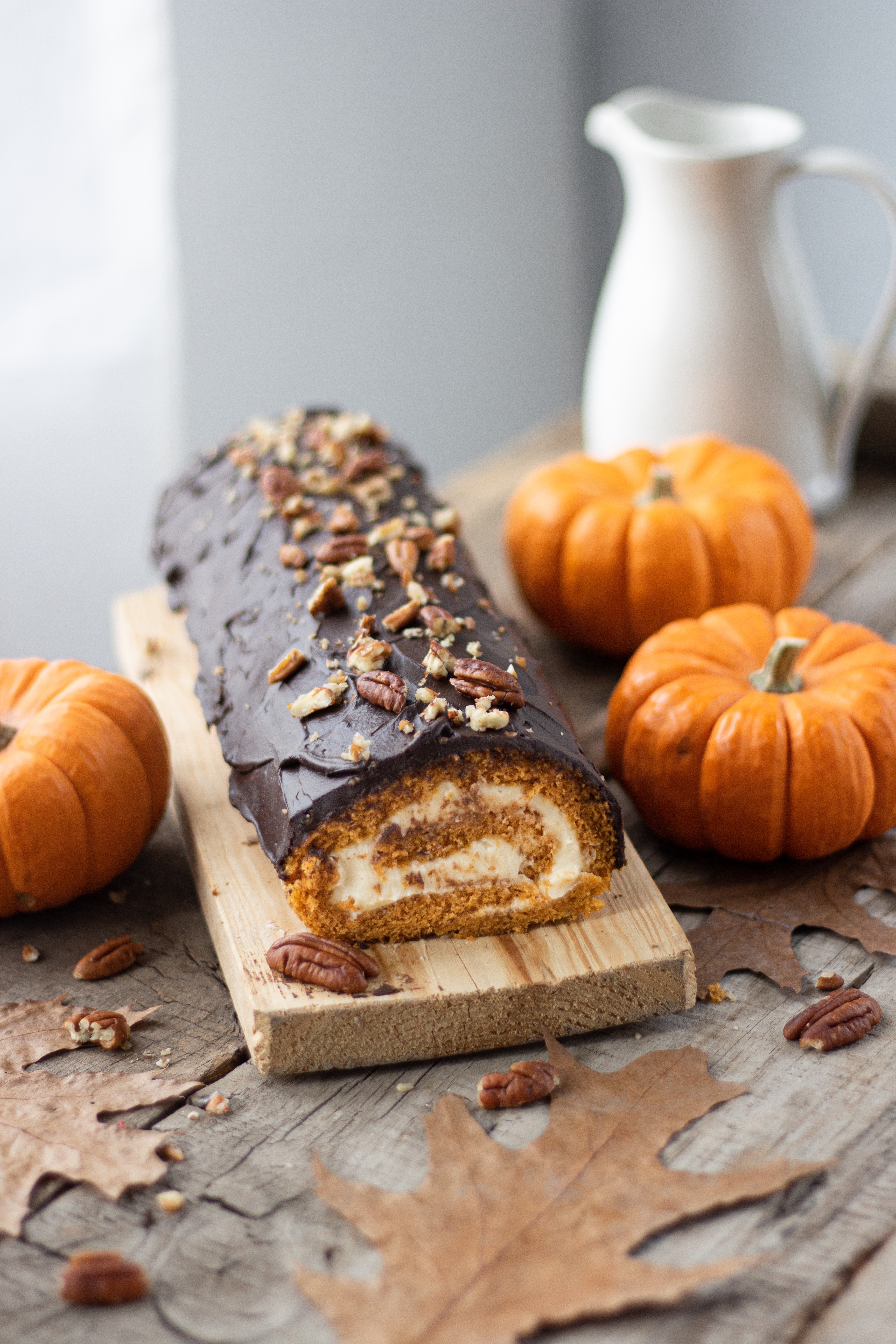 Tips for the perfect cream cheese frosting
This pumpkin swiss roll has a yum filling of cream cheese. I am not even joking about this, cream cheese is my weakness. Be it cupcakes or not-too-sweet cakes, be it parties or birthdays, any dessert topped with this cream cheese frosting is nothing less than heaven on a plate!
Tips for baking a smooth and delicious cream cheese frosting:
It is best if all your ingredients are at room temperature only
Use softened butter only in order to avoid lumps
Do not use low-quality cream cheese or any cream cheese with high water content. They will make your frosting really runny. You can easily get Britannia or Mooz cream cheese from your nearby grocery store.
Pumpkin Swiss Roll Recipe
Pumpkin Swiss Roll
Ingredients
¾ cup all purpose flour
1 teaspoon ground cinnamon powder

½ teaspoon ground ginger powder
1 teaspoon baking powder

½ teaspoon baking soda
3 eggs
1 cup castor sugar
1 teaspoon lemon juice
⅔ cup pumpkin puree
Confectioners/icing sugar for dusting cake with
½ cup butter, softened
1 cup cream cheese
1.5 cups icing sugar
1.5 teaspoon vanilla extract
Instructions
Preheat the oven at 180 degrees and line a 15x10 inch pan with parchment paper.
Lay a clean kitchen towel and sprinkle icing sugar generously on it.
In a bowl, combine flour, cinnamon powder, baking powder and baking soda.
Beat the eggs in the stand mixer until light and fluffy.
Gradually add the sugar followed by the lemon juice and whisk until thick.
Gently fold in the dry ingredients into the the egg mixture. Make sure you do not knock out the air.
Add the pumpkin puree and mix well.
Transfer the batter on the prepared baking tray and spread evenly using an offset spatula.
Bake for 15 minutes at 180 degrees or until the cake springs back.
Immediately turn cake out onto line towel. Peel off parchment paper and gently roll cake up in the towel, starting with the short end.
Let it cool completely.
Place the roll in the refrigerator for 30 minutes to chill.
To prepare the filling, in a bowl beat the butter and cream cheese together until the mixture is light and fluffy.
While the mixture is running gradually add the icing sugar.
Add the vanilla extract and mix.
Unroll the chilled roll.
Spread the frosting evenly on the Swiss roll using an offset spatula.
Roll the swiss roll again and chill in the refrigerator for 2 hours