This Banana Cake with brown butter is another great addition to my prestigious list of banana recipes and I am really glad. What makes me gladder is the fact that I had a nice loaf of this banana cake with a good, generous scoop of vanilla ice-cream. Nothing to beat Monday morning blues and crazy jet lag like some good old banana cake, no?
Why I decided to make this banana cake with brown butter today is because I woke up in parts throughout the morning at the oddest of hours. I was so confident that a good, decadent dessert will save me from this misery. And hence, this yum banana cake with brown butter came into existence- and I am so glad that it did! The best part of this cake is the fact that it is literally a one-bowl recipe or a 'dump' recipe. You just need to gather your ingredients, measure them properly, and keep them dumping in a bowl one by one. I have made something this easy and effortless after so many months- it's so refreshing!
This banana cake with brown butter deserves at least one trial from your side. Once you understand the beauty of this recipe, it will become your go-to recipe for some pleasure eating, for parties, for cravings, and what not!

Ingredients of this banana cake with brown butter
Like I have mentioned, the process is absolutely easy! I have used the most basic of ingredients for this banana cake with brown butter recipe. All the ingredients are literally always at a distance of a hand or two! I actually got very lucky with my bananas- they were absolutely ripe- and exactly how my dessert needed them to be! The point to note for this recipe is that I have used light brown sugar. You usually get granulated brown sugar in the market and for a good texture, you need to grind your sugar. If you want a heavy, decadent cake, you can also try baking this cake with dark brown sugar. Don't forget to let me know how it came out to be and definitely tag me on Instagram.
Tips for the perfect banana cake with brown butter
Please always use perfectly ripe and yellow bananas for any of your banana desserts. Unless your recipe asks you to use otherwise, yellow bananas leaning towards the black color are your best friend for any banana desserts.
Butter usually burns very fast. In this recipe, we have not burned our butter but made it brown by letting it heat for longer but over a balanced amount of heat. You can not simply let your butter sit on high flame because that will instantly burn it. Do not forget to keep stirring the butter mixture. When it starts turning foamy, use a whisk to clearly see the color. Remove the butter from the flame as soon as it gains a dark golden-brown color.
Be careful and cautious about the type of sugar you used. There is fine sugar, granulated sugar, and super-fine sugar. Most of my recipes use caster sugar and this recipe of the banana cake with brown butter also uses a nice light brown sugar. Whatever sugars you use in all or any of your recipes play a great hand in the end product. Not just in taste, but the texture, the look, is also greatly affected by your type of sugar.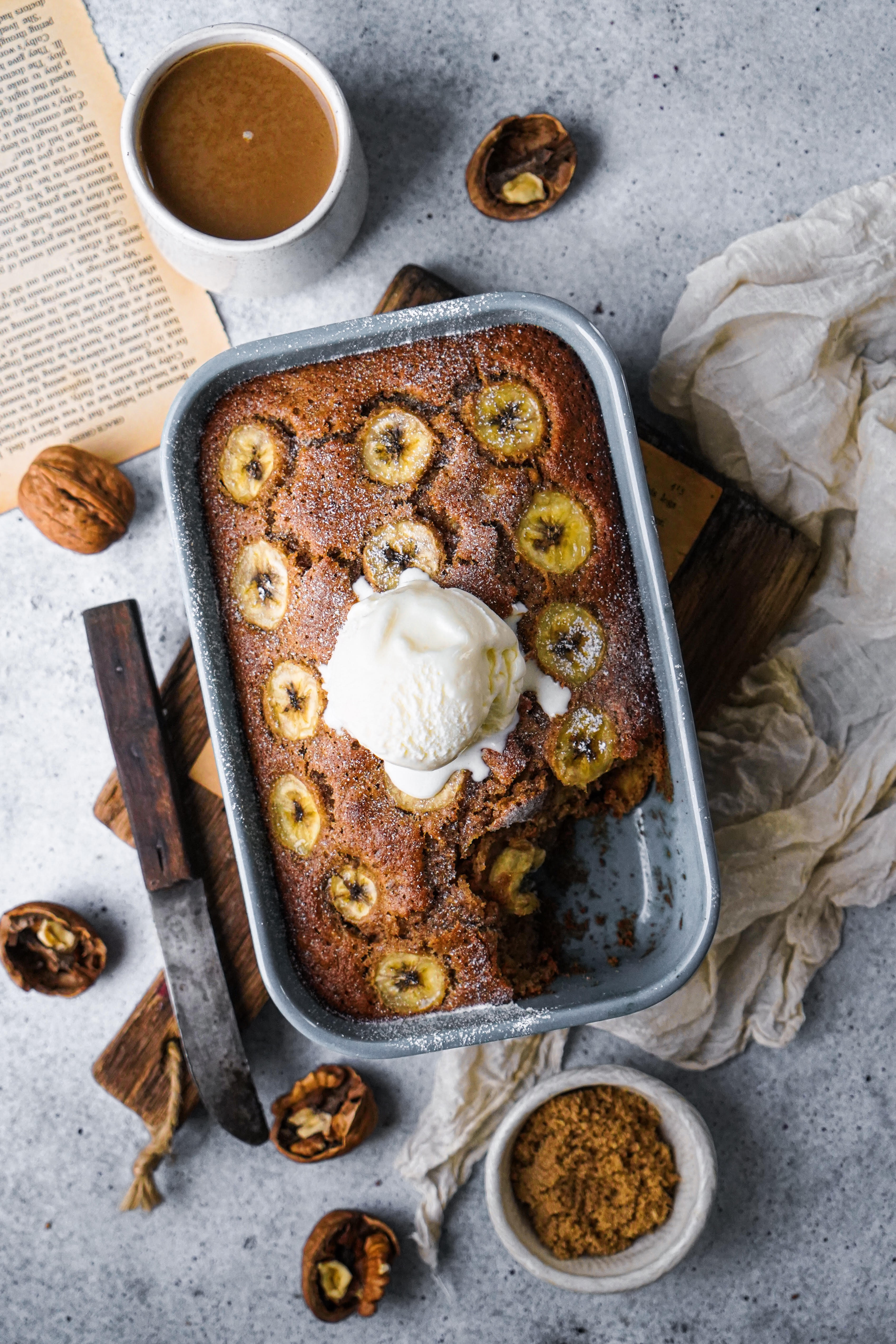 More Banana recipes from the blog
Banana Cake with Brown Butter recipe
Banana Cake with Brown butter
Ingredients
½ cup butter, softened
2 ripe bananas, mashed
½ cup sugar
2 eggs
1 cup flour
2 tsp ground cinnamon
2 tsp baking powder
2 tbsp milk
Icing sugar to top
¼ cup crumbled walnuts
Instructions
Pre-heat your oven to 180 degrees and prepare your cake tin
On a saucepan on medium flame, add softened butter carefully. Stir the butter on medium flame until you obtain a golden-brown color of the butter.
Carefully pour the melted butter in a mixing bowl and add the brown sugar. Mix thoroughly.
Add two eggs- one at a time and mix well with the butter and sugar mixture.
Add the dry ingredients- flour, cinnamon, and baking powder into the bowl. Mix until all the ingredients are well combined.
To this mixture, add the mashed bananas and subsequently add the walnuts and mix well.
Bake at 180 degrees for 25 minutes or until a skewer inserted in the middle comes out clean.
Serve with icecream.