Pears are in season and it's starting to get chilly, so it's the perfect time to make this poached pear custard tart! I promise you guys, it tastes as good as it looks! This tart has two components- a spiced custard and red wine poached pears, both incredibly yum! The custard is spiced with cinnamon, cardamom and star anise. These spices go well with the red wine flavour from the pears, you wouldn't be able to stop at just one slice! Also, have you tried baking the Rose Tart that I shared with you a few days back? If you're looking for a classic, fool proof, delicious tart, you should definitely check out my Eggless Caramel Pecan Tart.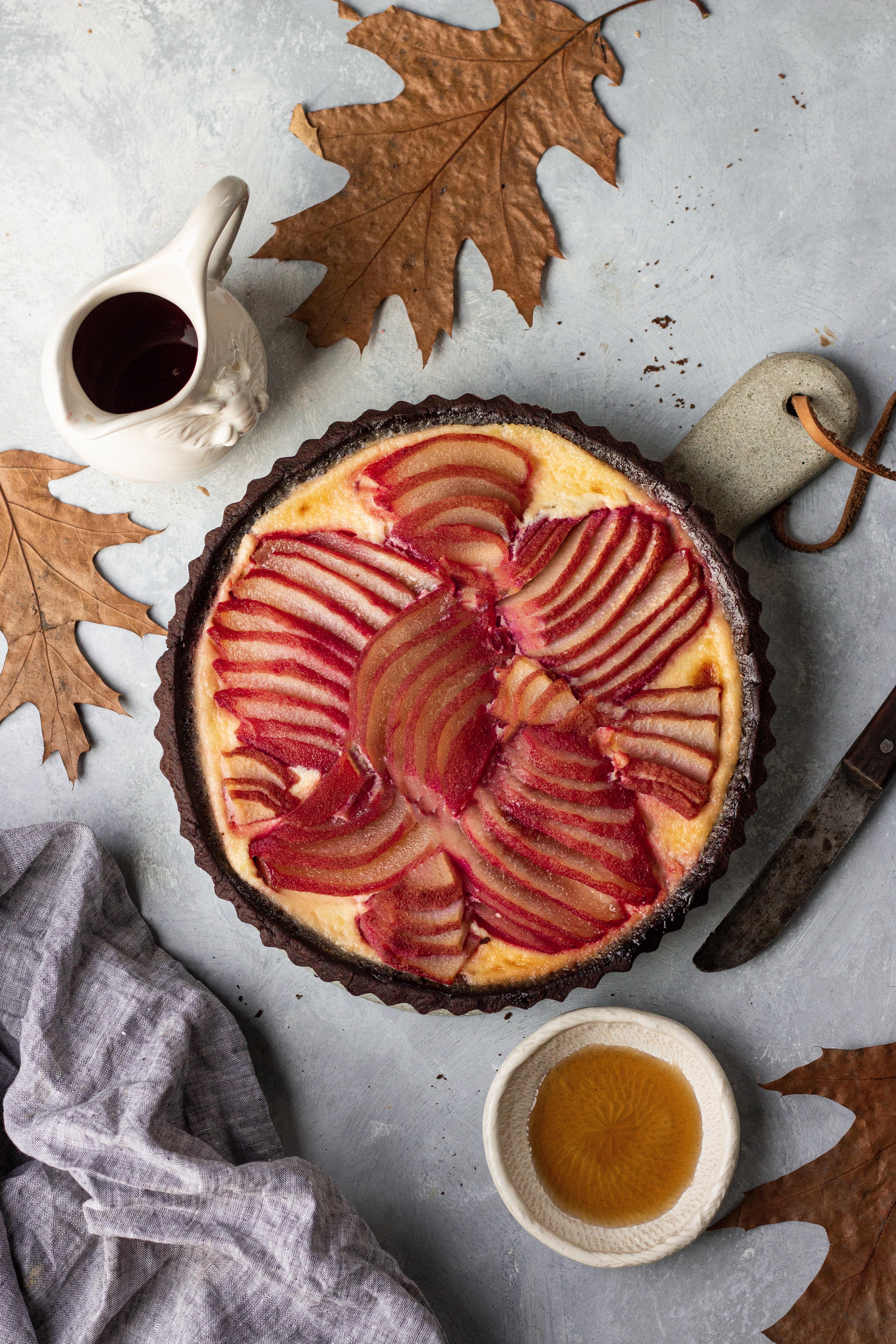 HOW TO MAKE THE SPICED CUSTARD
For the spiced custard, you need to infuse the milk with cinnamon, cardamom and star anise. You can add these spices to cold milk and let it be in the chiller overnight. Or if you're always in a hurry like me, you can warm up the milk, add the spices and cover and keep for 30 minutes. Strain the milk over the sugar and yolks mixture and whisk till frothy. This is your basic custard mixture which will thicken upon baking!
HOW TO POACH PEARS
To poach pears, or any fruit for that matter, you need to first make the poaching solution. For this recipe, I'm poaching my pears with red wine because I want them to have that beautiful pink colour. You could always experiment with white wine, but it won't stand out on the yellow custard. Bring the wine, water and spice mixture to a boil. Add peeled, halved pears to this mixture and continue to boil for 15-20 minutes. You can stop when the pears take on the colour of the wine and are tender.
If you bake this recipe, don't forget to share the pictures with my on my Instagram and use the hashtag #bakewithshivesh
Happy Baking!
POACHED PEAR CUSTARD TART
Ingredients
For tart shell-
½ cup (113g) butter, softened
¼ cup (50g) sugar
1 egg
¼ cup (25g) cocoa powder
1 cup (120g) all purpose flour
For spiced custard-
1 + ½ cups (375mL) milk
2 sticks cinnamon
2 pods cardamom
1 start anise
4 egg yolks
¼ cup (50g) caster sugar
For poached pears-
2 cups (500mL) red wine
1 cup (2500mL) water
⅓ cup (84g) caster sugar
2 sticks cinnamon
2 pods cardamom
1 start anise
½ vanilla bean
3 pears
Instructions
To make the tart shell, cream together the butter and sugar.
Beat in the egg.
Combine the flour and cocoa powder together and add to the egg mixture to form a dough.
Line a 9" tart pan with this dough and refrigerate until firm.
Half bake the tart shell, at 180C for 10 minutes.
To make the spiced custard, infuse milk with the spices. Add the spices to warm milk, cover and put aside for at east 30 minutes.
Whisk together the egg yolks and sugar. Pour the strained milk into this and whisk till frothy.
To poach the pears, bring wine, water, sugar and spices and vanilla seeds to a boil. Add peeled, halved pears to this and continue to boil until the pears take on the colour of the wine are tender.
Let the pears cool slightly, then cut into slices.
To assemble the tart, pour the custard mixture into the half baked tart shell and arrange poached pear slices on top.
Bake the tart at 180C for 30-40 minutes, or until the custard begins to set.