POACHED PEAR CUSTARD TART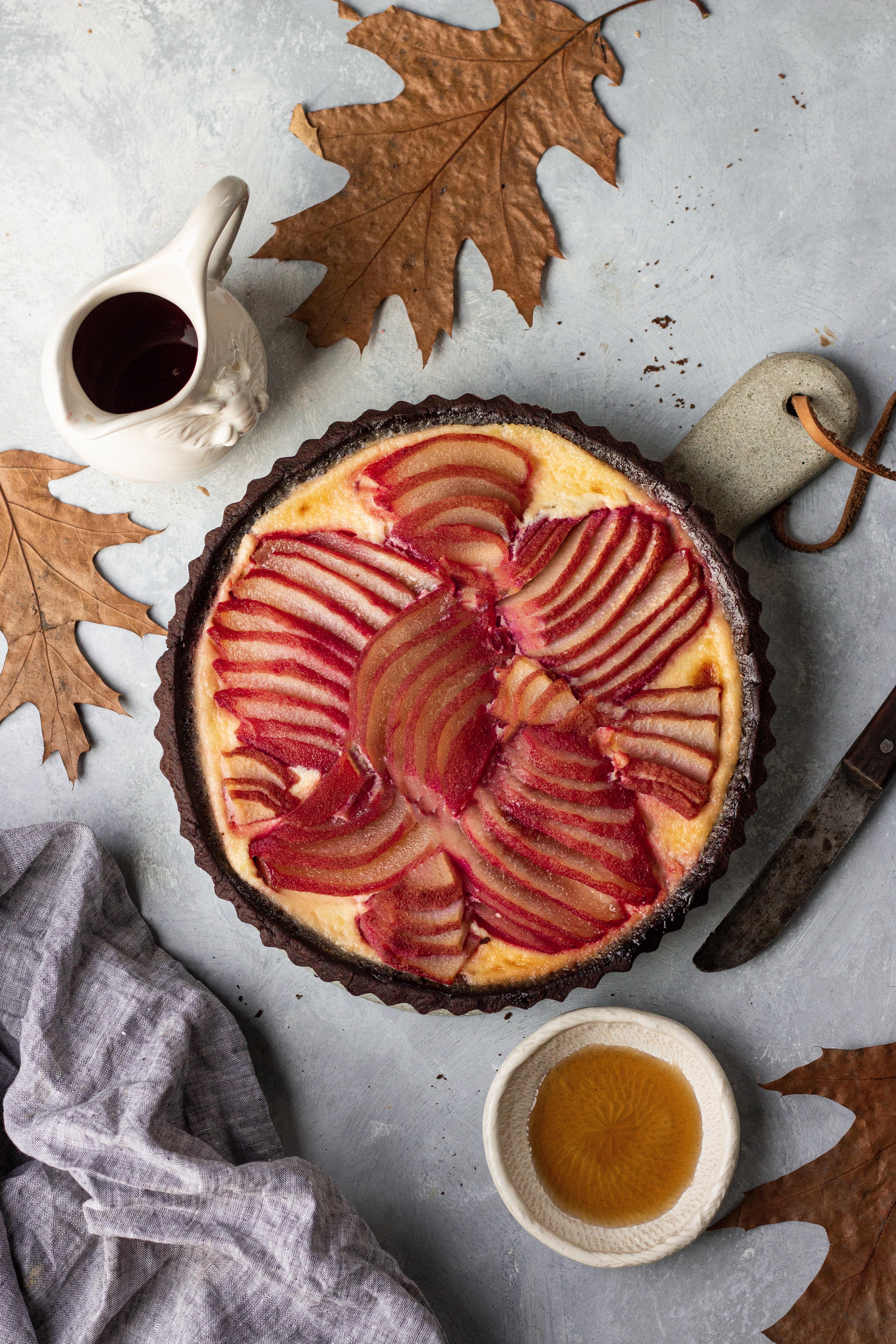 ½ cup (113g) butter, softened
¼ cup (50g) sugar
1 egg
¼ cup (25g) cocoa powder
1 cup (120g) all purpose flour
1 + ½ cups (375mL) milk
2 sticks cinnamon
2 pods cardamom
1 start anise
4 egg yolks
¼ cup (50g) caster sugar
2 cups (500mL) red wine
1 cup (2500mL) water
⅓ cup (84g) caster sugar
2 sticks cinnamon
2 pods cardamom
1 start anise
½ vanilla bean
3 pears
To make the tart shell, cream together the butter and sugar.
Beat in the egg.
Combine the flour and cocoa powder together and add to the egg mixture to form a dough.
Line a 9" tart pan with this dough and refrigerate until firm.
Half bake the tart shell, at 180C for 10 minutes.
To make the spiced custard, infuse milk with the spices. Add the spices to warm milk, cover and put aside for at east 30 minutes.
Whisk together the egg yolks and sugar. Pour the strained milk into this and whisk till frothy.
To poach the pears, bring wine, water, sugar and spices and vanilla seeds to a boil. Add peeled, halved pears to this and continue to boil until the pears take on the colour of the wine are tender.
Let the pears cool slightly, then cut into slices.
To assemble the tart, pour the custard mixture into the half baked tart shell and arrange poached pear slices on top.
Bake the tart at 180C for 30-40 minutes, or until the custard begins to set.
Recipe by
Bake with Shivesh
at https://bakewithshivesh.com/poached-pear-custard-tart/