I am such a fan of bananas, it is unreal. I try to make something with the fruit literally every month. For this month, we have the soft and delicious Marble Banana Bread! My team and I are really into marble cakes and this is the second marble cake recipe going up on the blog this month. Marble cakes are beautiful and require little to no extra effort for the added beauty. This Marble Banana Bread recipe is the easiest of recipes. What's more is that it lets you enjoy the flavor of chocolate, vanilla, and bananas- all in one!
If you have been of the opinion that marble cakes, like this Marble Banana Bread, are complicated, then you're highly wrong! There are little tips and tricks that you need to take care of, and you're pretty sorted. I always say that if you follow the recipe ardently, you hardly go wrong. From the measurements to the mixing of the ingredients, following the recipe is vital for good results. And this Marble Banana Bread recipe is an exceptionally easy one. Plus, it's eggless too. I can already hear all the vegetarians thank me, haha! The flavors of this Marble Banana Bread are extremely delightful. The soft, spongy texture is so heart-warming and it literally melts in your mouth. Plus, if you are a fan of chocolate, you can add chocolate chips and take your recipe up a chocolatey notch!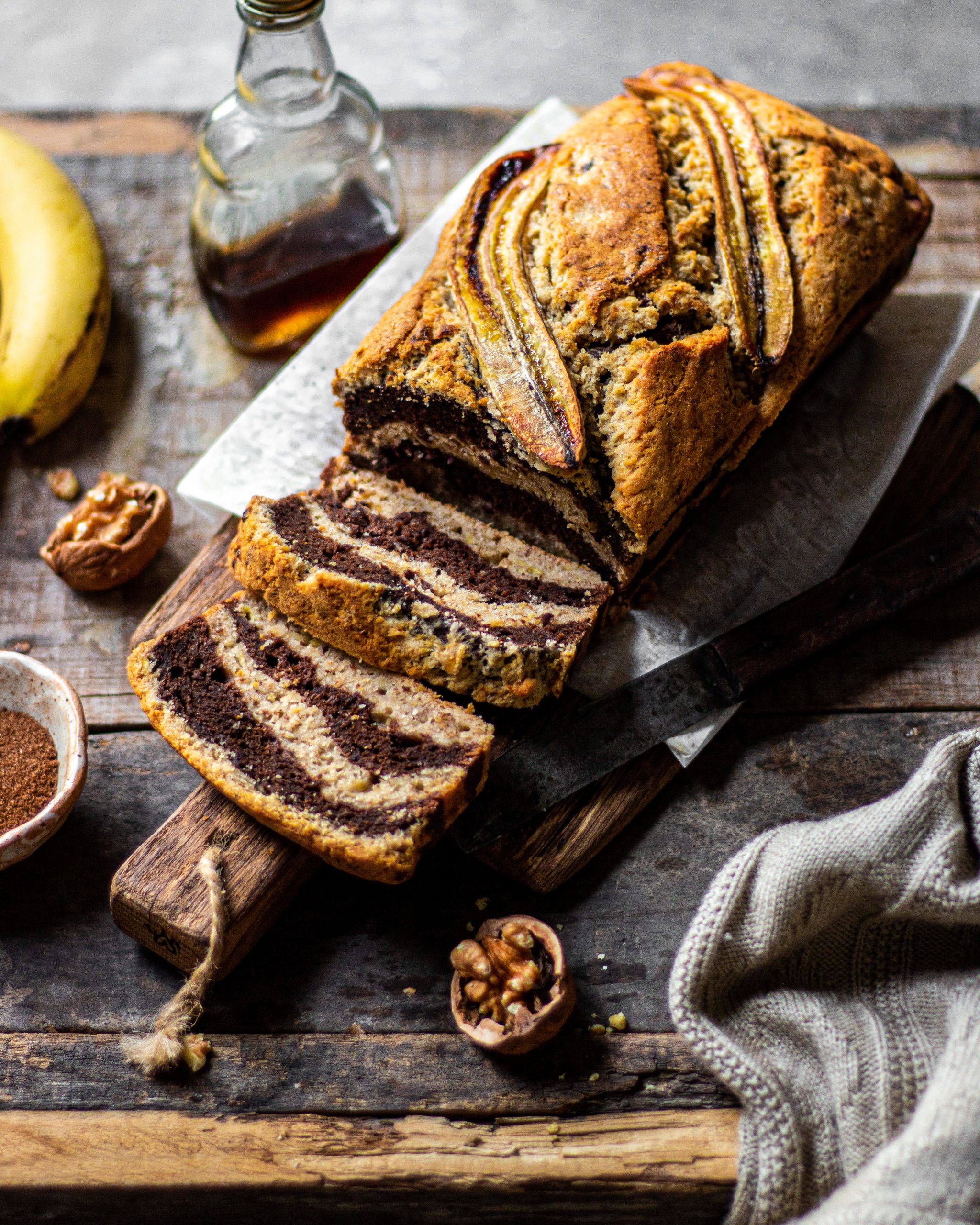 Tips on baking with Bananas
Banana infused recipes are yum and often, there is hardly anything that can go wrong with them. This Marble Banana Bread also uses bananas in an easy to do way. However, practicing some caution with the fruit can land you up in a more delicious situation. The best part about baking with bananas is that they're really supportive fruits. Bananas are easy to manage and easy to cook. They do not cause a ruckus in your kitchen- you can dice them, squash them, and slice them extremely easily. But, the following are some tips you should keep in mind while baking with bananas!
Choose the ripest of bananas. The blacker they are, the better your dessert!
If your bananas are green or yellow and you wish for them to be ripe- pop them in an oven. Turn the oven to a 180-degree temperature. Place unpeeled bananas on a baking tray and let them 'ripen' inside for 15-20 minutes.
Mash your bananas using two forks for faster and better results!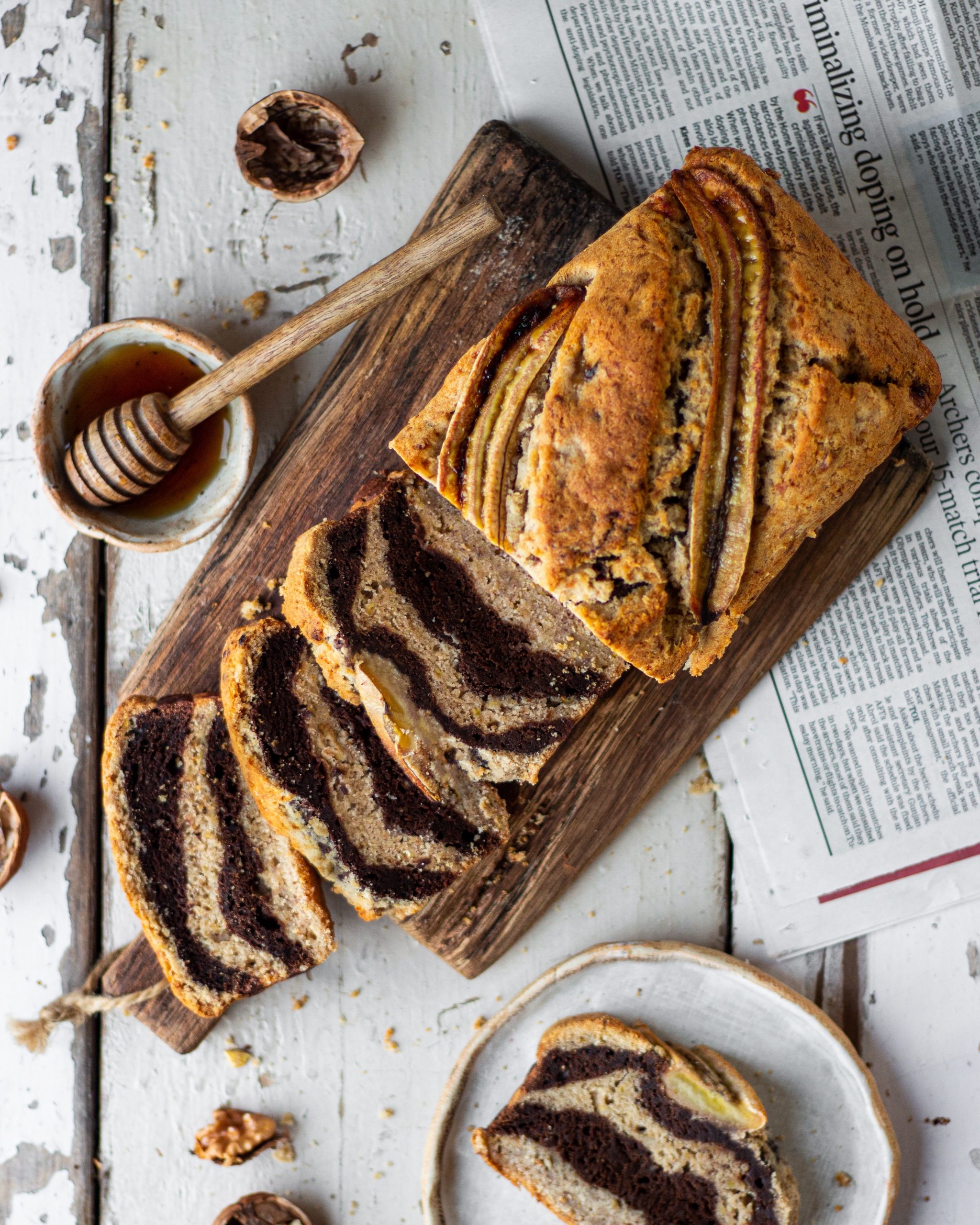 Tips on baking the perfect Marble Banana Bread
This delicious Marble Banana Bread does not only satisfy your thirst for having a wholesome dessert, but it is also one of the quickest desserts to prepare. Marble cakes are seen to be complicated desserts- like I said, but they're really not as difficult to prepare. Read through the following easy tips to nail this Marble Banana Bread.
Keep all your ingredients handy
What I mean by keeping your ingredients handy is that your ingredient is right in front of you when you need it. Your butter is softened, bananas are mashed, your dry ingredients lie in front of you, and so on. This makes you super prepared and organized as well. Mashing bananas is a task while baking this Marble Banana Bread. Make sure you do it before you proceed with any step so you're the boss of your baking!
Keeping your tools handy 
With the advent and subsequent takeover of silicone in the cooking and baking industry, you need to have a silicone spatula! It does not only allows you to save every single drop of your batter, but it also helps in easy mixing. For this recipe of Marble Banana Bread, you will preferably need a hand mixer or a whisk, some forks for your bananas, and a silicone spatula. Being prepared and organized has never harmed anyone, has it?
Additional tips
Make sure your bananas are ripe.
Please use castor sugar instead of granulated sugar or powdered sugar. I use the 'Trust' Brand's castor sugar.
Your butter should mandatorily be softened.
Make sure you are adding your vanilla proportionately. Extra vanilla turns desserts bitter.
Marble Banana Bread Recipe
Marble Banana Bread- Eggless!
Ingredients
½ cup butter
¼ cup castor sugar
1 cup mashed bananas
1 tsp vanilla
2 cups flour
1 tsp baking powder
½ tsp baking soda
1 tsp cinnamon powder
⅓ cup milk
3 tbsp cup cocoa powder
1 banana (for the top)
Instructions
Pre-heat the oven to 180C. Line a 9" X 4" loaf pan with parchment paper.
In a large bowl beat butter and sugar, until the mixture is fluffy
Mix in the ripe bananas and use a whisk to make sure it is well incorporated.
Add the flour, baking powder, baking soda and cinnamon powder to this and mix well.
Beat in the milk.
Divide half of the batter in a separate bowl and cocoa powder.
Transfer the batter into the prepared loaf in layers pan and bake at 180C for 40-50 minutes,
More banana recipes from the blog