I have no sane idea as to why the blog still doesn't have a recipe for the best ever dessert- chocolate chip muffins. They're so easy, comfortable to mix and bake, and are the best soul food. We used to get small chocolate chip muffins in refreshment boxes and I absolutely loved them. When I baked these, they instantly melted in my mouth. These Chocolate Chip Muffins are guaranteed to take you back to your childhood. Trust me, you will be reminiscing of all the good and stress-free days of when you were younger.
Trust me when I say this, I can have muffins for breakfast- and it is totally NORMAL. I want you to imagine a warm Chocolate Chip Muffin in your hand with a cup of coffee in the morning. No better way to start the day, right? Plus- these muffins are so effortless and easy to mix up and bake, you can get these muffins in your hands within 45 minutes!
If you find the crumble addition a little complicated, these Chocolate Chip Muffins are perfect even without it! In case you end up baking these Chocolate Chip Muffins, do not forget to tag me on instagram!
Ingredients for these delicious Chocolate Chip Muffins
I don't even need to explain how BASIC this recipe is. All your off the shelf ingredients and nothing too complicated. Just a few points to keep in mind before you bake these heavenly Chocolate Chip Muffins.
Use butter kept at room temperature or softened butter for your muffins. And use cold and hardened butter for your crumble.
Use castor sugar over granulated or powdered sugar. I use the brand- 'Trust', which is quite affordable and easily available too.
I have used milk chocolate chips for these Chocolate Chip Muffins. You can get chocolate chips online or at a normal bakery store. Be sure to get a taste of them to ensure they are fresh.
Use room temperature eggs for this recipe.
Avoid using low-quality flour or cocoa powder because they are the main ingredients and will make or break your muffins.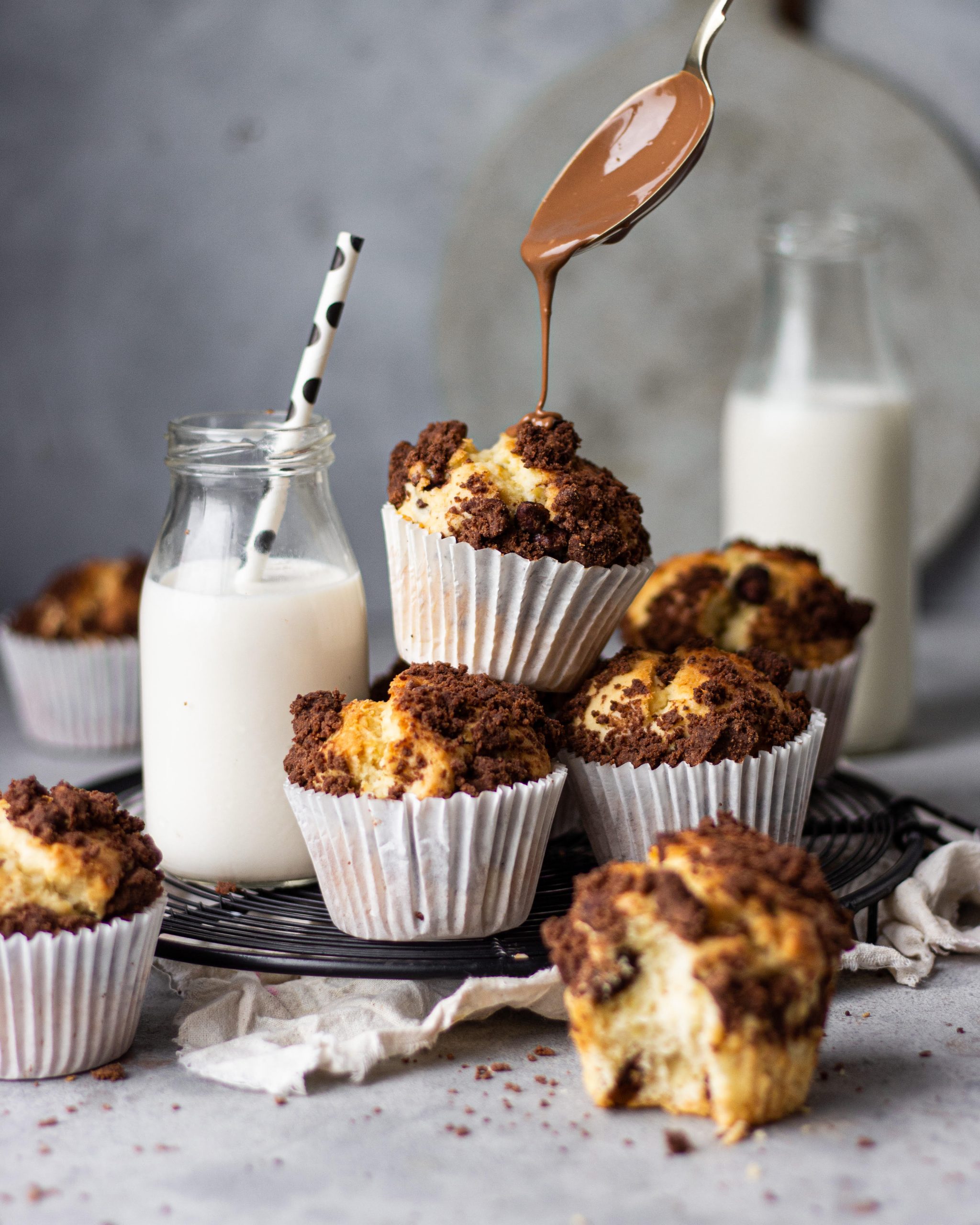 Baking the perfect chocolate chip muffins
Anyway, let's talk about baking science. The key to the perfect bakery-style muffin is to have just enough leavening agents (baking soda and baking powder) to create that puffy dome when baking, but not so much that you can taste it. Baking at an initial high temperature will cause the air bubbles in the batter to expand even further. This will help give the muffin a soft and fluffy texture and also create a high rise. Using enough fats and liquids like butter, eggs, and milk, will make the muffins moist and rich. You also need enough volume of batter to fill the tins to the top.
Lastly, and this is a tip in general for making soft and tender muffins, mix the wet with the dry ingredients until JUST combined. Over mixing will result in hockey pucks and you don't want that. Everything else is a matter of preference in taste.
Recipe for the most amazing chocolate chip muffins
Chocolate Chip Muffins with Chocolate Crumble
Ingredients
2 large eggs
⅔ cup milk
1½ teaspoons vanilla extract
2 cups all-purpose flour
⅔ cups castor sugar
2½ teaspoons baking powder
½ cup butter, melted
1 cup milk chocolate chips
FOR THE CRUMBLE-
½ cup butter
¼ cup castor sugar
1 cup flour
½ cup cocoa powder
Instructions
Preheat the oven at 180 degrees and line a muffin tray with muffin liners and keep aside.
In a large bowl mix together eggs,milk and vanilla.
In a separate bowl add flour,sugar,baking powder and mix well.
Add the dry ingredients to the bowl of wet ingredients and mix until well combined.
Add the melted butter to the batter and mix well.
Fold in the chocolate chips.
To make the crumble beat the butter and castor sugar together in a bowl until pale.
Add the flour and cocoa powder and combine until a crumbly dough is achieved.
Transfer the muffin batter to the prepared tray using a ice cream scoop.
Top each muffin with the crumble and bake for 25-30 mins at 180 degrees.
More muffins recipes from the blog