No-oven chocolate chip cookies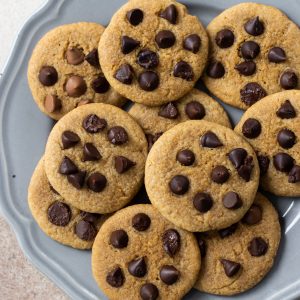 1 + ¼ cup (157 gm) whole wheat flour
1 tbsp cornflour
½ tsp baking soda
½ cup (113 gm) softened butter
½ cup (100 gm) light brown sugar
½ cup (115 gm) caster sugar
1 tsp vanilla extract
¼ cup (61 gm) milk
¼ cup (40 gm) chocolate chips
In a large bowl add softened butter, brown sugar, caster sugar and vanilla. Use a spatula to cream the butter and sugar together until everything becomes nice and fluffy.
To the same bowl sift in the whole wheat flour, cornflour and baking soda. Mix everything together until the texture of the dough looks sandy.
Add milk to the dough to bring everything together and mix well. Refrigerate the dough for 30 minutes.
For the cooking setup, place a high rim pan on the induction cooktop. Place a trivet on the pan (any wire rack/idli mould). Place a steel plate on top of it and cover the pan to preheat on a medium heat for about 10 minutes.
Take a spoonful of the chilled cookie dough, roll it into a ball, flatten them and place it on top of the plate in the pan. Cover and cook for 20 minutes.
Once the cookies have risen and cooked almost all the way through, top them with chocolate chips and cover and cook for a couple of minutes more.
Turn the heat off , let the cookies cool off and then devour them asap!
Recipe by
Bake with Shivesh
at https://bakewithshivesh.com/no-oven-chocolate-chip-cookies/