Eggless Gluten Free Chocolate Cake with Rose Buttercream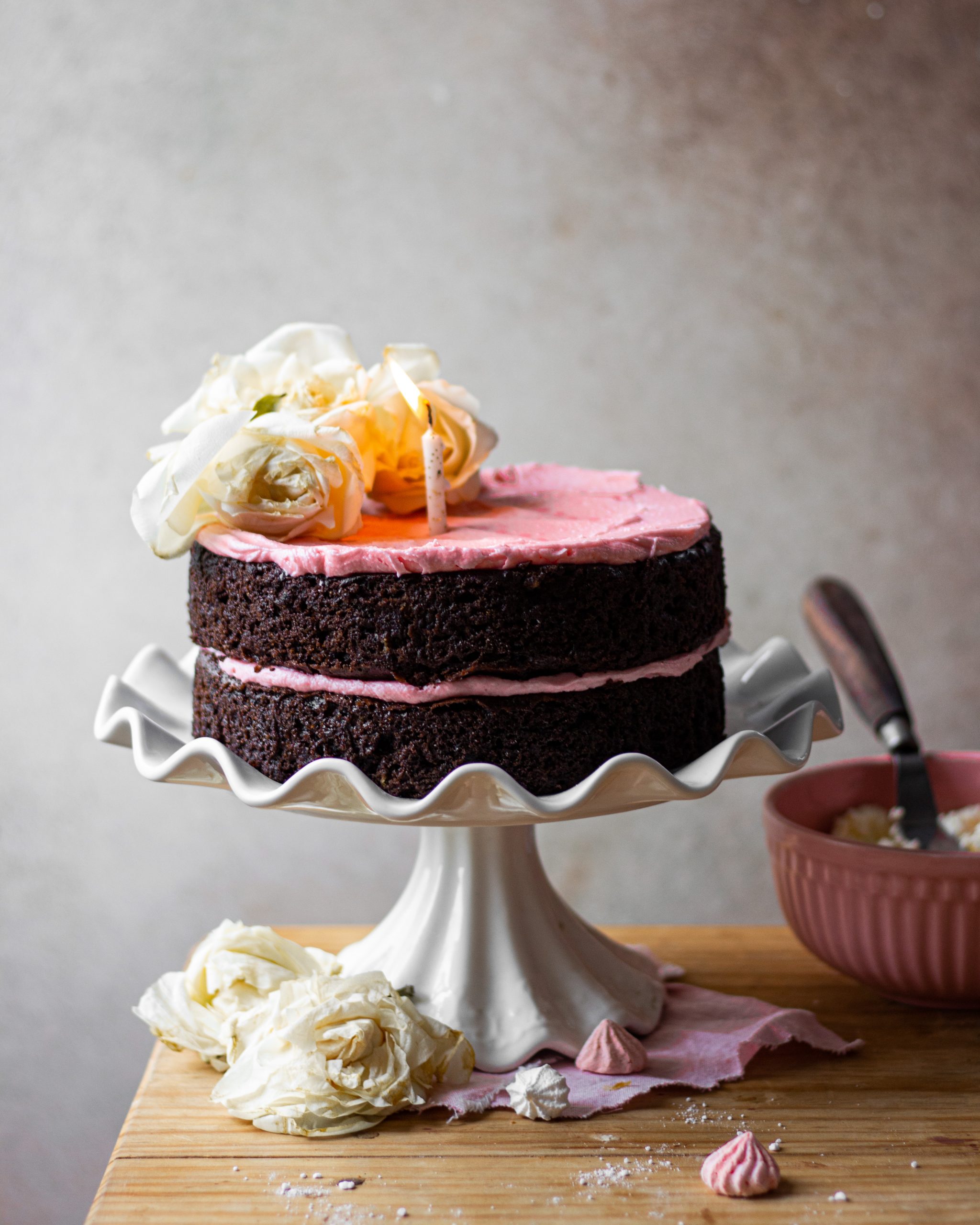 1½ cups jowar flour
¾ cup cocoa powder
A pinch of salt
1 teaspoon baking powder
½ teaspoon baking soda
¾ cup vegetable oil
1½ cups caster sugar
½ cup yogurt
½ teaspoon vanilla extract
¾ cup milk
½ cup softened butter
1 cup icing sugar (sifted)
1tsp rose extract
2-3 drops of pink food colouring
In a large bowl, sift through the jowar flour, cocoa powder, baking powder, baking soda and salt. Set this aside.
In a separate bowl, combine sugar and oil. Using a whisk mix this really well, until it is light and fluffy.
Into the sugar and oil mixture. Add the yoghurt and vanilla extract. Combine this well as well.
Fold half of the dry mix that was set aside earlier, fold in gently using a spatula.
Add the milk to the batter and combine it well. Finally add the leftover dry mix and mix until no large flour pockets remain.
Transfer the batter into two 6' inch round pans which are greased and lined with parchment.
Bake the cakes @180C for 35-40 minutes or until a skewer inserted comes out clean.
To prepare the frosting, in a large bowl add the softened butter and beat it on high speed using an electric whisk. Beat until light and fluffy. Add in the rose extract and food colour and beat again to combine.
Sift in the icing sugar, initially mixing in with a spatula and finishing it off with the electric whisk.
Once the cakes have cooled down completely, spread the frosting and layer the cakes. enjoy!
Recipe by
Bake with Shivesh
at https://bakewithshivesh.com/eggless-gluten-free-chocolate-cake-recipe/