After my trip to London and Scotland in June this year, I thought I'll be traveling to Europe only in December now. However, I ended up planning a short 5 day trip to Amsterdam with my cousin. It was my first visit to Amsterdam and I fell in love with this charming city, it's canals, it's stroop waffles and it's wonderful people. While I wasn't impressed with the bakeries there, I really liked the food we had in Amsterdam. Sharing a list of places where you can get some excellent vegetarian food and desserts in Amsterdam. Also some vegan options! I hope you are following my on Instagram– you can also check out the Amsterdam highlight there for more reccos!
For those of you who keep asking me- I stopped eating meat three years back. I've also shared vegetarian food guides for Singapore, Copenhagen  and Bali on the blog. You should also read my post on most Instagramable cafes in Dubai and the best desserts in London
Here is my list of vegetarian food and desserts in Amsterdam-
METROPOLITAN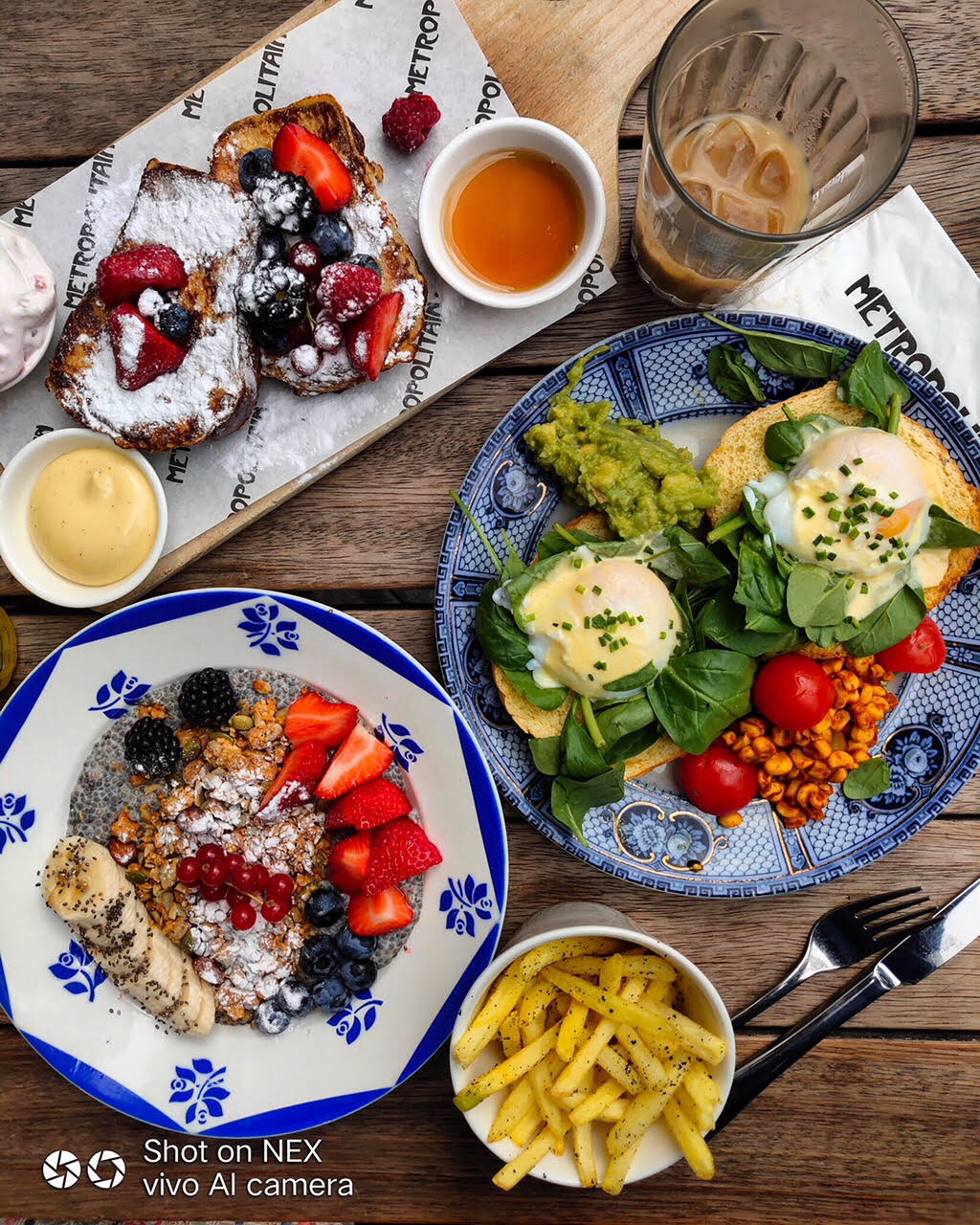 Our meal at Metropolitan was one of my favourite meals in Amsterdam. You should definitely go here for lunch/ brunch. They do not serve dinner so make sure you're not late. I tried the french toast here which was incredible. Served with fresh berries, maple syrup, raspberry cream and a phenomenal vanilla mascarpone- it was delicious. I also ordered eggs benedict, which came with spicy corn and avocado cream. Yum! MY cousin loved her vegan chia bowl there.
 2. COFFEE AND COCONUTS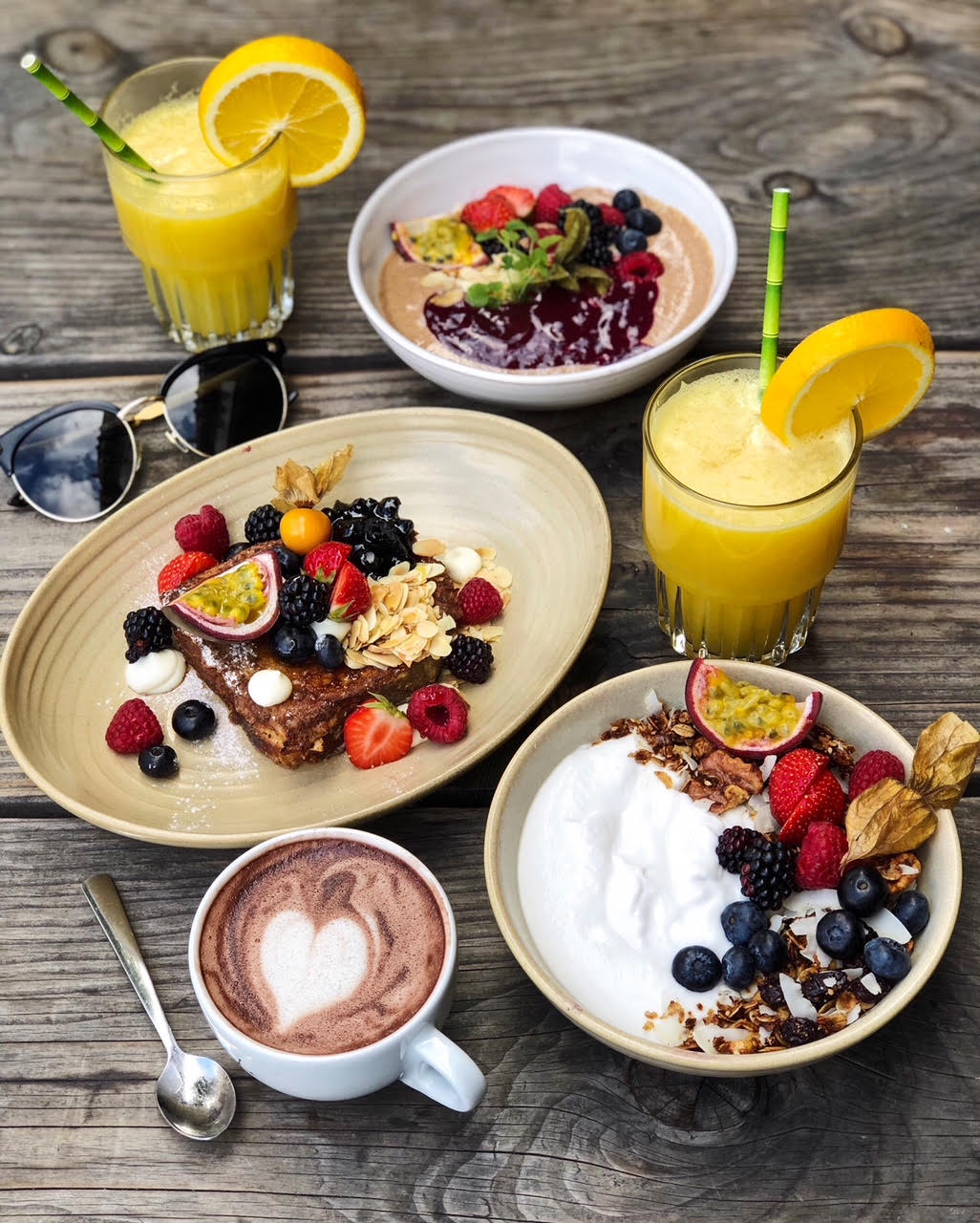 Coffee and coconuts is probably the most Instagramable cafe in Amsterdam. It's interiors are absolutely beautiful and so is it's food. Make sure you go here for breakfast because their lunch menu is very very limited. The breakfast is to die for. My cousin called for a coconut yogurt bowl with granola and over-night porridge. I ordered french toast. Everything was super fresh and came with lots of fresh fruits and berries, which I love.
 3. AMSTERDAM BREAKFAST CLUB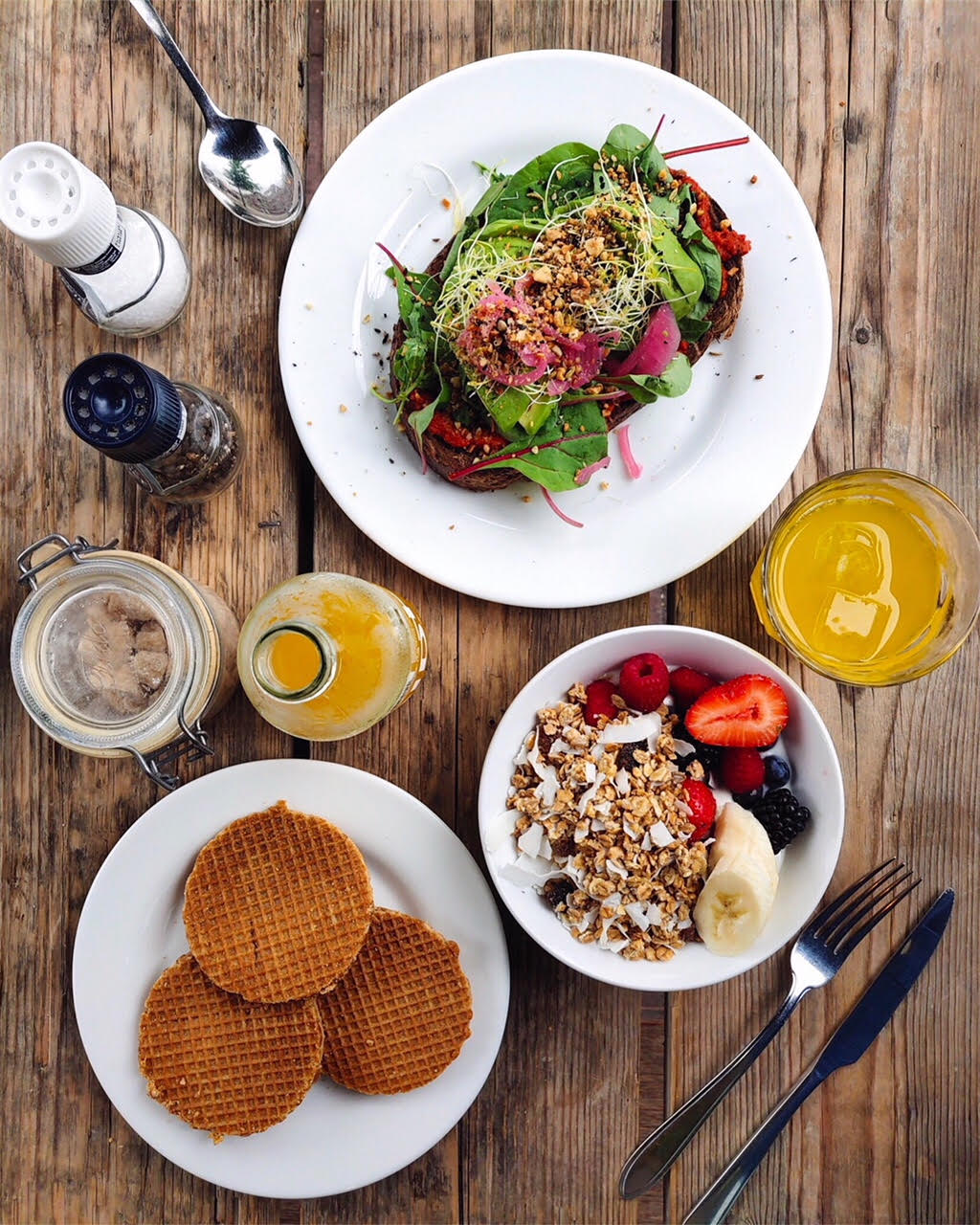 Another exciting place for breakfast in Amsterdam is the breakfast club. Right in front of De FoodHallen, it is a very popular breakfast spot. You might have to wait to get a table but the food is worth the wait. I ordered avocado toast and granola bowl here with passion fruit lemonade. Amsterdam breakfast club for me is #breakfastgoals!
 4. VEGAN JUNK FOOD BAR
We had lunch here twice in five days because it's so good. When you usually think of vegan food, you think of healthy food but these guys are serving hearty indulgent meals that are vegan. I didn't think I'd like mock meat but they do a great job with it. Try the Mc 'chicken' Daddy and the supreme fries- yum!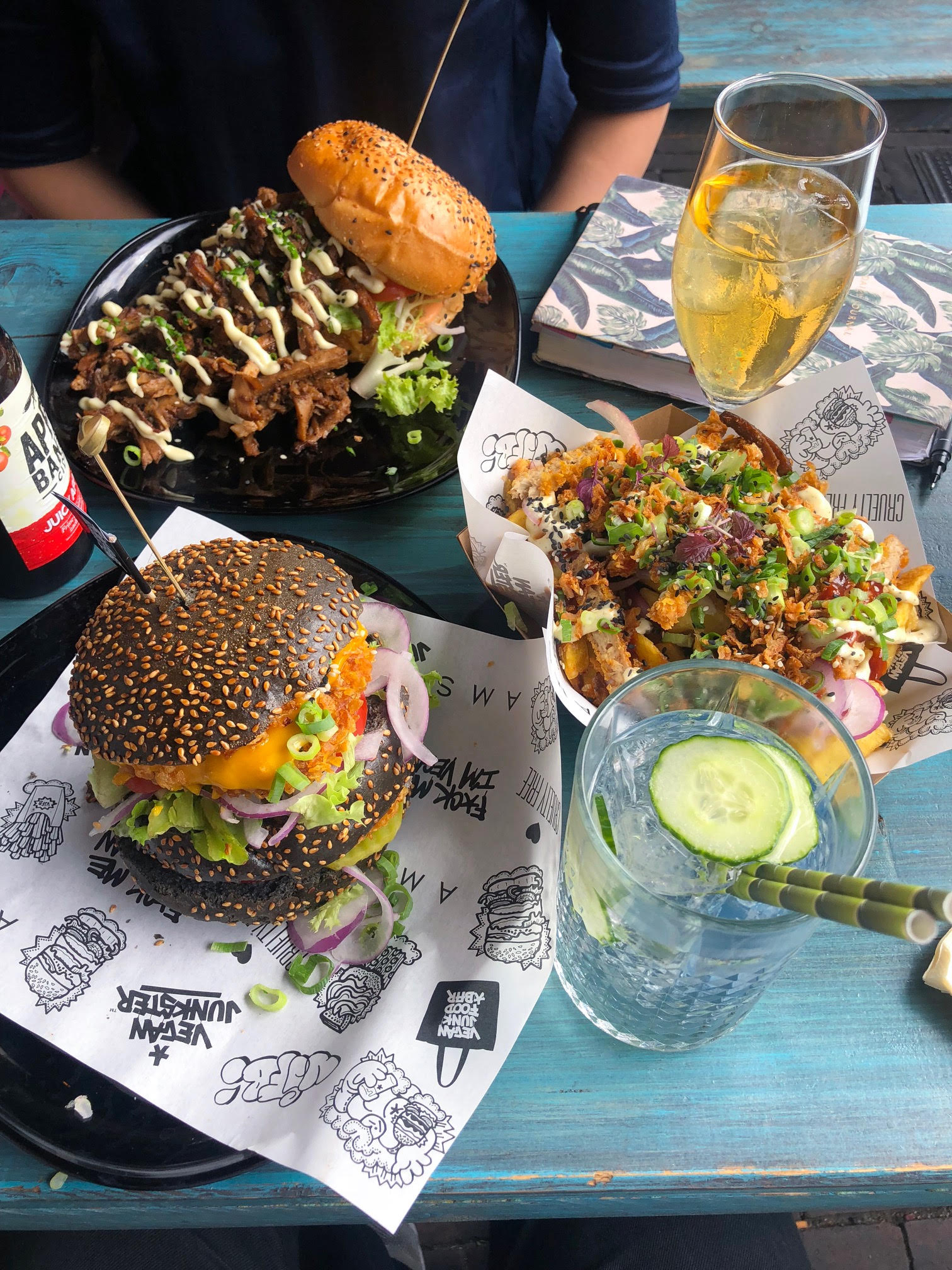 5. VAN STAPELE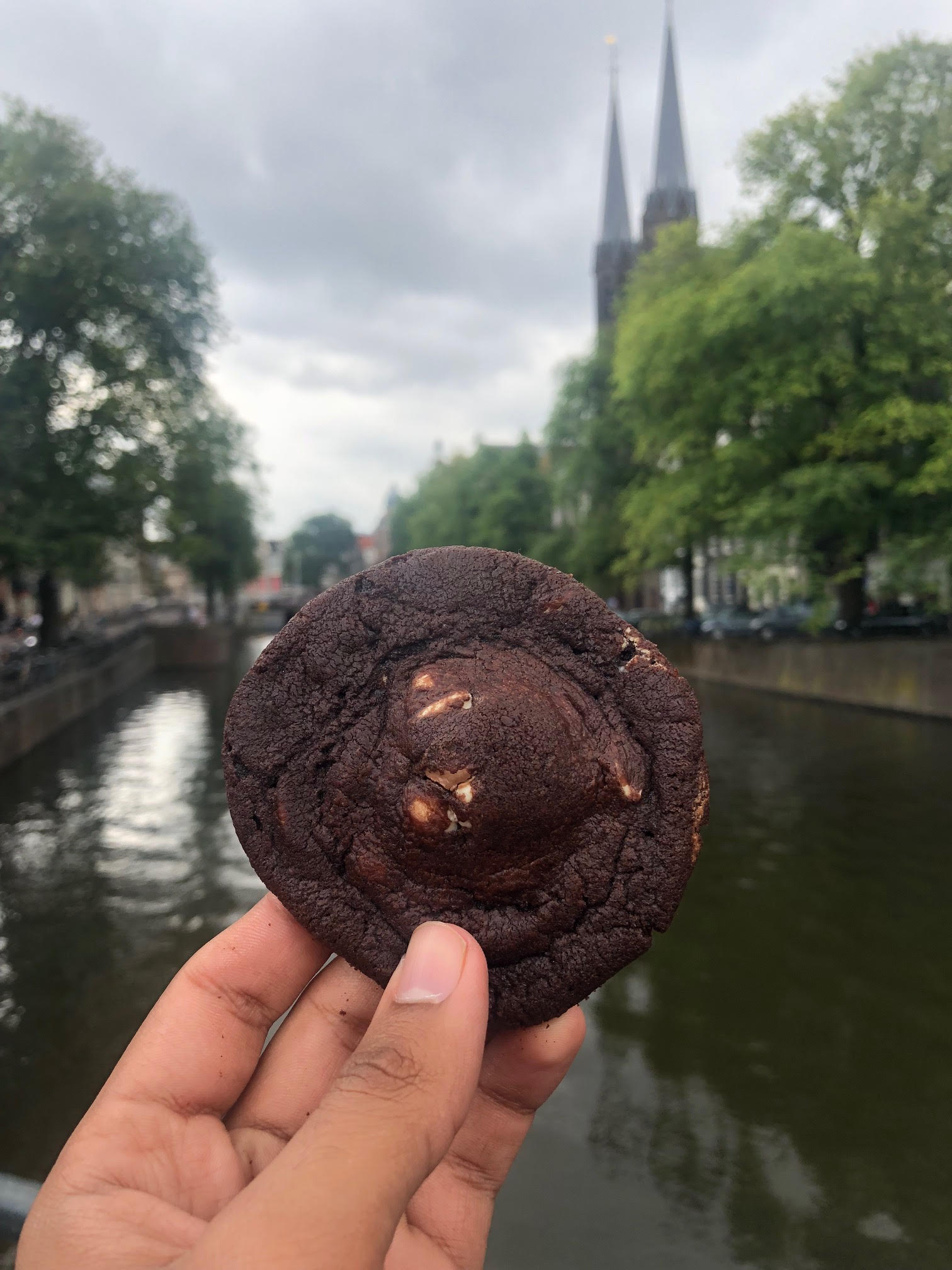 Best cookies ever! It is a very popular place and you'd usually see long lines of people patiently waiting to get into the shop. The tempting aroma of freshly baked cookies that fills the street make it slightly tough but once you bite into the cookies, you realise what the fuss is all about. Filled with white chocolate and Nutella, these cookies are the best you'll ever have.
 6. DIGNITA 
Dignita has a beautiful outdoor seating and I'd definitely recommend going there for lunch. After walking around for a while, we just wanted to sit around, eat some filling food and get some drinks. Dignita is perfect for that. I ordered this mushroom dish called 'Forest Dwellers' which was great. The portion was huge. My cousin ate the avocado toast which was vegan. We also had mimosas!
 7. THE AVOCADO SHOW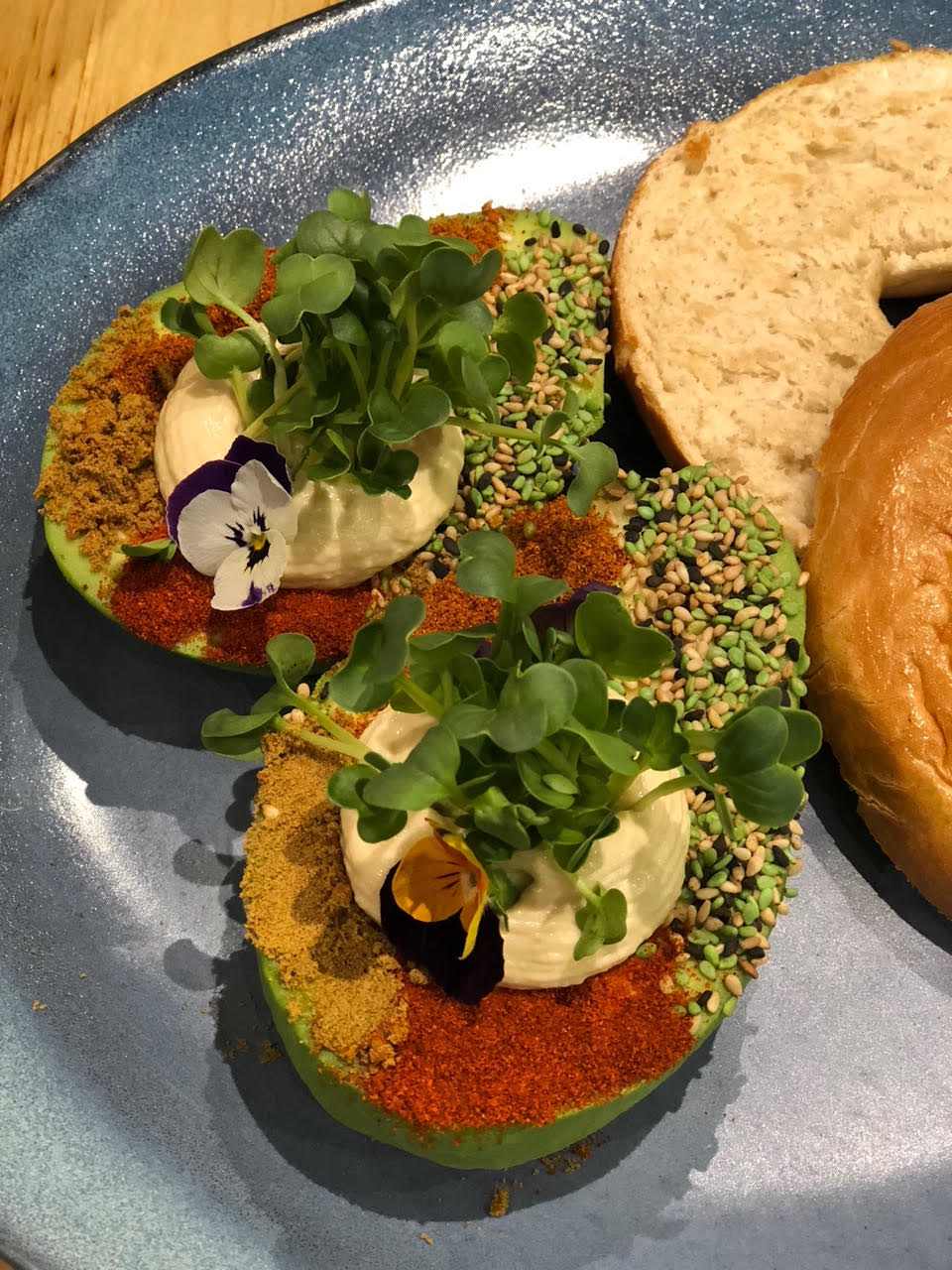 Avocado show is heaven for avocado lovers. They have everything avocado and is super popular. We were lucky to get a table without waiting too much but it is supposed to get busy. I just LOVED the avo garden- which was avocados lined with spices, filled with hummus and served with warm bagels. My cousin ordered 'heart beet rose' which was a toast with beetroot hummus and an avocado rose. I also called for poached eggs on avocado served with muffins.
8. PETIT GATEAU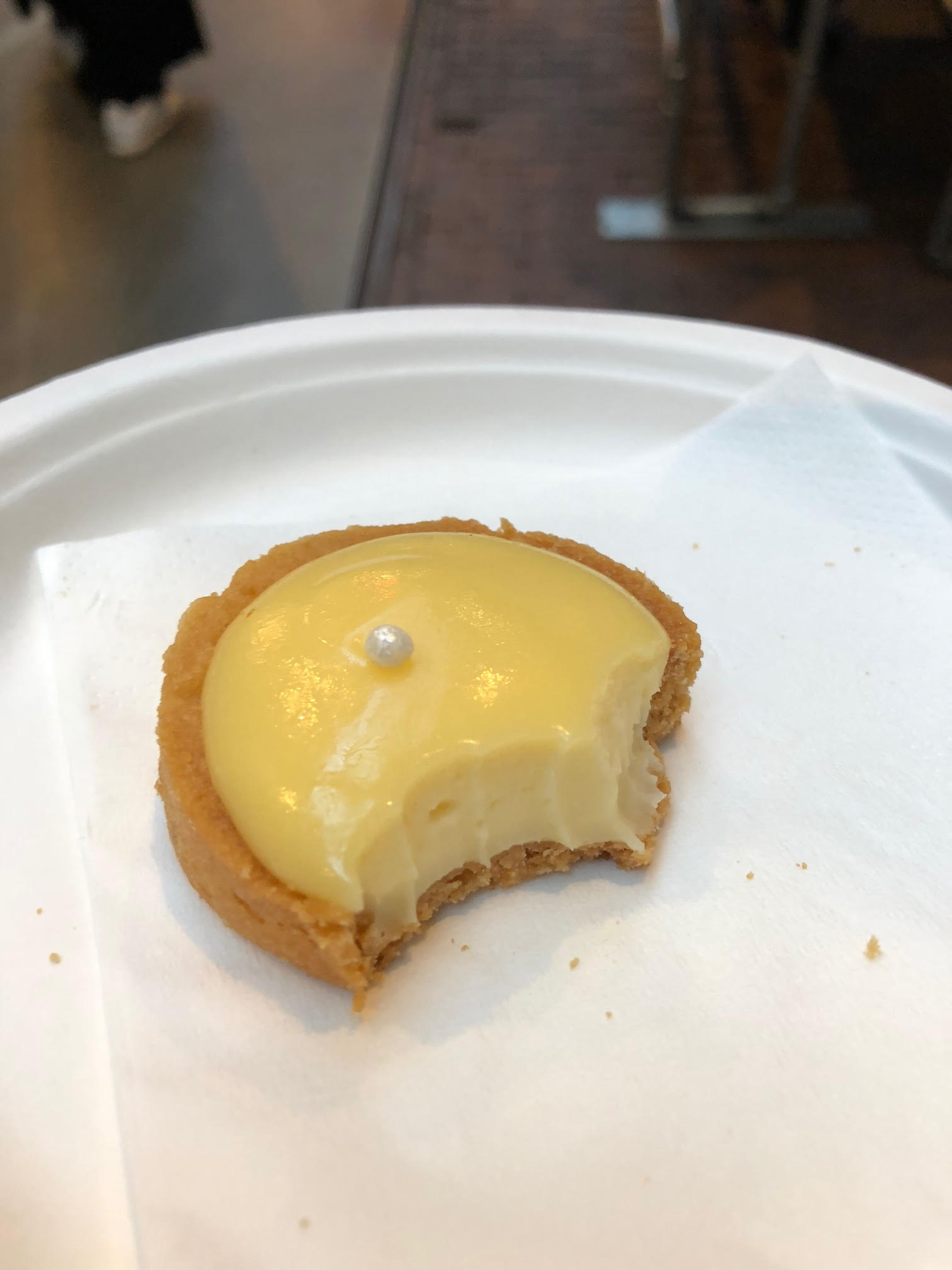 Probably the only pastry shop in Amsterdam that I really really loved. This is in FoodHallen and has the most gorgeous tarts. The flavours are all wonderful and I had a hard time picking one. I would have loved to taste them all but I was very full from our dinner. I finally picked the yuzu tart and was blown away by this flavour bomb.
9. VAN WONDEREN STROOP WAFFLES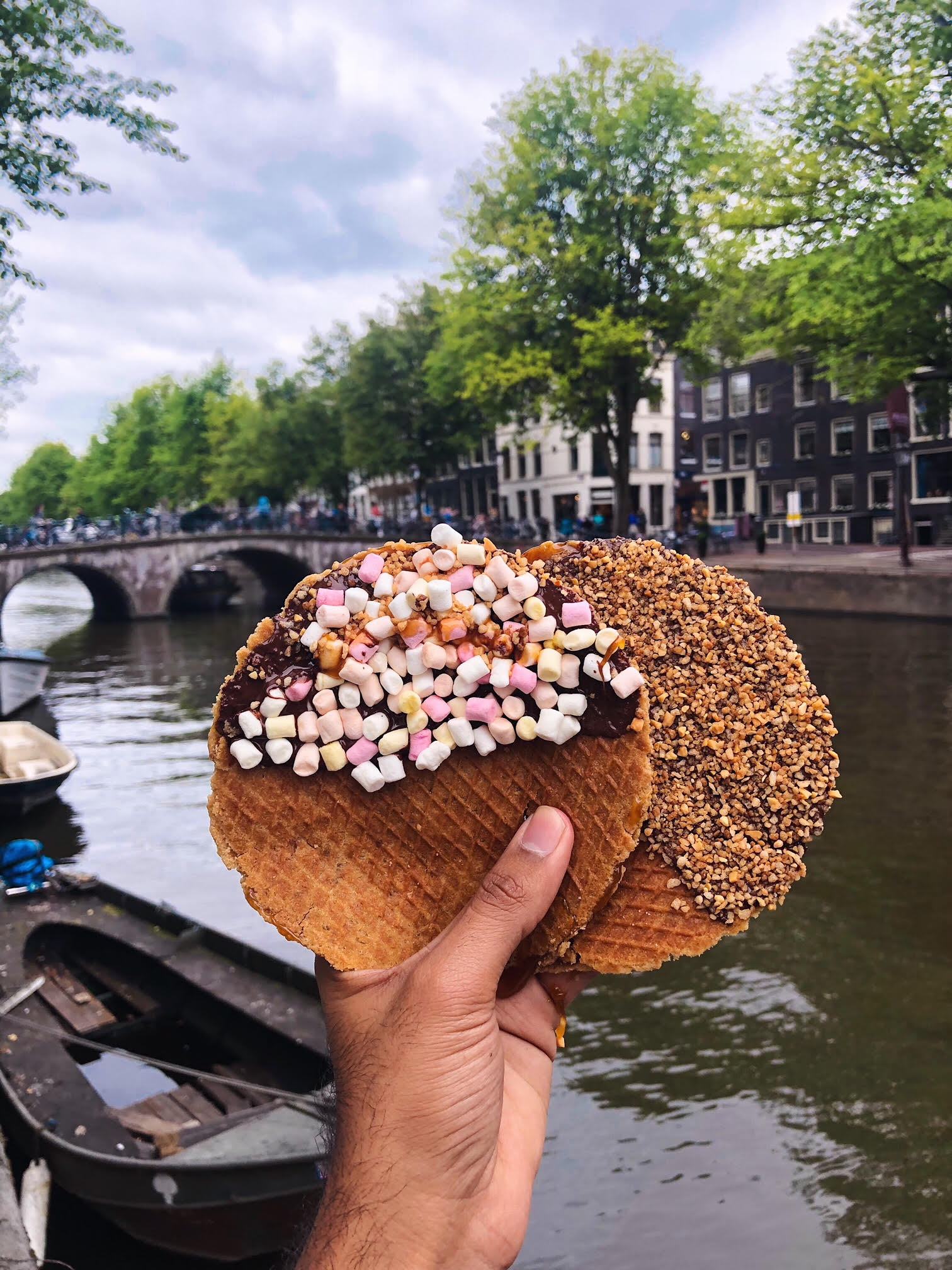 Van Wonderen has the prettiest stroop waffles and you get to choose from a wide variety of toppings. I picked crushed hazelnuts and marshmallows. If you think these will get too sweet for you, you must get original stroop waffles from Albert Cuyp market.
10. PLUK AMSTERDAM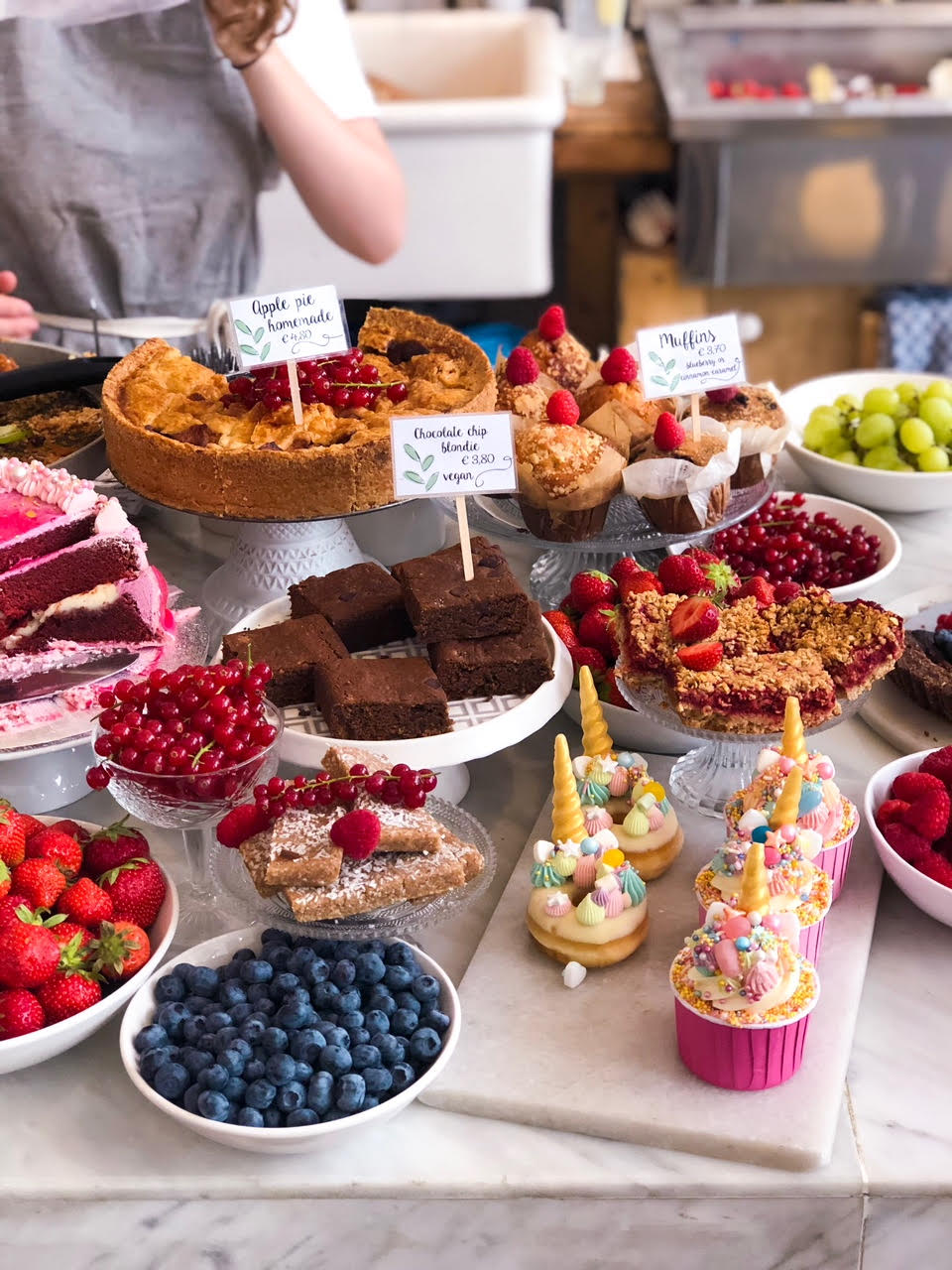 Pluk is a super cute cafe in Amsterdam that has a number of vegetarian and vegan options like acai bowl, unicorn bowl and burrata salad. Their desserts are also great. We tried the vegan chocolate tart here.
11. DE FOODHALLEN
I wasn't very impressed with the vegetarian food here but you have to go here for the vibe and energy. It's a great place to go in the evening or for dinner.  It is like a huge food court with several restaurants and bars, that is buzzing with people. Vegetarians also have a lot of choice- pizzas, dimsums, hotdogs, burgers, sushi, mexican- they have everything!