Whenever I travel, it's that country's food that I look forward to the most. My media trip to Copenhagen with Visit Copenhagen was no different. A lot of you may not know that I stopped eating meat a year and a half back and I LOVE my veggies. But the vegetarian food in Copenhagen blew me away! Vegetarian options are not too easy to find but when you do, you'll be amazed to see what restaurants in Copenhagen are doing with their veggies. Here is a list of some great options for vegetarians who're exploring Copenhagen.
GEMYSE , Tivoli Garden
Our dinner at Gemyse was my favorite meal in Copenhagen. It is a huge restaurant located inside Tivoli Garden. They work with the freshest local produce, so their menu changes almost every day. To say the least, the chefs there are creating magic on the plates using veggies. The two of us opted for the 'family style' 6 course dinner, which cost us DKK 250 per person. Every single plate that was put on the table was an experience in itself. We had a salad, which had yellow mustard seeds, carrot tartare, shredded chestnut, pickled green tomatoes, parsnip chips, kimchi and honey. Another favorite was a corn dish which had corn puree, grilled baby corn, grilled regualr corn and corn chips. We also loved the baked butternut squash that was stuffed with pumpkin, goat cheese and nuts and seeds roasted in herbs.
BOB is a perfect pick for a vegetarian dinner on a Friday or Saturday night, before you hit the clubs in meatpacking district. Their food is hearty, wholesome and so delicious. Their cocktail menu is also pretty elaborate. I had a fantastic vegetarian burger here with oyster mushrooms and bell-peppers. They have a lot of vegetarian options on the menu for you to explore but the vegetarian burger was super yum!
Restaurant radio is in one of the prettiest areas on Copenhagen. It is walking distance from the Forum metro station and also very close to the lakes. It'll be a great idea to catch some lunch at the restaurant and then walk/ bike around the area. We had a three course meal at Radio. The menu technically does not have too many vegetarian options but they'll be more than happy to customize it for those who don't eat meat. And boy, they do a good job! The food is very fancy but not pretentious at all. The three course lunch cost DKK 350 per person ( totally worth the money spent). You can take a look at their menu HERE. They also serve the best sour dough we had in Copenhagen with caramelized onion butter ( YUM)
4. BAEST ,  Guldbergsgade
Baest is supposed to serve the best pizzas in Copenhagen and you just can't miss this one if you love pizzas. Their menu already has a lot of vegetarian pizzas that you can order but you could simply tell them to remove the meat if you choose to pick something from the non-vegetarian options. I ordered the one with tomato, BÆST ricotta, spinach, dried olives and chili- so good! It cost me DKK 135. You can take a look at their menu HERE.
5. PIZZA HUSET, close to Gothersgade
Go to Piiza Huset for their sandwiches! They're unbelievable. I never thought I'd like a sandwich so much but their bread is something you need to taste. I ordered the sandwich with fresh buffalo mozzarella, lettuce, tomatoes, pesto (which was so good) and chilies. Their ingredients are so fresh and yum. It is not a big place where you can sit and eat. The best option is to drop by at lunch time, get a sandwich packed and walk around the city. This place is only a couple of minutes walk away from Nyhavn.
6. PAPER ISLAND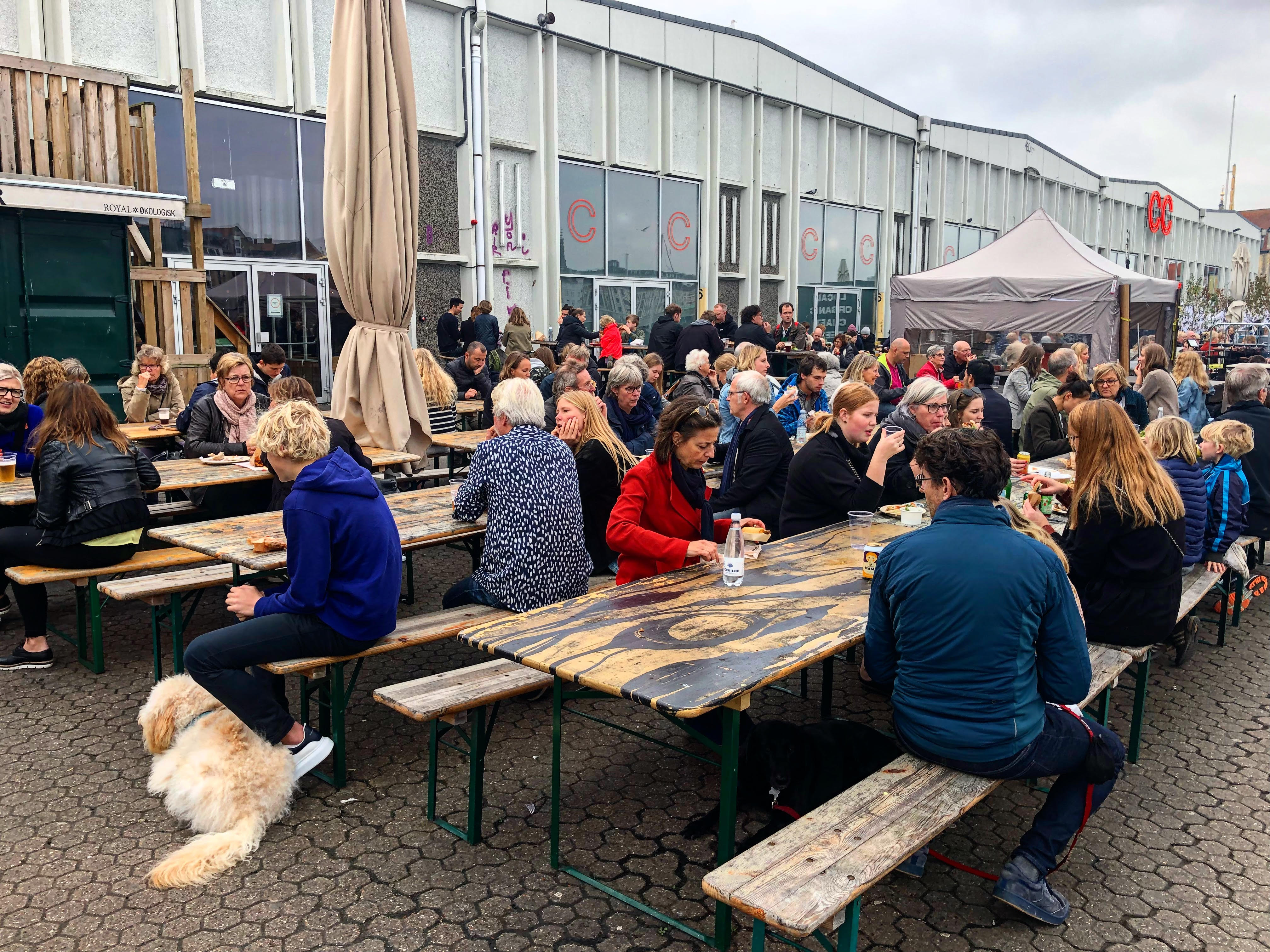 Paper Island is a popular food destination. It has a lot of street food stalls from all around the world. There are more non-vegetarian options but you can easily find vegan and vegetarian food that is delicious. You must definitely try the Smørrebrød, which is a Danish open sandwich made using rye bread. The vegetarian version I tried had cheese, potatoes and fried onion. You can also choose vegetarian pizzas and pastas. I spotted falafels too! Paper Island also has some amazing desserts.
Our first meal in Copenhagen was at Gorm's. They have some great pizzas and cocktails. It is located in a basement on the opposite side of the sunny side of the harbor. It is a cozy place and the staff is very warm and helpful. They don't have too many vegetarian options on the menu but you can tell them to make the pizzas without the meat for you. If you'd like to sit outside by the harbor, there are other pizzerias on the sunny side of the harbor.
Porridge may not sound exciting and I wasn't particularly looking forward to it but I was pleasantly  surprised. Grod has popularized the concept of porridge as an all day meal in Copenhagen. They have an endless list of toppings that you can choose from and serve both sweet and savory porridge. We tasted the apple-cinnamon porridge with peanut butter, coconut, dried rhubarb, hazlenuts, among other toppings. If you're open to trying something experimental, you could give Gord a shot.
Enjoy Copenhagen. You can read my article on 10 Things To Do In Copenhagen HERE