I have a thing for baking desserts in skillets. They're easy, no fuss and some how taste better. This lemon and chia seed skillet cake is no different. Like most of the recipes you see here, it is very easy to put together. Lemon cakes, as you may already know, are my favorite. They're so flavorful! The chia seeds are a great addition. I love the texture they lend to this lemon cake. You can also use poppy seeds instead. You can whip up the batter for this lemon-chia seed skillet cake in less than 10 minutes. Just pour the batter into the skillet and pop it into the oven for 30 minutes. I like to top the cake with some red currants. Aren't they pretty?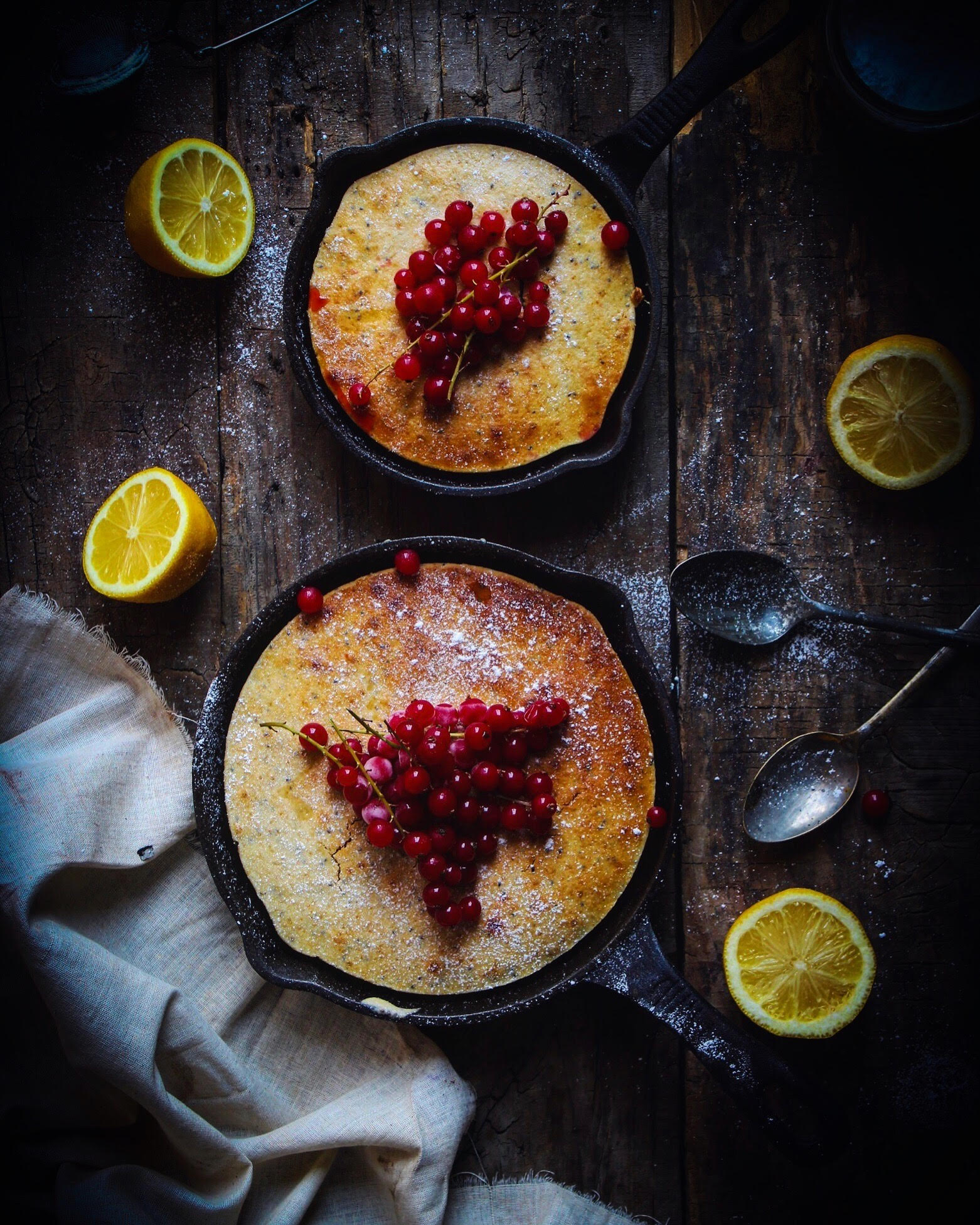 Healthy Chia Seed Cake
This lemon and chia seed skillet cake is a healthy cake and is filled with the goodness of chia seeds. Chia seeds are increasingly being sought for in groceries and are now also used to whip up healthy desserts. They are full of antioxidants, important fatty acids, fiber, and calcium. Furthermore, chia seeds also impart a huge amount of energy to the body and for the same reason are now incorporated more and more in all types of dishes, from chia seed pudding to chia seed smoothie bowls, and so on and so forth. This lemon and chia seed skillet cake is also super easy to make and I am sure you will love baking it. If you end up doing so, please do not forget to tag me on Instagram with the hashtag- #bakewithshivesh.
More delicious skillet recipes from the Blog
I got a set of three cast-iron skillets online and I use them all the time.
Some desserts that I've made in my cast iron skillets earlier are- eggless chocolate pizookie, PB puff pastry rolls, quick apple and strawberry pie, and skillet brownies.
If you like baking this lemon and chia seed skillet cake, skillets would be a great addition to your bake-ware collection!
Lemon and Chia Seed Skillet Cake Recipe
Lemon and Chia Seed Skillet Cake
Ingredients
¾ cup vegetable oil
1 cup castor sugar
2 eggs
4 teaspoons fresh lemon juice
2 cups all-purpose flour
2 tsp baking powder
½ tsp baking soda
zest of 2 large lemons
½ cup milk, at room temperature
4 tablespoons chia seeds
Instructions
Pre-heat your oven to 170C.
Combine flour, baking soda, baking powder and lemon zest.
In a large bowl, beat sugar and oil until the mixture is light and pale.
Add the eggs, one at a time and beat well after each addition. Mix in the lemon juice.
Combine the dry ingredients with wet ingredients in two batches, alternating with milk. Do not over-mix.
Fold in the chia seeds into the batter.
Pour the batter into a 9" skillet and bake at 180C for 30 minutes or until a toothpick inserted into the center comes out clean.