Lemon and Chia Seed Skillet Cake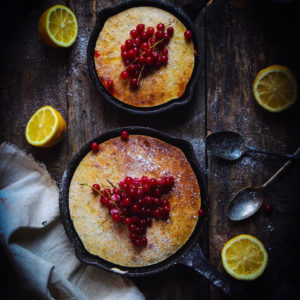 ¾ cup vegetable oil
1 cup castor sugar
2 eggs
4 teaspoons fresh lemon juice
2 cups all-purpose flour
2 tsp baking powder
½ tsp baking soda
zest of 2 large lemons
½ cup milk, at room temperature
4 tablespoons chia seeds
Pre-heat your oven to 170C.
Combine flour, baking soda, baking powder and lemon zest.
In a large bowl, beat sugar and oil until the mixture is light and pale.
Add the eggs, one at a time and beat well after each addition. Mix in the lemon juice.
Combine the dry ingredients with wet ingredients in two batches, alternating with milk. Do not over-mix.
Fold in the chia seeds into the batter.
Pour the batter into a 9" skillet and bake at 180C for 30 minutes or until a toothpick inserted into the center comes out clean.
Recipe by
Bake with Shivesh
at https://bakewithshivesh.com/lemon-chia-seed-skillet-cake/