Every body loves cookies. They're warm, comforting and oh so delicious that we're all guilty of having one to two too many! Now imagine a giant version of your favourite cookie! This eggless pizookie is what cookie dreams are made of! It's perfectly golden and chewy towards the edges and all gooey in the middle! Ever since I posted the recipe of my chocolate chunk pizookie, I've been flooded with comments and e-mails requesting for an eggless pizookie recipe, so here you go!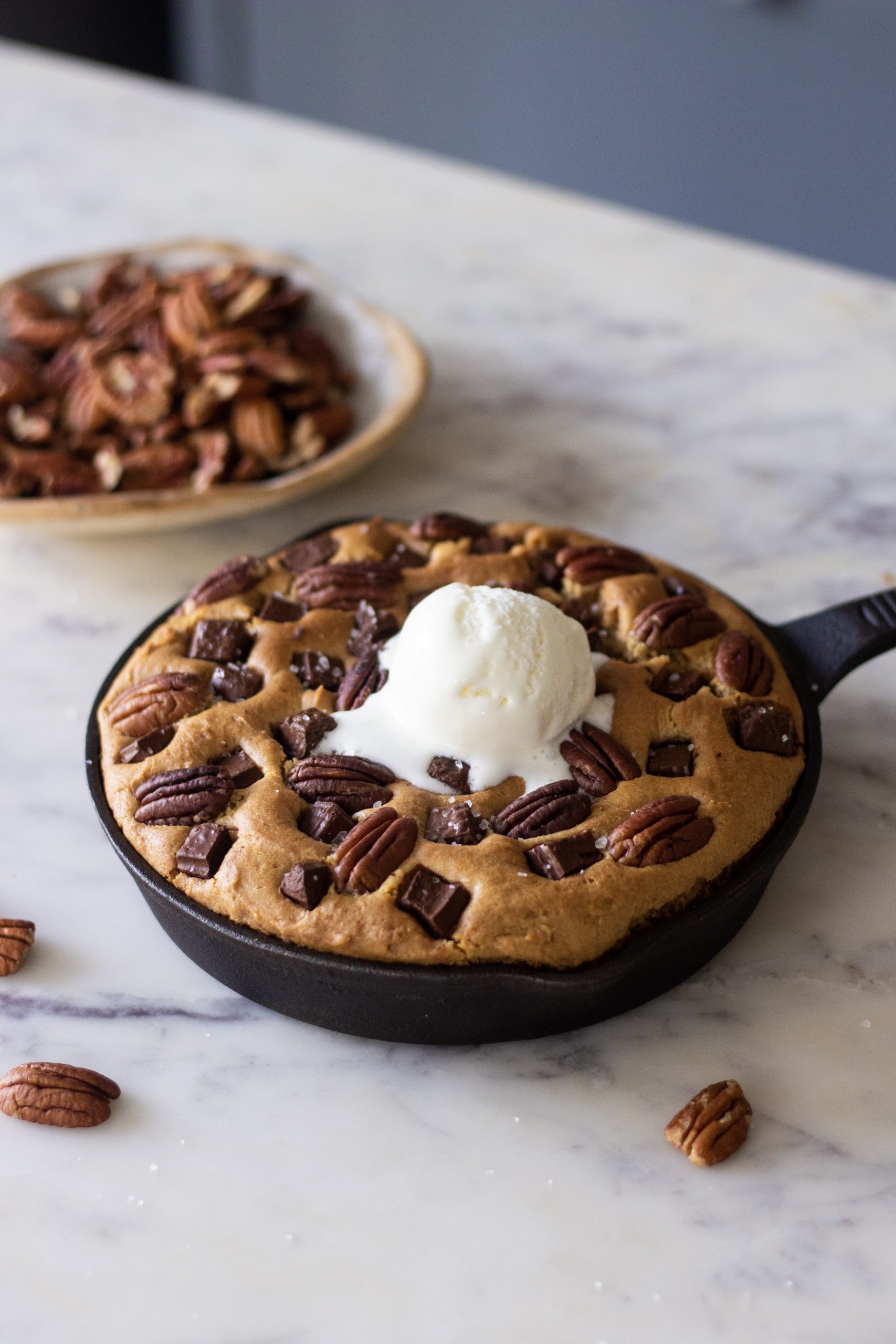 Substituting eggs in a pizookie
Since I love my readers and I want everyone to taste a good home-made pizookie (which is my current favorite dessert) I decided to finally get working on it. There's a lot of substitutes for eggs that can be tried and tested, like mashed bananas, flax eggs, etc but none of them work for all recipes as a standard. After trying a couple of not-so-good substitutes for eggs, I finally found something that works perfectly and results in an amazing eggless pizookie- condensed milk!
Trust me when I say this, this eggless pizookie might be more divine than the with egg recipe and it's also way simpler! You turn into a ball of mush and all things warm at every bite and this is one recipe you wouldn't want to share with anyone at all- I guarantee this, haha!
Creaming together the butter and sugar
This is the most important step of any cookie recipe. It is important that you cream together the butter and sugar mixture till it is light and fluffy. If you're using an electric whisk or hand mixer, this should take around five minutes. It might not seem major, but the difference it makes to the texture of your pizookie is huge! If you're making cookies, it will ensure that they don't spread unevenly and get extra thin and crisp around the edges. Make sure your butter is not cold, as it will not be able to combine easily with sugar.
Tips to keep in mind while making the Eggless Pizookie
Use softened butter. If your butter is cold, microwave it for 10-12 seconds.
I used the regular Amul butter. If you're using unsalted butter, increase the quantity of sea salt.
Cornstarch results in a gooey cookie (just how I like it). If you're looking for a crunchier version, skip cornstarch.
The pizookie might look uncooked in the centre but do not continue to bake it once the edges are golden-brown. The pizookie will continue to cook as it cools.
This recipe makes an eight inch pizookie. You can half or double the ingredients if you want to make a bigger/ smaller batch.
Eggless Pizookie
Ingredients
½ cup butter, at room temperature
1 cup lightly packed brown sugar
⅓ cup sweetened condensed milk
1 tsp vanilla extract
1 + ½ cups all-purpose flour
2 tsp cornstarch
1 tsp baking soda
1 cup dark chocolate chunks
¼ cup crushed walnuts (optional)
sea salt, to sprinkle
Instructions
Pre-heat your oven to 180C
Using an electric mixer, beat butter until it is fluffy
Add in both brown and cream it with the butter.
Beat in the condensed milk. Add vanilla.
In a separate bowl, mix together flour, baking soda and corn starch.
Add the dry ingredients to the butter mixture and mix until blended.
Add chocolate chunks and walnuts. Using a spatula or a whisk, carefully mix them into the batter.
Spread the dough on a skillet. Generously sprinkle with sea salt. Place the skillet on the baking tray and bake for 15-20 minutes or until the edges of the pizookie become golden brown.