Eggless Pizookie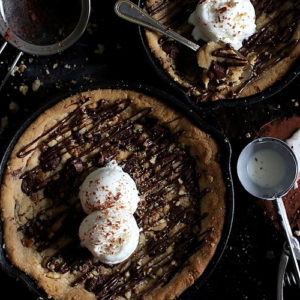 ½ cup butter, at room temperature
1 cup lightly packed brown sugar
⅓ cup sweetened condensed milk
1 tsp vanilla extract
1 + ½ cups all-purpose flour
2 tsp cornstarch
1 tsp baking soda
1 cup dark chocolate chunks
¼ cup crushed walnuts (optional)
sea salt, to sprinkle
Pre-heat your oven to 180C
Using an electric mixer, beat butter until it is fluffy
Add in both brown and cream it with the butter.
Beat in the condensed milk. Add vanilla.
In a separate bowl, mix together flour, baking soda and corn starch.
Add the dry ingredients to the butter mixture and mix until blended.
Add chocolate chunks and walnuts. Using a spatula or a whisk, carefully mix them into the batter.
Spread the dough on a skillet. Generously sprinkle with sea salt. Place the skillet on the baking tray and bake for 15-20 minutes or until the edges of the pizookie become golden brown.