Copenhagen is a city waiting to be explored and I promise you, you'll fall in love with it in no time. I definitely did and that's why I decided to make this list of top 10 things to do in Copenhagen.
I was invited to the gorgeous city by Visit Copenhagen  to experience what it has to offer.  A 7.5 hour direct Air India flight from New Delhi  flew me to Copenhagen on 12th October. I instantly fell in love with the beautiful architecture of the city and it's wonderful people. I spent 5 days in Copenhagen, which is one of the prettiest cities I've ever been in so far.
There is so much you can do in Copenhagen that it can become a little overwhelming to plan your time there. I was exploring the city with my best friend and we planned our 'to-visit' list based on some expert advice from the team at Visit Copenhagen, on our own research and also on the recommendations sent in by some of my followers on Instagram. I'm listing the 10 experiences I enjoyed the most in Copenhagen. These are mostly outdoor experiences and do not include museums and galleries, which you can check out if they interest you.
You can read my Copenhagen guide for a vegetarian HERE
1.EXPLORE NYHAVN
Nyhavn or new harbor is definitely my favorite area in Copenhagen. Our hotel, Copenhagen Strand, was half a minute walk away from Nyhavn so we made sure we dropped by everyday to enjoy the spectacular view of the vibrant houses. It's a lively area and the 'sunnier side of the harbor' is lined up with happening restaurants. These restaurants are slightly more expensive than the others but to sit out and enjoy a meal by the canal is definitely something you should experience while you're in Copenhagen. There are also shops to grab ice-creams, waffles and churros. You could easily spend half a day walking around Nyhavn.
2. CANAL TOURS
Copenhagen has beautiful canals that you must explore. The best way to do that is to get onto a boat tour that takes you through most of the city and lets you experience the canals and the bridges. You can hop onto one of the canal tours from Nyhavn and go all the way to the little mermaid. The little mermaid is the most popular tourist attraction of Copenhagen, but honestly, is nothing exciting. Instead of making a separate trip to the tiny statue, its a better idea to just make it a part of your boat tour. We did boat tours twice in five days. Don't miss this! More information HERE
3. BIKE AROUND
When in Copenhagen, move around like a Copenhagen-er would- on a bike! Everyone bikes in Copenhagen and I'm not surprised why. It's supposed to be the most biker friendly city in the world. I spent an entire day exploring Copenhagen on a bike. It's something you can not do in a city like Delhi. There are endless bike rental options in Copenhagen, which you can explore HERE. My biking tour was through a company called CphCool.  It was one of the best experiences in Copenhagen. I highly recommend you check them out and give them a chance to take you around the gorgeous city on bikes and discover some hidden gems.
4. CLIMB THE CHURCH OF OUR SAVIOR
This is one unique experience you must put on your 'to-do-in-Copenhagen' list right away! Church Of Our Savior is one of the most popular churches in Copenhagen, offering the most stunning view of the city. You can climb the many flights of stairs all the way to the top ( 90 meters above the street level). Out of the 400 steps, the last 150 steps are on the outside of the spire. If you're up for a little adventure, the climbing up is worth all the effort- the view is breath taking!
5. TIVOLI GARDEN
Tivoli Garden is an amusement park that seems to be the most fun spot in the city. You'll see the most people here than anywhere else in the city. I was fortunate to be in Copenhagen when the Tivoli is all dressed up for Halloween ( 13th October-5th November). You can go to Tivoli for rides, for it's little shops or for food. Tivoli has over 30 restaurants. I had my best meal in the Copenhagen in one of these restaurants. You can read about it HERE.
6. FREDERIKSBORG CASTLE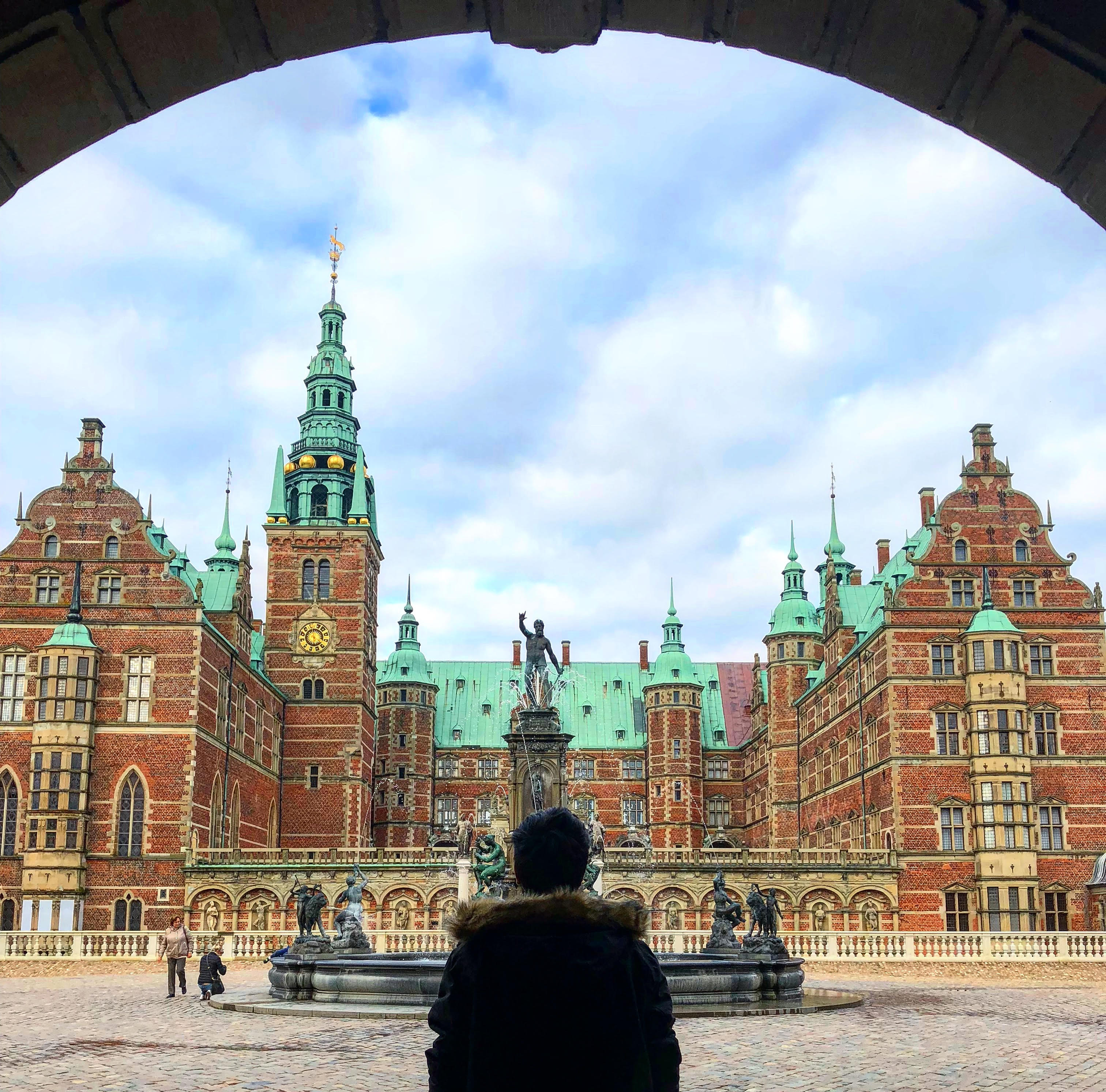 Frederiksborg Palace is situated on three islets in the castle lake in Hillerød, north of Copenhagen. The palace, which is surrounded by the beautiful Frederiksborg Palace Garden, was built in the Dutch Renaissance style at the beginning of the 1600s by King Christian 4. Getting to the castle was bit of a task from our hotel- we had to take the metro, then the train and then the bus to get there. The palace closes at 5 so you need the entire day before that, if you're planning to visit this castle. But let me tell you, it is stunning! I would go back if I'm in Copenhagen again. You can spend some quality time enjoying the beautiful view in the palace gardens that are open till 9pm.
7. TOREVEHALLERNE MARKET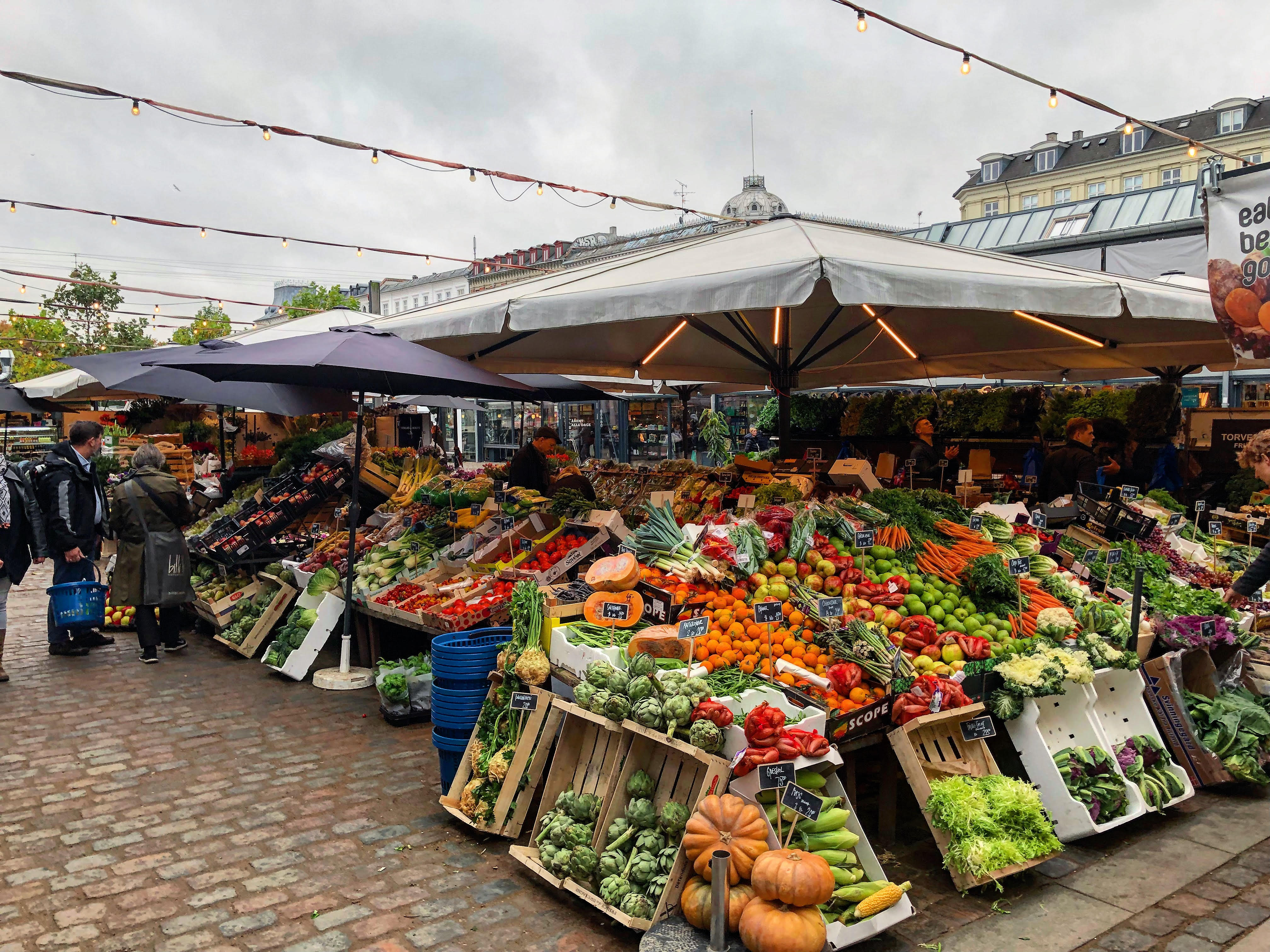 It is a local food and flower market that is flooded with fresh produce. This place got me so excited. It has two glass complexes and also a number of stalls that sell fresh fruits, vegetables and flowers. I think visiting local markets is one very important part of exploring a city and this market would not disappoint. Besides the produce, you could also eat at one of the cafes or pick up coffee or dessert. This area is buzzing and you should check it out if you're a food enthusiast.
8. PAPER ISLAND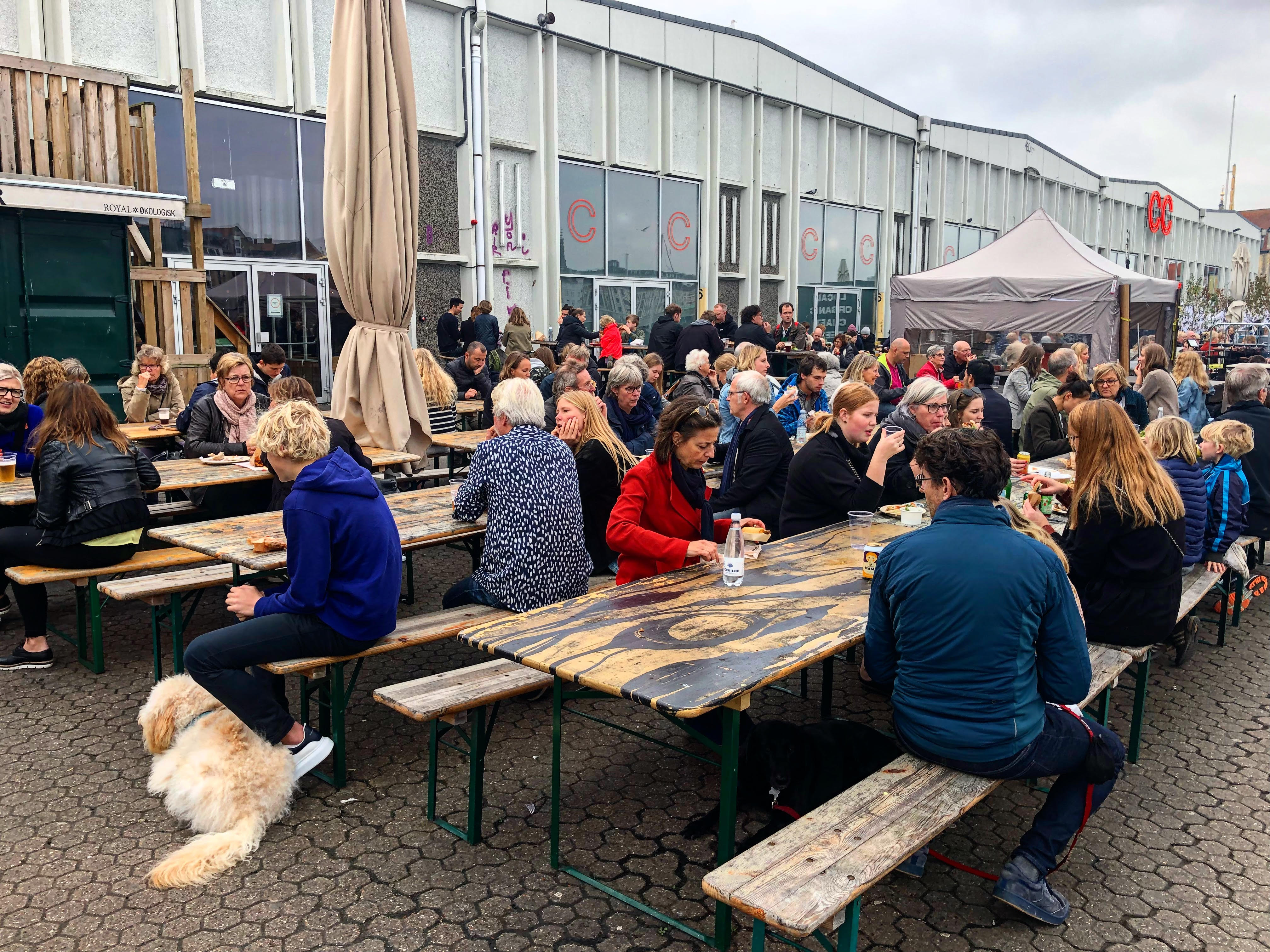 Paper island is one of the most lively areas on Copenhagen. The halls there used to be used for storing papers but is now the home to innumerable food stalls serving local food from Copenhagen and all over the world. On any day, you can see large crowds of Copenhageners and tourists enjoying street food and beer at paper island. Read about the food I tasted at Paper Island HERE
9. MEAT PACKING DISTRICT
Meat Packing district is the happening side of Copenhagen which has all the bars and clubs. It also has some very popular restaurants. The dinner at meat packing district was one of the best meals we had in Copenhagen. The area is buzzing on Friday and Saturday nights when the Copenhageners step out to drink and party. Most of the clubs open at 10pm and are open till late hours in the morning.
10. RELAX BY THE LAKES
Copenhagen consists of three lakes that are divided into five basins. These lakes are beautiful. Between all the running around in the city, take some time off and relax by the lakes. Munch on some snacks and soak in the beautiful view. Taking a long stroll by the lakes in the afternoon is a great idea.
The best investment you can make during your trip to Copenhagen is to get a Copenhagen Card. It includes free admission to 79 museums and attractions ( including most of ones I listed here like entry to Tivoli, the church, castle, canal tours)
It also includes free transport by train, bus, harbor bus and Metro in the entire Copenhagen Region – also from/to the airport. You can read more about the Copenhagen card HERE.