So excited to bring to share this no-bake rose cheesecake recipe with you. I'm back after 5 most incredible days in Copenhagen. While I do miss that clean air and the gorgeous architecture, I'm happy to be home for Diwali with my family. That, I think, is the best part about festivals- being together. Nothing is more precious than spending time with your loved ones and making memories. Diwali is the best time to do that! It's when all twelve of us (we're one big happy family) put everything else aside and make sure we're together to eat, celebrate, and have fun.
My family bonds over food. I love spending time in the kitchen with my mum as we prep for Diwali. It's also when I work with Indian ingredients like cardamom, saffron, pistachio and rose- ingredients that I don't bake with too often. While I already shared a healthier Diwali recipe of oat and maple bites earlier, now it's time for something indulgent. Indulgent but easy to put together. Here is the no-bake rose cheesecake recipe which is perfect for Diwali. You can make it in jars like I do or set it in a round pan.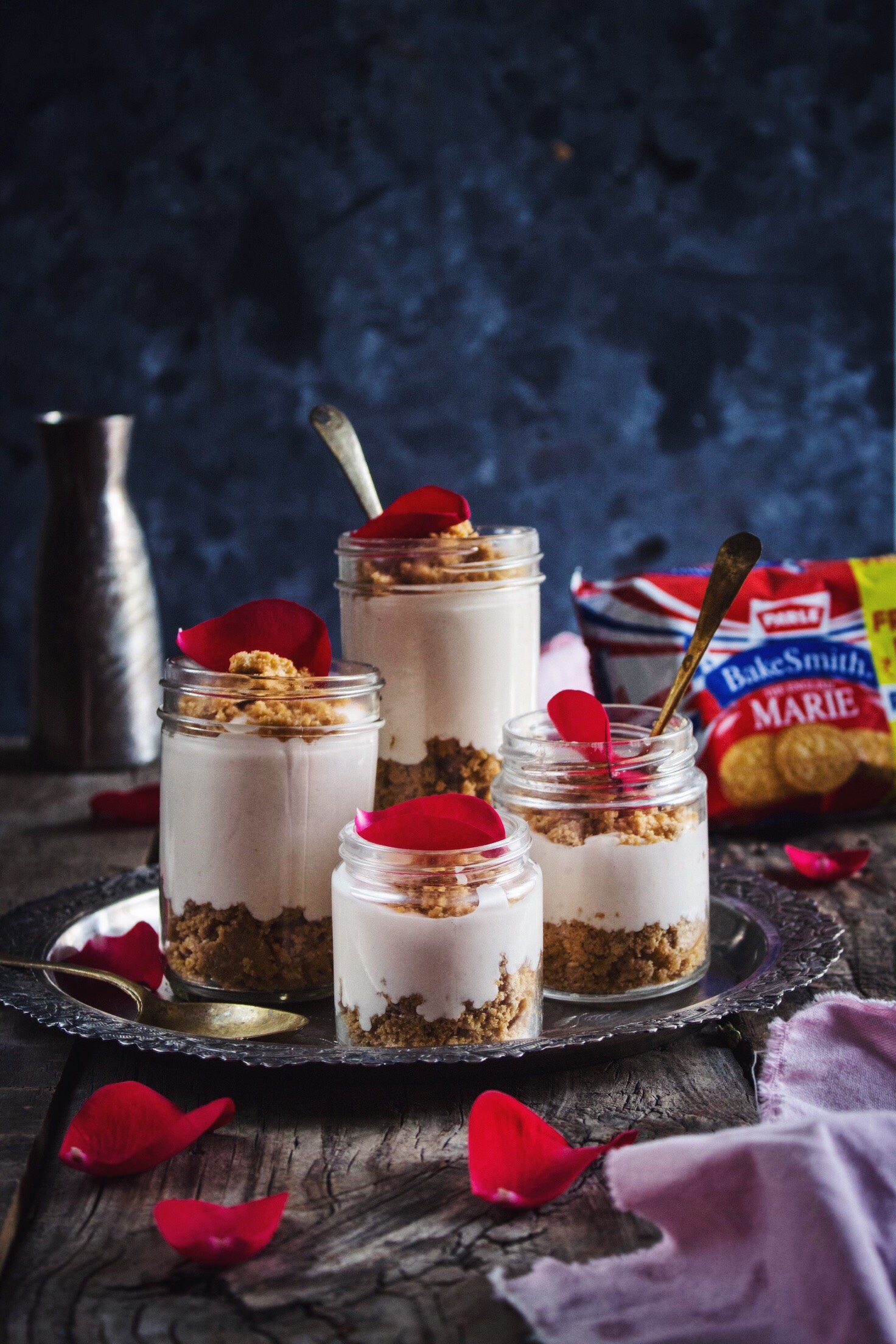 Mistakes to avoid while preparing No-Bake Cheesecakes
No-bake cheesecakes do not require you to bake the crust or to use a baked crust because they won't be able to hold the cream cheese mixture. As I have always said, following the recipe is important. In this recipe of the no-bake rose cheesecake, it is important to refrigerate the butter-biscuit crust at least for 30 minutes before going ahead with adding the cream cheese mixture because refrigerating it will give it the sturdiness it should ideally have.
The following recipe asks you to use softened cream cheese and guys, room temperatures matter. Using cold cream cheese will end up producing a lumpy mixture, one you don't want to have at all for this no-bake rose cheesecake. Also, all cheesecakes require you to add a flavor- whether it is chocolate, nuts, fruits, or in this recipe of the no-bake cheesecake- the rose and kewra extract. And this flavor needs to be added after you have softened the cream cheese and added the sweetener. The cream cheese will make or break your no-bake cheesecake. Do it justice to get the perfect dish.
The sweetener, i.e., the sugar or condensed milk should be added immediately after the cream cheese is softened. This no-bake rose cheesecake uses condensed milk, so there are zero issues that you will face with the mixing. However, if you are using sugar, make sure it is appropriately powdered or the cream cheese mixture will have lumps.
Ingredients of this No-Bake Rose Cheesecake
I have combined butter and Parle Marie biscuits for the crust of this no-bake cheesecake. You can actually use any biscuit or cookies you'd like or Marie biscuits from a different brand. Just make sure they combine well with the butter.
I usually go for Dlecta or Britannia cream cheese which is easily available in your nearest supermarket!
Also be careful while adding the rose water and kewra extract. These flavors are very strong and you wouldn't want to use more than what is required.
You can also go for adding flaked pistachios after adding the condensed milk and flavors. You can also use pistachios as topping with the rose petals. Pistachios and rose make the ultimate festive combination and I am sure you will love this rose and pistachio cheesecake recipe!
Other No Bake Recipes to try
If you prepare any recipe from the website, please don't forget to upload it on Instagram and use the hasthag- #bakewithshivesh.
Happy Baking!
No Bake Rose Cheesecake Recipe
No-Bake Rose Cheesecake
Ingredients
1 cup crushed Parle BakeSmith Marie
¼ cup melted butter
200 gm of cream cheese, softened
⅓ cup condensed milk
1 tablespoon rose water
1 teaspoon kewra extract
rose petals, to garnish
Instructions
Combine melted butter and crushed biscuits. Layer them in jars and refrigerate for 30 minutes.
Using an electric mixer, beat cream cheese until its light and fluffy. Add condensed milk, rose water and kewra extract. Mix until well combined.
Pipe the cream cheese mixture on the biscuit base. Refrigerate for one hour.
Garnish with rose petals