I recently told you guys that I'll be sharing an eggless recipe here, on the blog every Friday. YAY! This week's recipe is all kinds of amazing- eggless mocha mousse with honey-walnut crumble! For all you chocolate and coffee lovers, this dessert is as good as it gets.
I serve this creamy eggless mocha mousse with a crunchy walnut-oat crumble. The creamy fluffy mousse goes beautifully with the crunchy crumble. I find it amazing how these two textures- the smoothness of the mousse and the crunchiness of the crumble- come together and give birth to such a decadent dessert.
I like this recipe for a plethora of reasons.
It is downright easy to prepare, there is hardly anything that can go wrong in this recipe, you can prepare it within no time and with zero hassle, and it is also an effortless yet a very fancy dessert!
Ingredients for the eggless mocha mousse
Make sure that you are not using warm butter for the crumble. My Baking Tips blog post talks about why room temperature mentioned in recipes need to be followed and how not doing the same can lead to disappointing results. If you use cold butter, believe it or not, it will bind the other ingredients in a better manner and you will get the desired amount of crunch you typically expect your crumbles to have!
For the very straightforward mocha mousse, the only key in ensuring that it is a sweet success is to whip the cream to firm peaks. I would suggest using an electric mixer or a stand mixer. Just make sure your cream is cold when you start whipping it. Make sure you're using a cream that has over 30% fat. You can not whip Amul fresh cream. I use Amul whipping cream and it does the work for me brilliantly! I have also used Regal chocolate here. Know more about different types of baking chocolate here.
Read how to melt your chocolate.
You are also free to use whichever coffee brand. There are so many in the market but I know everyone likes their coffee their own way, and thus, you can use whichever brand for this very versatile mocha mousse! Isn't it great how desserts are so flexible and forgiving? Haha!
Why I love this recipe
This recipe is very simple to put together. If you like making the mousse, you should also try my eggless mango mousse.
The best part about this eggless mocha mousse is that it is refined sugar-free. While the honey and the chocolate is sweet and being a baker, I can not possibly be against sugar, I know, for a fact, that not using refined sugar in a particular recipe makes it lighter and having an extra serving is not that bad, haha!
The mousse also has a beautiful consistency, which, by the way, is ensured only by getting the whipped cream right, so don't go wrong there, guys!
And if you make this eggless mocha mousse at home, don't forget to share pictures with me on my Instagram by using #BAKEWITHSHIVESH. Happy Baking!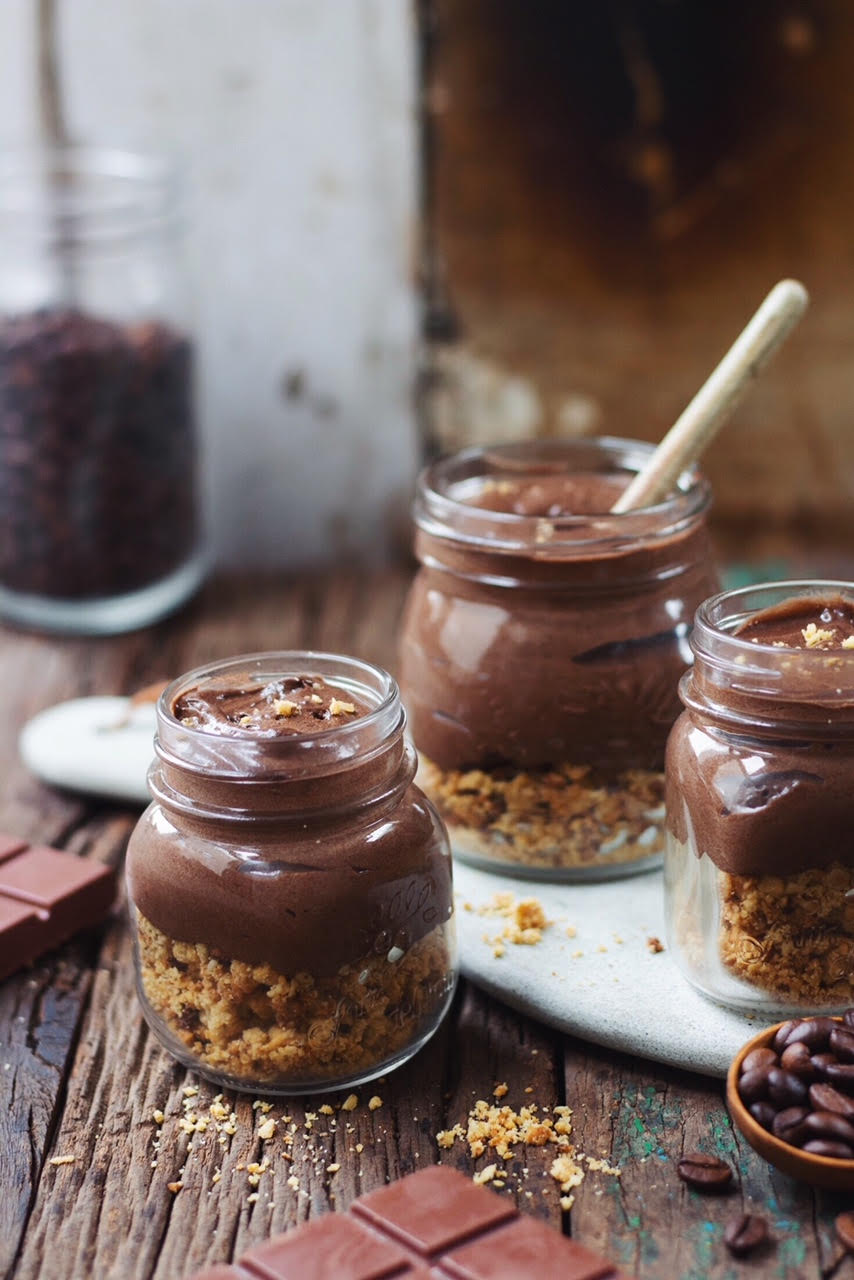 EGGLESS MOCHA MOUSSE
Ingredients
CRUMBLE-
¼ cup (57g) butter, cold and cubed
⅓ cup (40g) crushed walnuts
⅓ cup (30g) oats
½ cup (60g) flour ( all-purpose/ whole-wheat)
4 tablespoons (84g) honey
MOUSSE-
250 ml whipping cream, whipped to stiff peaks
250 g dark chocolate, roughly chopped (I use Regal chocolate)
½ cup ( 120mL) water
2 tbsp (10g) coffee powder
Instructions
Pre-heat the oven to 180C.
In a large bowl, use your fingers to combine all the crumble ingredients. Mix until the mixture has a sandy texture.
Spread the mixture on a baking tray lined with parchment paper. Bake at 180C for 10-15 minutes until it is golden-brown. Let is cool.
To make the mousse, melt the dark chocolate
Bring the water to a boil. Pour it over the coffee powder. Pour the coffee into the chocolate. Mix well. Let it cool.
Once cooled completely, use a spatula to gently fold the chocolate + coffee mixture into the whipped cream. Refrigerate for 15 minutes.
In jars/ glasses, spread a layer of the crumble. Using a piping bag to pipe the mousse on the crumble layer all the way to the top.
Refrigerate for another 15-20 minutes before serving.