EGGLESS MOCHA MOUSSE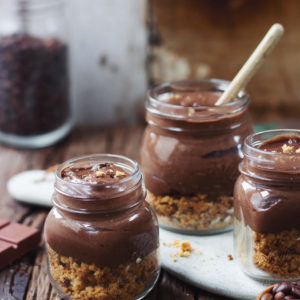 CRUMBLE-
¼ cup (57g) butter, cold and cubed
⅓ cup (40g) crushed walnuts
⅓ cup (30g) oats
½ cup (60g) flour ( all-purpose/ whole-wheat)
4 tablespoons (84g) honey
MOUSSE-
250 ml whipping cream, whipped to stiff peaks
250 g dark chocolate, roughly chopped (I use Regal chocolate)
½ cup ( 120mL) water
2 tbsp (10g) coffee powder
Pre-heat the oven to 180C.
In a large bowl, use your fingers to combine all the crumble ingredients. Mix until the mixture has a sandy texture.
Spread the mixture on a baking tray lined with parchment paper. Bake at 180C for 10-15 minutes until it is golden-brown. Let is cool.
To make the mousse, melt the dark chocolate
Bring the water to a boil. Pour it over the coffee powder. Pour the coffee into the chocolate. Mix well. Let it cool.
Once cooled completely, use a spatula to gently fold the chocolate + coffee mixture into the whipped cream. Refrigerate for 15 minutes.
In jars/ glasses, spread a layer of the crumble. Using a piping bag to pipe the mousse on the crumble layer all the way to the top.
Refrigerate for another 15-20 minutes before serving.