The strawberry dessert that I've been planning to share here for a while- whole wheat strawberry cake, is finally here! I've been sharing several strawberry recipes recently. The eggless strawberry tea cake has been a range. I've received over fifty images of the cake in the last few days and it makes me so happy to see y'all recreate the recipe at your home. Some of you also made the eggless strawberry cupcakes and loved them. I hope y'all enjoy this whole wheat strawberry loaf cake equally!
This whole wheat strawberry cake ( that I make in a loaf pan) is a great recipe if you are looking for a healthier strawberry cake recipe. I usually use all-purpose flour/ maida to make my cakes but this whole grain atta strawberry cake is equally delicious.
Strawberry season is clearly an exciting time for me, since I'm working with different recipes to create as many strawberry desserts as I can in this short time. I remember working on so many strawberry recipes last year for my book – Bake With Shivesh. If you don't have the book yet ( get a copy, you guys!) you don't need to worry because I have SO many on the blog already. If you're as crazy about strawberries as I am, you should definitely check out my list of 10 strawberry desserts to try this season. Now add this whole wheat strawberry cake to the list.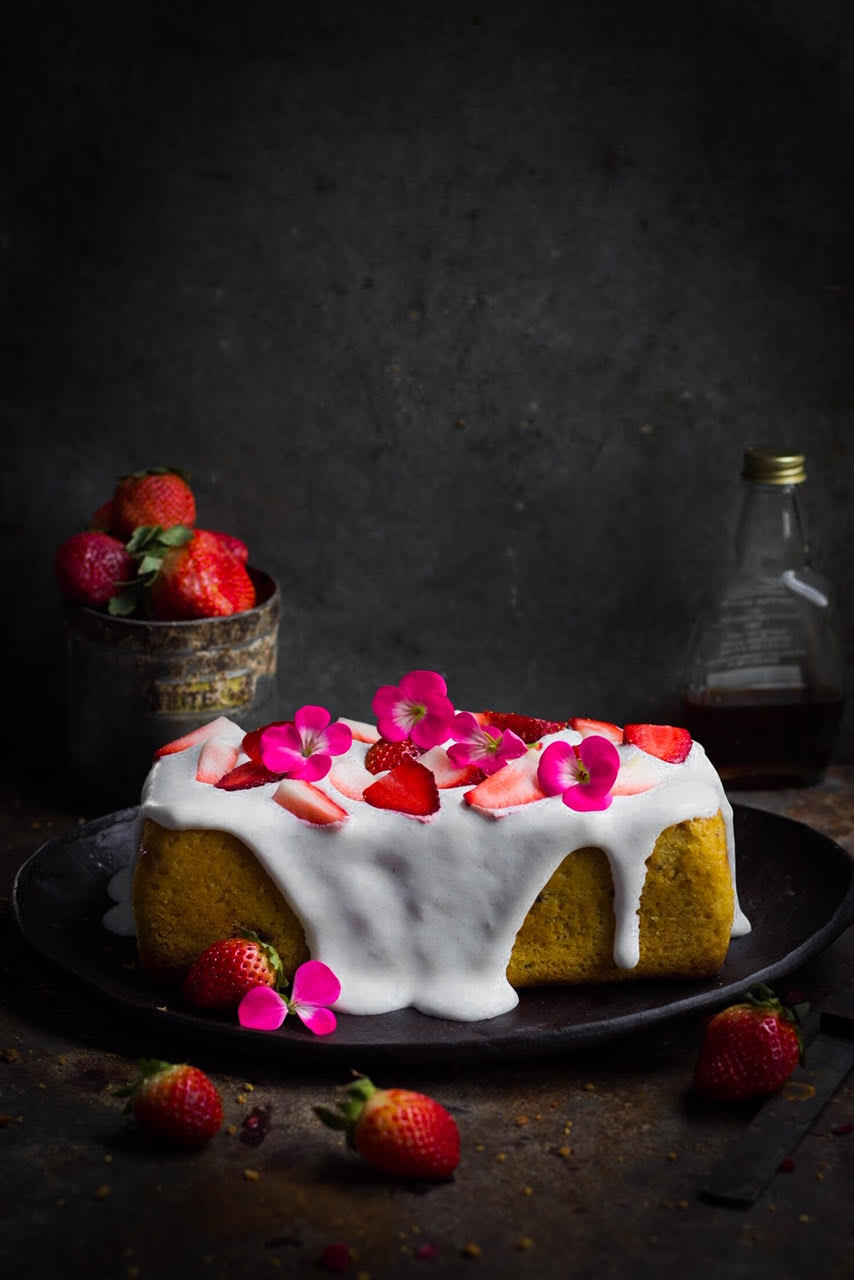 Process To Make Whole Wheat Strawberry Cake Fluffy
This whole wheat strawberry cake is light and fluffy. It is full of flavor and very delicious. This is how you make sure your whole wheat cake is light and airy-
The use of eggs in this recipe makes the whole wheat cake light and airy. So please don't look at substituting them with anything for this recipe.
Another trick is to sift your whole wheat flour at least twice to make it lighter.
While mixing your dry ingredients with the wet ingredients, make sure you don't over mix the batter. Doing that will knock out all the air from the batter and result in a dense cake. Use a spatula to carefully fold in the dry ingredients and mix only until there are no large flour pockets
How to make Whole Wheat Strawberry Cake Eggless
Unfortunately, there are no substitutes for eggs here. If you use yogurt instead of eggs, the cake will become too dense and heavy. If you are looking for an eggless recipe, check out the eggless strawberry tea cake on the blog
Also try baking Whole Wheat Vanilla Cake
The good news is that you can use this recipe to make whole wheat sponge cake or whole wheat vanilla cake. The texture of this cake is great and tastes delicious. All you have to do is to skip adding the strawberries and you have a great whole wheat sponge cake recipe that you can play around with. You can use any fruits that you like in place of strawberries. Endless possibilities!
If you love whole wheat desserts, I have a few recipes you must try-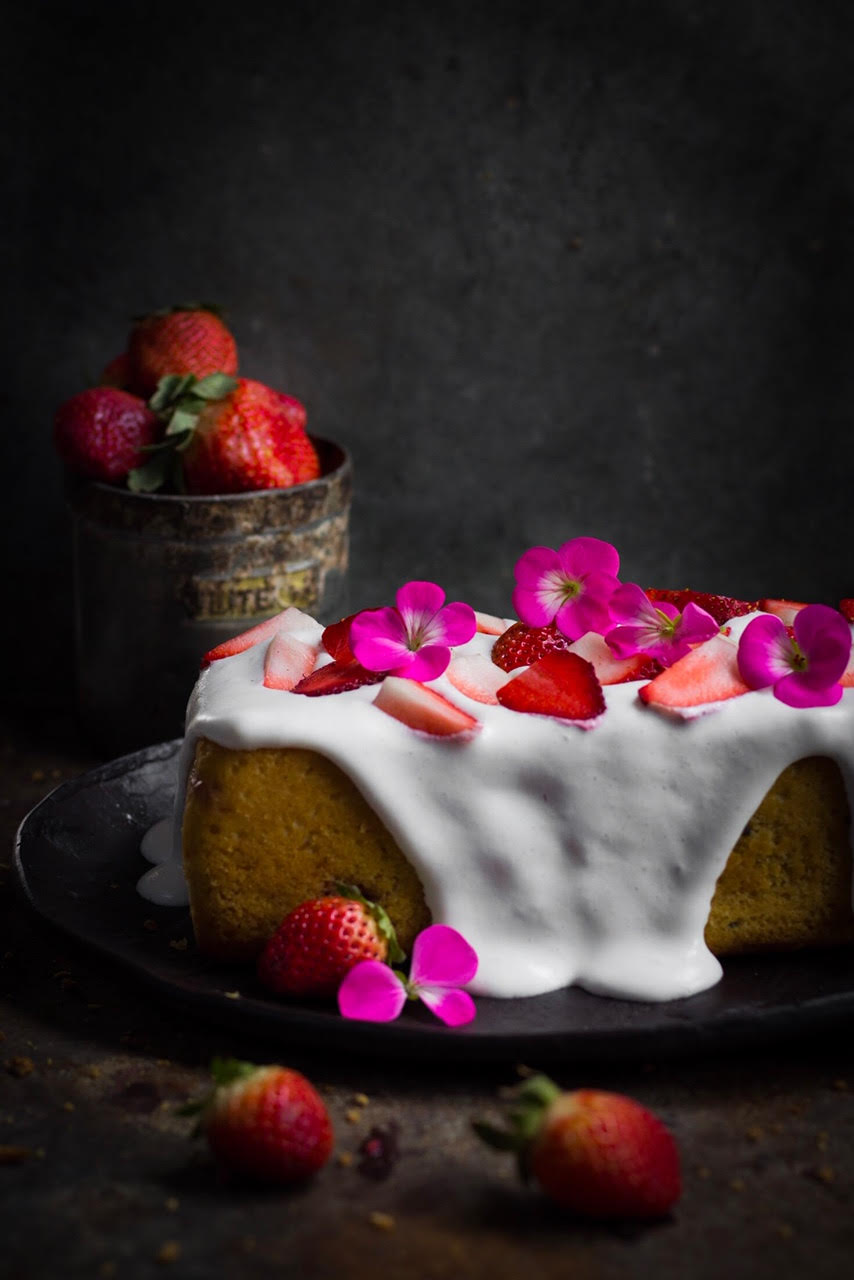 If you bake this whole wheat strawberry cake or any of the whole wheat desserts from the blog, I'd love to see them. Please share pictures with me on my Instagram by using #BakeWithShivesh
I bake this cake in a loaf pan but you can simply use a 9″ round baking pan.
Procedure and Ingredients:
Whole Wheat Strawberry Cake Recipe
Ingredients
2 cups whole-wheat flour, sifted
2 teaspoons baking powder
1 teaspoon lemon zest (optional)
¾ cup butter, softened
1 cup castor sugar
2 teaspoons vanilla extract
3 eggs
½ cup milk
1 cup strawberries sliced + more to decorate
Instructions
Pre-heat the oven to 180*C. Line a loaf pan with parchment paper.
In a bowl, combine flour, baking powder and lemon zest.
In a large bowl, cream butter and sugar together by beating them at high speed for about 3-4 minutes, until the mixture is light and fluffy.
Beat in the vanilla.
Add the eggs, one at a time and mix well after each addition. Mix in the milk.
Fold dry ingredients into wet ingredients in three batches. Do-not over mix the batter.
Carefully fold in the fresh strawberries.
Pour the whole wheat strawberry cake batter into the prepared pan and bake at 180*C for 40 minutes or until a skewer inserted into the center comes out clean.
Top with lightly whipped cream and fresh strawberries