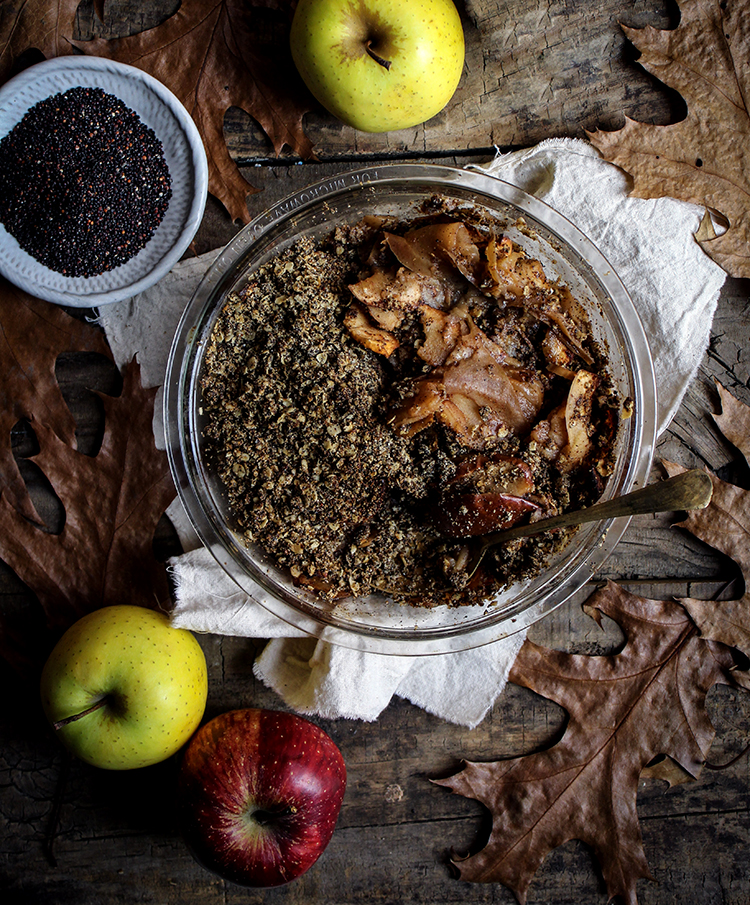 A lot of my readers request for healthy dessert recipes and I love to share them with you.
Some of my favorite healthy recipes on the blog are-
I'm adding another one to the list now, which is this apple-pear quinoa crisp. I love making fruit crisps. I make them very often not only because they're so delicious but also because they're so easy to put together. Just throw some fruits and spices into a baking dish and top it with a simple but delicious topping.
I would usually use all-purpose flour or whole wheat flour in my crisp topping but this time I decided to play around with my recipe and throw in some interesting ingredients. I decided to pick black quinoa and churn it into a flour. Along the black quinoa flour, I also add oats, brown sugar and butter in the crisp. If you want to make the crisp vegan, you can replace the butter with coconut oil.
The options for the filling are endless. Pears and apples are great together. I also love using mixed frozen berries with herbs like rosemary for my crisp. Mango and peach are my favorite together.
APPLE-PEAR QUINOA CRISP
Ingredients
2 apples, sliced
2 pears, sliced
¼ cup brown sugar
1 tbsp lemon juice
1 tsp cinnamon powder
¾ cup
black quinoa flour
½ cup rolled oats
½ teaspoon baking powder
50gm cold butter
Instructions
Pre-heat the oven to 180C.
In an oven safe dish, mix apples, pears, brown sugar, lemon juice and cinnamon powder
In a separate bowl, combine quinoa flour, oats and baking powder. Using your hands, mix butter into the mixture until it resembles a coarse meal.
Spread the oat mixture on the fruit. Bake at 180C for 20 minutes.