APPLE-PEAR QUINOA CRISP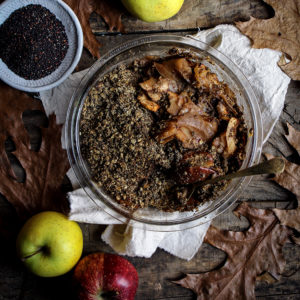 2 apples, sliced
2 pears, sliced
¼ cup brown sugar
1 tbsp lemon juice
1 tsp cinnamon powder
¾ cup
black quinoa flour
½ cup rolled oats
½ teaspoon baking powder
50gm cold butter
Pre-heat the oven to 180C.
In an oven safe dish, mix apples, pears, brown sugar, lemon juice and cinnamon powder
In a separate bowl, combine quinoa flour, oats and baking powder. Using your hands, mix butter into the mixture until it resembles a coarse meal.
Spread the oat mixture on the fruit. Bake at 180C for 20 minutes.