Every Mother's Day I make a special cake for mommy dearest. This year too I wanted to make a special cake that would put a smile on her face. After a lot of brainstorming, I decided to make this two tier rose scented cake with raspberry frosting. I topped the cake with fresh raspberries and lychees. Rose, lychee and raspberry work like magic together! If you haven't tried this combination already, you definitely need to bake this cake right away! The look of the cake reminds me of the pink and white cake I made ages ago.
The cake is scented using white rose/ kewra extract. The subtle but fragrant rose flavor makes this cake so beautiful. I divided the batter between two cake pans- one 8″ pan and one 4″ pan. Once the cake baked, the kitchen was filled with the beautiful fragrance of rose. The frosting had to be my mum's favorite cream cheese frosting. I simply fold in some raspberry preserve into the fluffy frosting to make it a little tart. The freshness of lychee and raspberries completes the cake and makes it so special.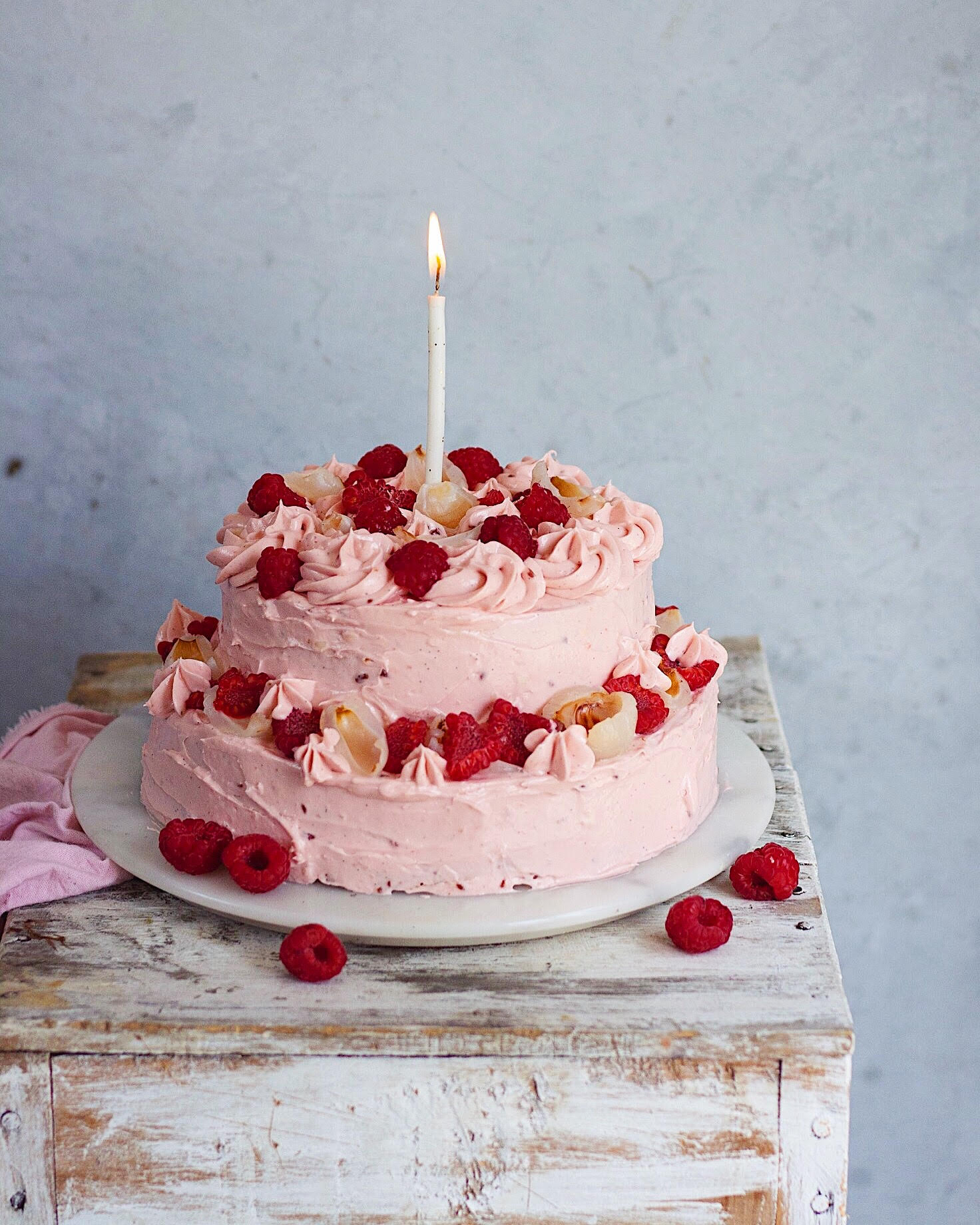 INGREDIENTS-
CAKE
2 cups all purpose flour
3 teaspoons baking powder
1/2 teaspoon baking soda
1/4 teaspoon salt
3/4 cup vegetable oil
1 cup caster sugar
1/2 teaspoon white rose (kewra) extract
4 eggs
1/2 cup milk + 1 teaspoon white vinegar, rested for 5 minutes
FROSTING
1 cup (225gm) cream cheese, softened
1/2 cup (100gm) butter, softened
beans from half vanilla pod
1 + 1/2 cup icing sugar, sifted
4 tablespoons raspberry preserve
fresh raspberries and lychees to top
PROCEDURE-
Pre-heat the oven to 180C. Line an 8″ and a 4″ round cake pan with parchment paper
In a bowl, whisk together flour, baking powder, baking soda and salt
In a separate bowl, beat vegetable oil and caster sugar. Beat in the rose extract.
Add eggs, one at a time and beat well after each addition. Mix in the milk.
Using a spatula, gently fold in the dry ingredients into the wet ingredients. Mix only unil well combined.
Pour the batter into the prepared cake pans. Bake at 180C for 40-45 minutes or until a skewer inserted into the center comes out clean.
To make the  frosting, beat the cream cheese and butter together until it is light and fluffy. While the mixer is still running, gradually add sugar. Keep beating until the frosting is fluffy.
Fold in the raspberry preserve.
To assemble, cover the 8″ cake with with frosting. Place the 4″ cake on top and cover that with raspberry frosting too. Use a piping bag attached with a large star tip to make swirls.  Decorate with fresh raspberries and lychees.