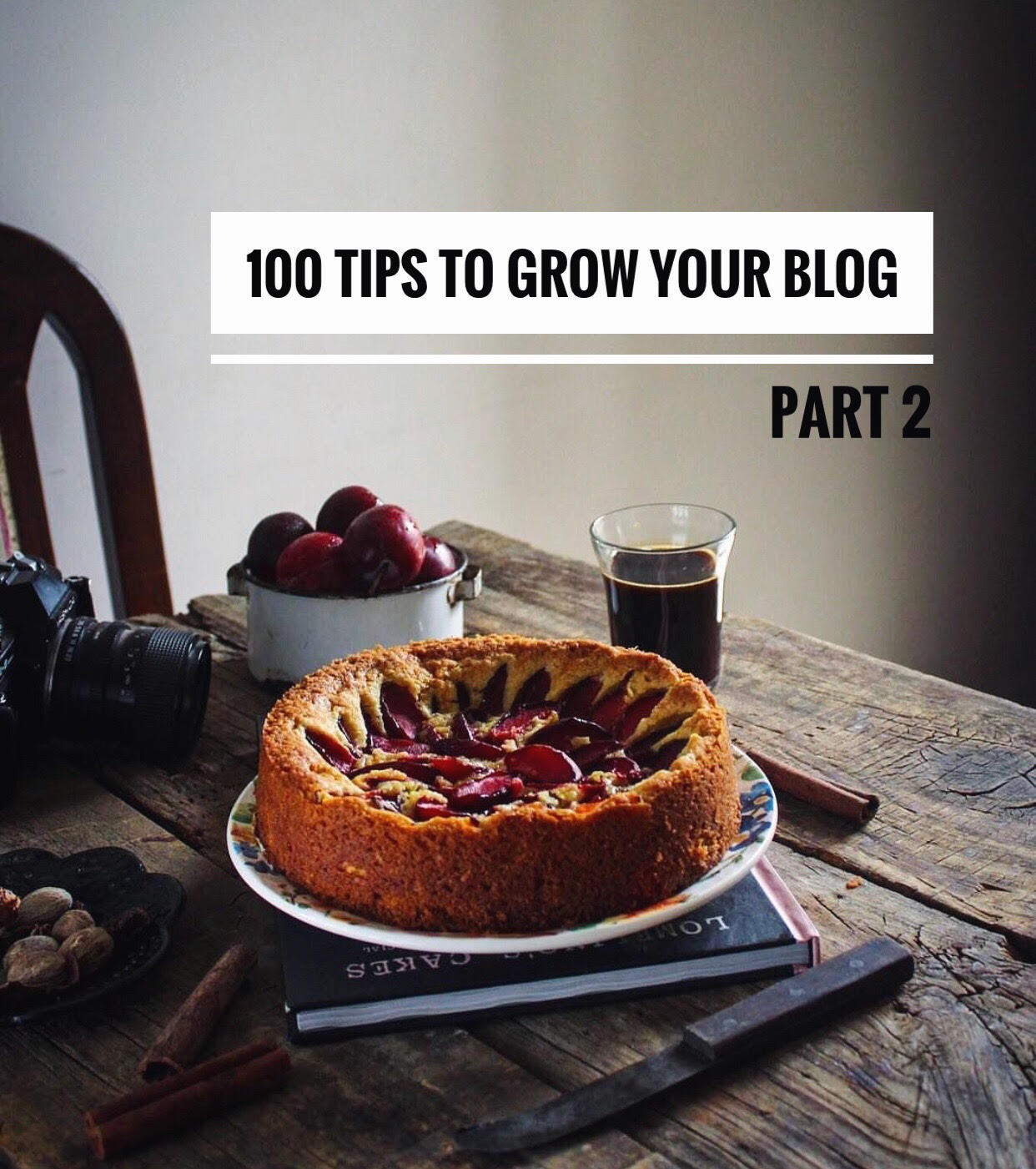 I published the first part of 100 tips to grow your blog a few days back and can't thank y'all for the over whelming response. I'm so glad you found it useful and I hope you will put these tips to practice.
I'm also super excited to bring to you the 2nd part of 100 tips to grow your blog with another set of 50 tips and tricks from a bunch of incredible food bloggers from across the world.
1.Practice, practice and practice.
If your goal is to actually grow your blog, you need to develop your skills over time, and the only way to do that is to practice a LOT. With that said, that doesn't mean you shouldn't start blogging immediately. Just go for it! Nobody is great when they start; it takes time.
This applies to all skills, whether that is writing, recipe development, cakes, vegan food, breakfast or whatever!
2. You need to show up. Having a successful blog takes work and just because you've reached a number of followers, doesn't mean you can stop working on it! You need to keep posting good content to make sure your followers come back to your blog over and over again. That being said, don't forget to take breaks too, or it's easy to burn out quickly. Good things take time.
3.I love this quote by Seth Godin – 'People do not buy goods & services, they buy relations, stories, magic'. What's your unique story? What's your magic? Yes,there is something magical and unique about you! Think about it, dig deeper and let it shine.
4. There really is no shortcuts. Roll up your sleeves and do the work. EVERY SINGLE DAY. Even on the day, you don't feel like it. Going that extra mile always pays off.
5. PROPS – I can't begin to tell you how much money I wasted on cheap shiny kitchen wear that looked horrible in photos. Props are like supporting actors in your food story. If they suck, your food (the star) will not deliver the emotion no matter how tasty it is! Buying good quality props can get expensive real soon, so keep a lookout for sales in home stores. Few of my favorites are Sur la table, West Elm, CB2, Crate & Barrel, Home Goods, World Market. Other online places that I always shop are Etsy & Ebay are great to buy vintage, antique looking silverware. You can find some great stuff at your local thrift store as well. Props take time to collect so don't rush to buy everything! Take your time and figure out your style and invest in pieces you will use regularly.
6. Point of View – Have a voice and point of view. Show your personality in your captions and blog. There is no right or wrong in the language you use. The key is to be authentic to who you are and what you stand for. There is a sea of people and the unique thing about you is well.. YOU!! So don't be afraid to say what you feel and show your creativity. Lastly, Be inspired, have fun and but don't copy someone's style because you will get caught real fast!
7. Keep posting regularly. Just not any content, good quality content, what you believe in, staying true to your brand. That might be the simplest tip, but it's a very important one. Try to post regularly and check for what times work well for you.
8. Show some of personality. It can either be through your writing, your stories or the way you interact with your followers. One of the greatest things is how easy it is to connect with people who follow and love your work. Build content for your users. This type of content (aptly named "user-generated content") is awesome because it's genuine media, show how genuine you are. It shows the users that you care and humility is always big anywhere, for any success.
9. For people starting off with a food blog, have a routine to publish your content, maybe once in 2 weeks is a good start.
10. To engage your audience, people love good photos to go along with the dish. Take Ingredient shots(flat lays), because it shows what all you need at a glance without looking at the recipe. I don't do it often but I wish I had the time to do it more often.
11.Post stories to go along with your recipes, why are you making it, is there a history behind it? Where did you learn to make it from? It creates a mood and makes it fun for the reader to capture their attention.
12. Post on all social media once you have a blog post ready, link on IG stories, engaging people to visit your blog.
13. Consider partnering with a friend. Whether working together on a single post, or entering into the blogging world as business partners, two heads can be better than one. We've learned from years of experience that it is really fun to tackle the work load with a friend, and it's especially great to
14. Stay Consistent. Whether you start out posting one or three times per week, keep it up until you've found your rhythm. Then add one extra thing to your routine. Don't stress trying to be an expert in every area right off the bat. It can take years to master all the ins and outs of blogging.
15. Whatever you dedicate your blog to, do it with passion and love everything of it. You will be devoting lots of time to your blogging activity and social media and if you don't have passion, if you don't absolutely love what you do, you will be tired sooner or later
16. Enjoy meeting people through social media. People want to know you, to be part of you. And that will only happen if you share with them what you are, what you do and what you like. It is not a matter of over exposing your life, but of sharing. And believe me it's the best part of all: getting to know people from all over the world, very nice people
17. Always address your audience with respect and empathy, never try to be too clever or preach about recipes .. let them know that it's ok to experiment -even if you write the recipe down ; it can be open to change and invention from your audience
18. Try to be upbeat (life is hard!!) always leave a positive upbeat message at the end of each blog  post – make it genuine and meaningful and like you are part of the real world.
19. While there is a wealth of information out there for creating a successful and engaging blog, the element that I think is key, the element I look for in the blogs I love and follow, is passion. Find your passion and cultivate it. Be authentic. People will gravitate towards that. You have a unique view/take on what you're creating so follow that, trust in it. Be original, seek out what inspires you. If you love dark moody photography go with that. If you like things bright and vibrant then embrace the light.
20. Do you find inspiration from art or music or nature? Bring that into your work. Dare to be a bit different, or rather, dare to be yourself. While all the other elements (consistent posting, posting great recipes, sharing your content on multiple social media channels, sending newsletters, creating an easy to navigate site etc..) are important, I believe passion is vital for success and growth.
21. Be consistent and show up every day. Growing an audience requires creating high quality content on a consistent basis over a long period of time.
22. Be yourself! That's what truly differentiates you from anyone else. No one else has your story, exact life experiences, and journey. You are unique and sharing more of yourself in an authentic way will help build a connection and trust with your audience.
23. Be yourself.. don't try to be anybody else. People love authenticity and it's absolutely fine not the be perfect. Share whatever you're passionate about and it's OK not to know all of the answers.
24. Interact with people, we all love real human interaction and make that a part of the experience. Reach out and find people to collaborate with. Have a confidence to go for what you want and even if you're just getting started don't let that stop you
25. Maybe the most important thing is to have really nice pictures. In case the photography is not very advanced yet, you can still create lovely pictures when your props are beautiful. I always try to get unique handmade ceramics and items like that for my pictures.
26. Try to create new and innovative recipes. I try to create new recipes such as my pesto with the linden leaves to make my blog/ feed more interesting. I think it's boring if there are always the same recipes for breakfast bowls, banana bread etc. on blogs
27. I think it's good to find your own niche and to define it clearly. For example my blog is all about GREEN living, cooking, eating – that is why I share my love for food AND garden etc. Regarding this I believe that you always have to stay authentic, especially when it comes to cooperations: I, for instance, would not work with a brand which is not sustainable.
28. Make sure your recipes are tested and re-tested in and out! I am constantly trying recipes of other bloggers and lately I've encountered a lot of disappointment with failing recipes.
29. There are so many talks out there about gaining and building your following with consistency and quantity, but quality is so often overlooked in this "race for numbers". I would rather not post anything at all, then post something that would waste peoples time, money and effort.
30. Using natural sunlight to shoot your photos will dramatically improve the quality of your shots. There are many free resources online, like on YouTube, including how to design your website, helpful photography tips, and guidelines on how to use programs like Lightroom to get the most out of your photos.
31. Stay engaged in the community. Creating real connections with people by replying to comments on your on page, and commenting on other accounts is a wonderful way to meet new people, create friendships, and organically grow your audience.
32. Stay true to yourself. It is easy to fall into whatever the latest trend is, but in the long run, it's best to be true to your style.
33. Be patient! Nothing happens overnight, but steady, high quality work builds up over time and eventually leads to fantastic opportunities. It's also super important to be patient during photoshoots – the best photos come from lots of planning and forethought.
34. Make it personal.
If you want to inspire and create trust, make your posts personal by adding context, giving tips, concrete examples. Why am I sharing this new recipe today ? Well the story behind it is… By making your post more personal, you will create a closer relationship with your audience.
35. Interact.
I've been blogging for over 10 years now. One of the secrets to last is to communicate with your audience. Ask them one way or another what topic they'd like your view on, in my case, what type of recipe they'd like me to test and share with them, what trends interest them and so on. This can be done through social media, a video posted on Youtube, a live on Facebook.
36. Start by being authentic to who you are – Following trends will bring growth but you will lose authenticity and your personal style. Focus on what makes you happy and share your unique perspective with the world. People are attracted to relatable content.
37. Be social! Reach out to other bloggers and Instagrammers. Commenting on their posts and taking the time to introduce yourself increases your visibility. Take the time to respond to every comment that people leave if they were kind enough to do so.
38. Never stop learning. Invest in a few online courses by people who have been in your position and use what you can to improve your photography, social media skills and so on.
39. Post regularly to grow as a cook, a photographer, and to learn more about yourself and grow as a person.
40. Follow people that inspire you and create your own little community by being genuine and personal — connecting with like-minded people (virtually and IRL) is one of the best things about this platform!
41.Challenge yourself – even if you already love what you do, you'll get better from trying new things. But most importantly, have fun!
42. If you want to grow your blog and make food blogging (and all the things related to blogging) your business, I would recommend investing a lot of thought on building a brand. Think about what you want your blog / IG to look like, to feel like. What are the core values of your blog and how do you convey these values when you post.
What is the message you want to send out, what would be your brand story? Branding is also about finding your own niche and your own personal style to present your food and recipes. There is a story behind every recipe, go on and tell it to your audience! Write your story also visually, and think of the most important elements of your brand: do you like certain colors, do you like to use flowers, do you use dark & moody or bright & light images, is your style playful etc.
Finding your own editing style is also a good way to have a consistent brand. But your brand doesn't have to be consistent all the time, we are all evolving all the time, but would be good to have certain familiar elements for the audience to recognize your style. And YOU are part of your brand, too. Your personality shines through your posts and your visual style even if you don't share a lot of personal things.
43. One tip is to use food blog submission websites where you can share your recipe. Some of the ones I use and where my traffic comes from: Food Gawker, Finding Vegan and Oh My Veggies Potluck. One related tip is also to use hashtags like #feedfeed on your IG photos. Feedfeed is a massive food sharing community and if you get featured on their IG and website, you will get more traffic on your blog.
44. Add value to your readers. There's so much content being produced everyday, how does your content enrich their lives and what value does it provide? Is it just about you or could the reader relate to it somehow?
45. Engage – if someone takes the time to comment on your page, reply back or visit their page to build a relationship. But always respond because it should be a two way conversation, whether the comment is good or bad.
46. Give away your knowledge. Blogging is essentially sharing of what you know and if you are going to hide some of that, the readers will see right through it. So be true to yourself and your readers, share what you know
47. Connect with your audience. Don't ignore the power of communication, so whether it is the social media interactions or the blog comments. Always respond.
48. Be yourself – yes you are writing for your readers but writing something you aren't isn't going sound authentic. So be yourself and your readers will see it too
49. Sharing Quality Content! This is the most important element in gaining an audience on your blog. It's important that you're creating quality content, and sharing quality photos. This doesn't mean you have to be ultra creative with every new recipe, or breaking the bank on unique ingredients. In fact, followers enjoy seeing recipes that are simple and straightforward. They can imagine themselves creating it, and hopefully they will!  What I mean about quality content is putting extra care into your work, particularly with the images you share. Think about using fresh and colourful produce, shooting in natural light, and take time to stage and style the food. Using a DSLR camera if you have one is a bonus, they don't call them professional cameras for nothing. Remember that your images are the first thing people see, and if they are inspired by the shot, they are likely to read on, and return to your site.
50. Be Social! I can't begin to explain how important this is! Join social platforms like Instagram, Facebook, YouTube and Pinterest. You don't have to do all of them, but be strategic and choose the ones that are relevant to you and your style. For me it's Instagram and Pinterest. These platforms are designed to build community, and here is your opportunity to reach new people who share your interests. Be as active as possible on these platforms and use the features they offer. For example with Instagram, use your feed, stories and highlights to build a well rounded profile. Engage in the community by using hashtags, tagging other major sharing accounts, and joining instagram "parties" put on by other food bloggers. This will give an opportunity for others to share your work and grow your reach. Remember that being active on social accounts takes time and investment. Just like in the real world, when you give to your social community it will give back to you.
51. Photography: it's so important to use natural light, try to capture different frames and points of view and no filters, to let shine the ingredients by its natural beauty. Some light and contrast retouch is enough. But not too much saturation or sharpness if it's no needed.
52. And of course a good selection of ingredients well presented in a different and original point of view. A natural disposition of all the objects, making some "empty" spaces to give air to the shoot.
It's important to put all the ingredients and the recipe in harmony, natural disposition. But the recipe is the principal element of your capture, keep in mind
and finally, my two cents- 
Be patient and don't expect instant gratification. Never start a blog with the aim of getting fame or money in your mind. Reaching that stage takes time and you'll be able to get there only if you're fueled with passion. So work patiently and with a lot of patience. You will need to keep investing in a lot of time and effort into your blog before you can start seeing returns
After a certain point, the best way to grow your food blog is to build and expand a team. You don't have to do it instantly but if you think you have enough resources, that is the way to move forward. When I started blogging full time, I got people to handle certain aspects like invoicing for me, which are not really my cup of tea. Once I assign all of these tasks to my team, I can focus on doing what I enjoy the best-creating content.
I hope you guys enjoyed this two part blog post on 100 tips to grow your blog. Please leave your feedback in the comments below and let me know if you'd like me to work on more of these posts.
Again, a big thanks to all the food bloggers who contributed to this post-wouldn't have been possible without you guys!