Delhi is on full lockdown starting today and we all know we can do something to alleviate the stress. It's a tough situation out there, with no generation having faced anything of this sort. Day by day more news is coming out- only adding to stress and it's irritating, I am aware. However, big lockdowns call for big baking time. And thus, I am here with not one, not two, but three mug cake recipes! These mug cakes are amazing, easy, effortless, and so yum! You can just throw it in a microwave and have it to yourself. Truly, what is better than dessert and not sharing any? Plus, if you do have family or friends around, you can make them their own serving. Lockdown also means a complete lockdown on sharing desserts, guys! Haha.
Now, I love mug cakes and I know you guys do too! I have already posted a video on Youtube for these mug cakes and the response is phenomenal. I am getting endless mentions on Instagram too. Everyone has gotten down to baking and I love that everyone is being so creative in such times. Creativity will seriously make you survive through this. I am also a human you can just not work on a given day. And so, I am planning to post one cool and easy recipe each day on my Youtube. Keep an eye on my channel and I am 100 percent sure that you will not regret it!
Tips for the best mug cakes
Mug cakes do promise a warm, moist, and fluffy cake after a few minutes and with minimal work. However, sometimes, all you end up with is a chewy, rubbery mess that is flavorless. I do not want you guys thinking that you at least made some effort towards making something at this time, and even that failed. This is something that will really hurt me. So, as always, I am going to give the perfect tips to nail this smooth and yum red velvet mug cake.
TIP #1- THE TYPE OF YOUR CUP
Most of you have (and use) tall, lean cups for making mug cakes. The science of baking says, the larger the surface area of your pan, the more you ensure even and uniform baking. Your mug cake batters become too much for tall and lean cups. The heat of the microwave is not really able to penetrate that depth. This results in the cake being extremely under-cooked. And if you wanted to eat the batter, why throw it in the microwave in the first place? Thus, please use cups with a wide mouth, and which are shorter to get evenly baked mug cakes.
TIP #2- MICROWAVE SETTINGS DIFFER
All microwaves, unlike ovens, are extremely different from each other. Stick to the time the recipe asks you to stick to. However, if a toothpick inserted in the middle comes out extremely wet, bake for more short intervals until you get a stable and baked red velvet mug cake.
TIP #3- KNOWING WHEN YOUR MUG CAKE IS DONE
Once your microwave calls you with the incessant beeping, test if your cake is done or not in the following way. Since mug cakes are supposed to moist, place your two fingers lightly on the surface. The keyword here is 'lightly'. Do not attempt to push your fingers in or to touch the cup. Just lightly touch the surface. A finely baked mug cake surface will be a bit sticky. If it's too coarse, congratulations, your mug cake is pretty much inedible! However, if it is still wet, turn on the microwave for some more seconds until you know for sure that it is done!
TIP #4- FILLING YOUR BATTERS ONLY UP TO HALF THE CUP
Please give your red velvet mug cake batter some space to rise. Ideally, filling only half a cup or just slightly more is the perfect amount of batter. This truly does make the best red velvet mug cake.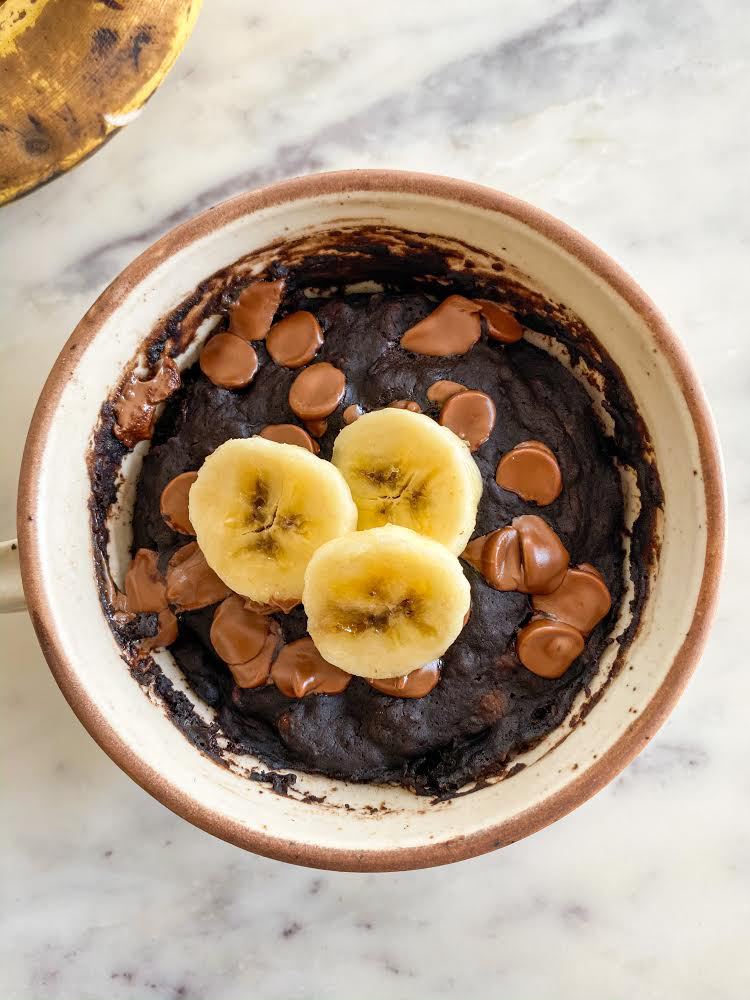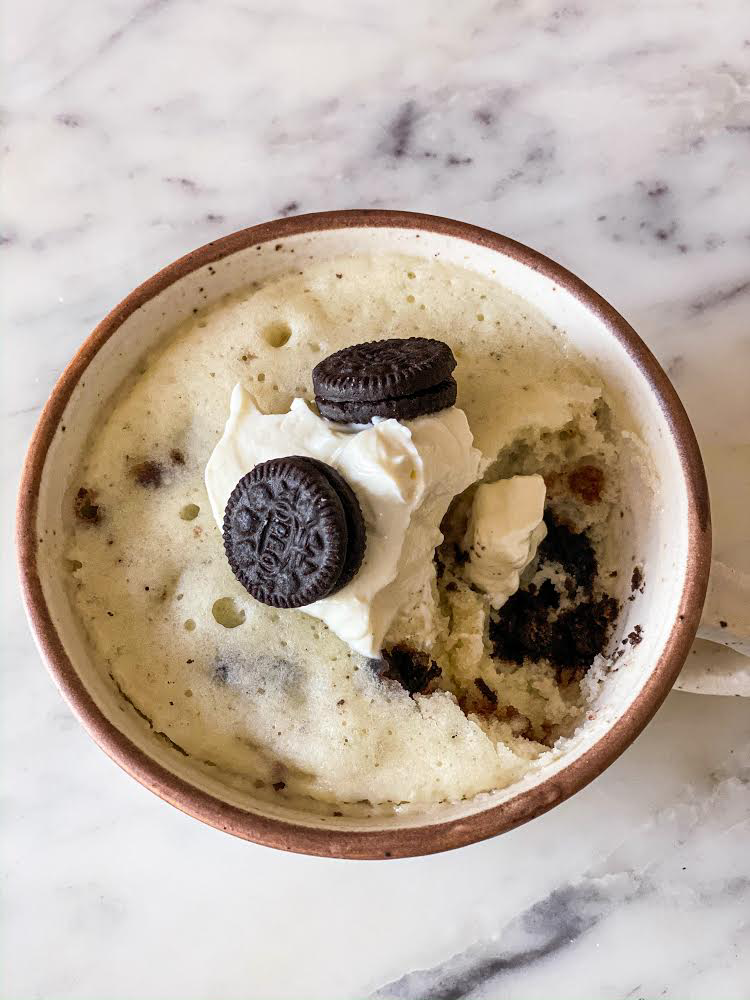 Ingredients for these Mug Cakes
Cake #1- Banana and Chocolate Chip Mug Cake
For the cocoa powder, please know that Hershey's is actually the prime cocoa powder out there. But, if you can not get hands on it in this lockdown, use whatever cocoa powder you have at home!
Baking powder is an essential ingredient in all mug cakes. Typically used one is the one from Weikfield. It does it's work well!
You can use any flavorless oil that you'd like. We typically roll with Saffola.
Your banana and chocochip mug cake needs good bananas. For all banana desserts, the blacker the banana, the better it is!
Cake #2- Snicker's Mug Cake
If you do not have caramel for this recipe- a very vital ingredient, follow the recipe given below:
1 cup granulated sugar
½ cup butter
½ cup cream
To make the caramel, heat the sugar in a saucepan over medium heat until an amber colour is achieved. Add the butter and mix until completely melted and mixed. Add the cream whisking constantly as the mixture will bubble vigorously. Let the caramel cool completely before using it.
Cake #3- Oreo and Cream Mug cake
The choice of your cream cheese really matters. Do not go with the ones that have a lot of water content. The best choice is Britannia!
Use flavorless oil for best results.

Mug cakes recipe
Mug Cake- Three eggless recipes!
Ingredients
Banana and chocochip mug cake
¼ cup all purpose flour
2 tbsp cocoa powder
¼ tsp baking powder
¼ cup milk
2 tsp oil
2 tbsp mashed bananas
2 tbsp chocochips
Snicker's mug cake
¼ cup all purpose flour
2 tbsp cocoa powder
¼ tsp baking powder
¼ cup milk
2 tsp oil
2 tbsp caramel
2 tbsp caster sugar
Crushed toasted peanuts
Oreo and cream mug cake
¼ cup all purpose flour
¼ tsp baking powder
¼ cup milk
2 tsp oil
2 tbsp cream cheese
2 tbsp caster sugar
¼ cup oreos
Instructions
To make the banana and chocolate chip mug cake, take your microwave safe mug and add all purpose flour, cocoa powder, baking powder, and baking soda. Use a small whisk to combine and make a well in the center.
Add in milk, oil, mashed bananas, and chocolate chips and mix everything together.
Cook it in the microwave for 70 seconds.
For the Snicker's mug cake, add all the dry ingredients in a microwave safe mug and combine. This includes all purpose flour, cocoa powder, baking powder, and caster sugar.
Make a well in the center and add milk, oil, and gently mix to combine with dry ingredients. Lastly, add in caramel and mix that in too.
Add some crushed peanuts on top and pop it in the microwave for 70 seconds.
For the Oreo and cream mug cake, in a microwave safe mug add all purpose flour, baking powder, and sugar. combine the ingredients and gradually add in milk, and oil. Add in crushed oreos and a dollop of cream cheese in the middle. Cook it in the microwave for 70 seconds.
Enjoy!