With the quarantine hitting us hard, we all know it is the most wonderful time to bake some cookies. These oat cookies are delicious. Not only are they heavenly taste-wise, they are also a quick fix for all your dessert cravings! You can bake a batch of these oat cookies, store them in airtight containers and have them with your morning caffeine cup. Or, you can simply binge on some oat cookies deliciousness- like I do!
Now, I know there are so many things going on in Delhi but we need to start looking beyond the stress and chaos. I sat myself down and talked to myself about the panic in my head related to the Coronavirus. There is endless fear and anxiety and I just wanted to deal with it. Now, you need to pause the movement of all members of your household. Call the help and give them a paid leave for an indefinite period. Trust me, you need it more than them. It's not just about the help- pause your couriers, your orders, everything external. If it is absolutely essential for something to come from outside, hold it with a tissue, and run a tissue soaked in sanitiser around it. Afterwards, wash your hands.
Even if you are exchanging money or bills with people from outside like your mil vendor or your grocery store boy, wash your hands. We have zero idea of the germs that money carries. Taking such small precautions will really help. Practice complete social distancing. Reason with yourself like this and you are bound to feel calmer.
However, if you do not feel calm still, bake these delicious oat cookies because we all know how therapeutic baking is! And if you do end up baking these cookies, please tag me on Instagram!
Baking these Quaker Oatmeal Cookies
Now, we all know that Quaker Oats are the best and most desirable oats out there. They are usually available and chances are, you already have them. I specifically remember having oat cookies as a child and how I loved them. Now, when I baked my own recipe of these cookies, I was so delighted and surprised. They taste instantly took me back to my childhood too. These are very simple oatmeal cookies and are really the best chewy oatmeal cookies out there! There are however, some tips that we can all use to make these easy oatmeal cookies.
Making the flax egg to make these oat cookies eggless
Now, a flax egg is one of the most common substitutes of egg. Though they make your desserts a little bit more dense, if you don't wish to add eggs, flax egg is your best choice. So, to make these best chewy oatmeal cookies with a flax egg, follow the given procedure:
Take one tablespoon of ground flax seeds and three tablespoons water. Add the water into the flax egg and mix well. Allow it to rest for 2-3 minutes. Eventually, you will notice that the mixture has turned into an egg-like consistency. Your flax egg is ready!
Making the best chewy oat cookies
The part that makes your oat cookies chewy is the brown sugar. Also, another secret ingredient- corn flour! If you add corn flour to any of the cookie recipes available on the blog, your cookies will turn out beautiful and chewy! Some people really like their oat cookies to be chewy and here's your tip. Plus, though you can make these oat cookies with only caster sugar, the brown sugar really elevates the taste and texture!
Making easy oatmeal and raisin cookies
Some people looove the chocolate chip in these oat cookies. However, if you are a raisin lover, make easy oatmeal and raisin cookies just by substituting half a cup of chocolate chips with half cup of raisins, or dried cranberries, or blueberries!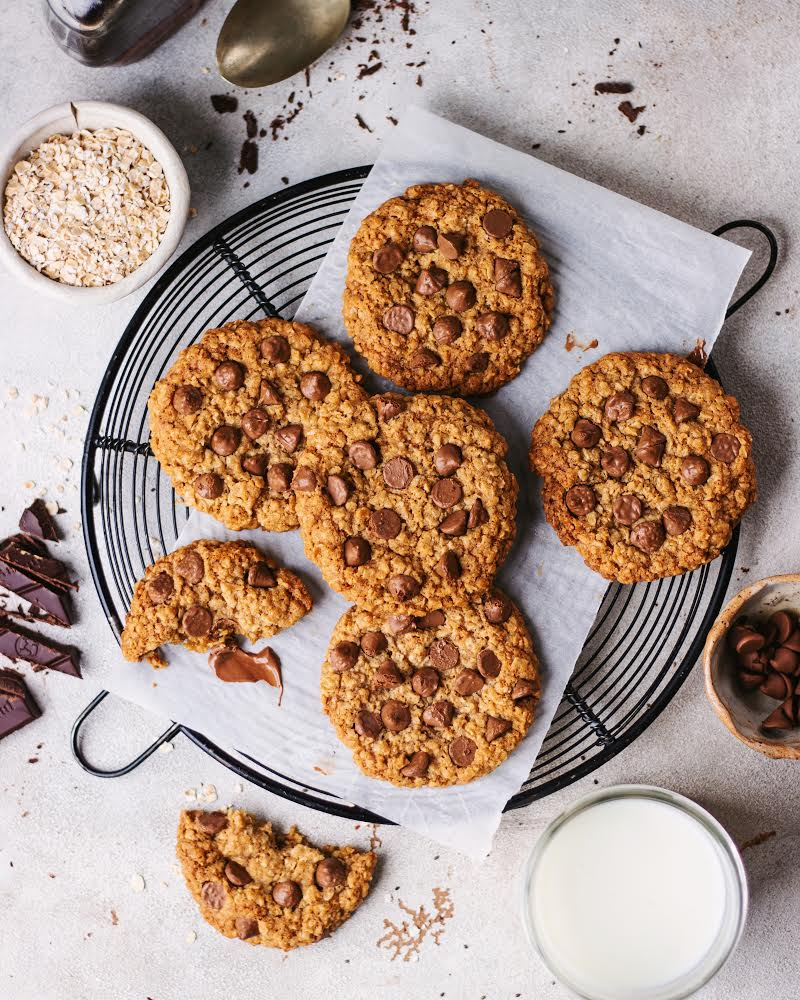 Oat Cookies recipe 
Oat Cookies with eggless option!
Ingredients
½ cup softened butter
½ cup light brown sugar
½ cup caster sugar
1 egg/1 flax egg
1 tsp vanilla
1+1/4 cup rolled oats
½ cup whole wheat flour
½ tsp baking soda
½ cup chocolate chips
Instructions
Mix your wheat flour, oats, and baking soda in a glass bowl with a whisk.
In another bowl, take the softened butter and add brown sugar followed by white sugar. Mix it well until it comes together as a uniform mixture.
Add one egg to the butter mixture and incorporate well.
Add the vanilla and just mix until incorporated.
Mix the dry ingredients into the wet ingredients until thoroughly incorporated.
Allow the cookie dough to rest in the oven for 30 minutes.
After resting, pre-heat the oven to 180 degrees.
On a tray lined with a silicone mat or parchment paper, scoop out the cookie dough into small balls.
Add chocolate chips on top of each cookie. Use your fingers to slightly push the chocolate chips down so that they are in contact with the cookie dough.
Bake for 8-10 minutes or until the edges turn golden-brown.
Take the cookies out of the oven and allow them to cool for 3-4 minutes before serving.