Oat Cookies with eggless option!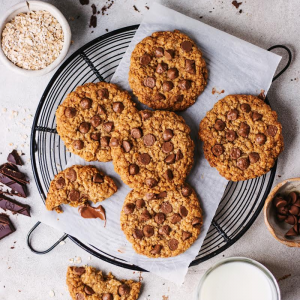 ½ cup softened butter
½ cup light brown sugar
½ cup caster sugar
1 egg/1 flax egg
1 tsp vanilla
1+1/4 cup rolled oats
½ cup whole wheat flour
½ tsp baking soda
½ cup chocolate chips
Mix your wheat flour, oats, and baking soda in a glass bowl with a whisk.
In another bowl, take the softened butter and add brown sugar followed by white sugar. Mix it well until it comes together as a uniform mixture.
Add one egg to the butter mixture and incorporate well.
Add the vanilla and just mix until incorporated.
Mix the dry ingredients into the wet ingredients until thoroughly incorporated.
Allow the cookie dough to rest in the oven for 30 minutes.
After resting, pre-heat the oven to 180 degrees.
On a tray lined with a silicone mat or parchment paper, scoop out the cookie dough into small balls.
Add chocolate chips on top of each cookie. Use your fingers to slightly push the chocolate chips down so that they are in contact with the cookie dough.
Bake for 8-10 minutes or until the edges turn golden-brown.
Take the cookies out of the oven and allow them to cool for 3-4 minutes before serving.
Recipe by
Bake with Shivesh
at https://bakewithshivesh.com/eggless-oat-cookies-recipe/