Eggless red velvet cupcakes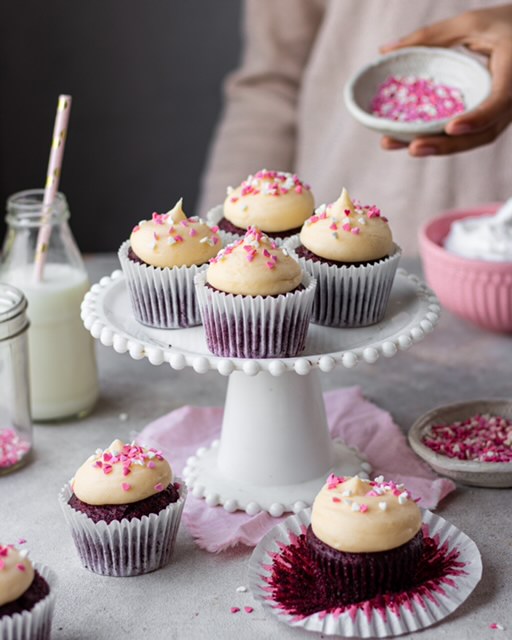 ½cup (100g) castor sugar
¼ cup (60mL) vegetable oil
2 tbsp (36g) yogurt
1 teaspoon (5ml) lemon juice
1 teaspoon (5ml) vanilla extract
1 tablespoon (20-ml) red food colour
¾cup (150g) milk
¾ cup (90gms) all purpose flour
1 tablespoon (7g)cocoa powder
½ teaspoon (3g)baking soda
Preheat the oven at 180C and line a cupcake tray with cupcake liners.
In a large bowl add the sugar and vegetable oil and beat well until pale.
Add the yogurt,lemon juice,vanilla extract,red food colour and milk and mix well.
Fold in the flour, cocoa powder and the baking soda and mix until everything is well combined.
Transfer the batter into the prepared cupcake pan using and ice cream scoop.
Bake For 20-25 minutes or until a skewer inserted comes out clean.
Recipe by
Bake with Shivesh
at https://bakewithshivesh.com/eggless-red-velvet-cupcakes/