Best Chocolate Fudge Frosting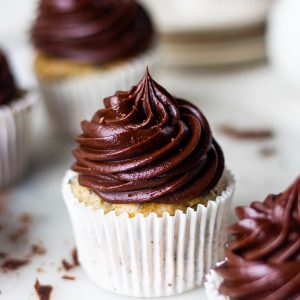 ½ cup butter (softened)
¼ cup cocoa powder
1 cup icing sugar
1 tsp vanilla
½ cup chocolate (melted)
½ cup cream (warm)
In a bowl add in butter and sift in icing sugar and cocoa powder.
Whip this mixture using a hand whisk or an electric mixer at high speed till you get a fluffy and light mixture.
Add in vanilla and beat it in as well. Once all of this is combined, warm your cream and mix that in as well.
Next, melt your chocolate and let it cool down slightly before you add it into the frosting mixture.
Once cooled down, just combine everything using your whisk. Give it a good mix and you will see your frosting be thick but slightly liquidy.
Refrigerate the frosting for 30-40 minutes.
Use it as desired.
Recipe by
Bake with Shivesh
at https://bakewithshivesh.com/best-chocolate-fudge-frosting/