ORANGE CAKE WITH MASCARPONE FROSTING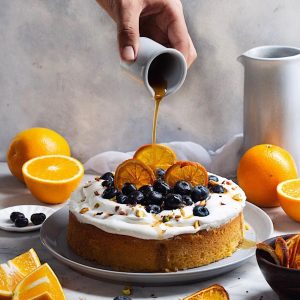 2 cups (240g) all purpose flour (maida)
2 teaspoons (8g) baking powder
½ teaspoon (3g) baking soda
1 tablespoon (6g) fresh orange zest
¾ cup (180mL) vegetable oil
1 cup (200g) castor sugar
4 eggs
¾ cup (180mL) fresh orange juice
½ cup (113g) lightly beaten mascarpone cheese
1 cup (225g) whipped cream
1 teaspoon (5mL) vanilla extract
Pre- heat the oven to 180 degrees. Line a 9″ round cake pan with parchment.
In a  medium bowl, whisk flour, baking powder, baking soda and orange zest.
In a large bowl, using an electric mixer, beat oil and sugar until light and pale. With mixer on low, beat in eggs one at a time.
Alternately,  fold in flour mixture and orange juice, beginning and ending with flour mixture. Mix just until combined and do not over mix.
Pour the batter into the cake pan.
Smooth top using a spatula. Bake at 180C until an inserted toothpick comes out clean. It should take about 30-40 minutes.
For the frosting, fold in the mascarpone cheese and vanilla extract in the whipped cream. Once the cake has cooled completely, cover it with frosting. Decorate the cake with dehydrated orange slices and blueberries.
Your orange cake with mascarpone frosting is now ready!
Recipe by
Bake with Shivesh
at https://bakewithshivesh.com/orange-cake-mascarpone-frosting/