HEALTHY GLUTEN FREE QUINOA BROWNIES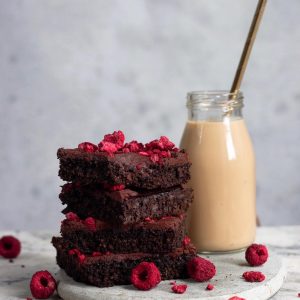 4 tablespoons (60mL) vegetable oil
¾ cup (150g) castor sugar
2 eggs
½ cup (93g) boiled Quinoa
½ cup (50g) cocoa powder
2 teaspoon (8g) baking powder
¼ cup (60mL) milk
Chocolate ganache
Freeze dried raspberries
Preheat the oven to 180*C and line a 9X9 square pan with parchment paper. Leave extra on the edges to function as handles- that will help you pull out the brownies.
In a large bowl, combine oil and sugar. Best well for 2-3 minutes.
Add eggs and mix well so that everything is well incorporated.
Carefully fold in the boiled quinoa, cocoa powder, and baking powder.
Add in the milk and mix well until the batter comes together.
Pour the batter into the prepared pan and bake the brownies for 20-25 minutes until they are cooked through.
Once the brownies have cooled completely, cover it with dark chocolate ganache and top with freeze-dried raspberries.
Recipe by
Bake with Shivesh
at https://bakewithshivesh.com/quinoa-brownies/