I haven't gone around to share a new recipe on the blog for a while now. I'm sorry for being missing in action. That is because I was busy setting up my YouTube channel – Bake With Shivesh, which is going live tomorrow! I'm so nervous for you guys to see the first video! But to make up for my silence here, I thought I'll share the recipe of this eggless strawberry chocolate cake, which is so delicious. It brings together two most popular flavors- chocolate and strawberries into a beautiful cake, which would make everyone happy.
I'm really sad about the strawberry season ending and wanted to make the most of the last few batches left. If you still have some strawberries left, you should definitely bake this eggless strawberry chocolate cake. Trust me, this is one decision you would not regret! If you're equally sad about the strawberry season ending, you should read my article of how to preserve strawberries.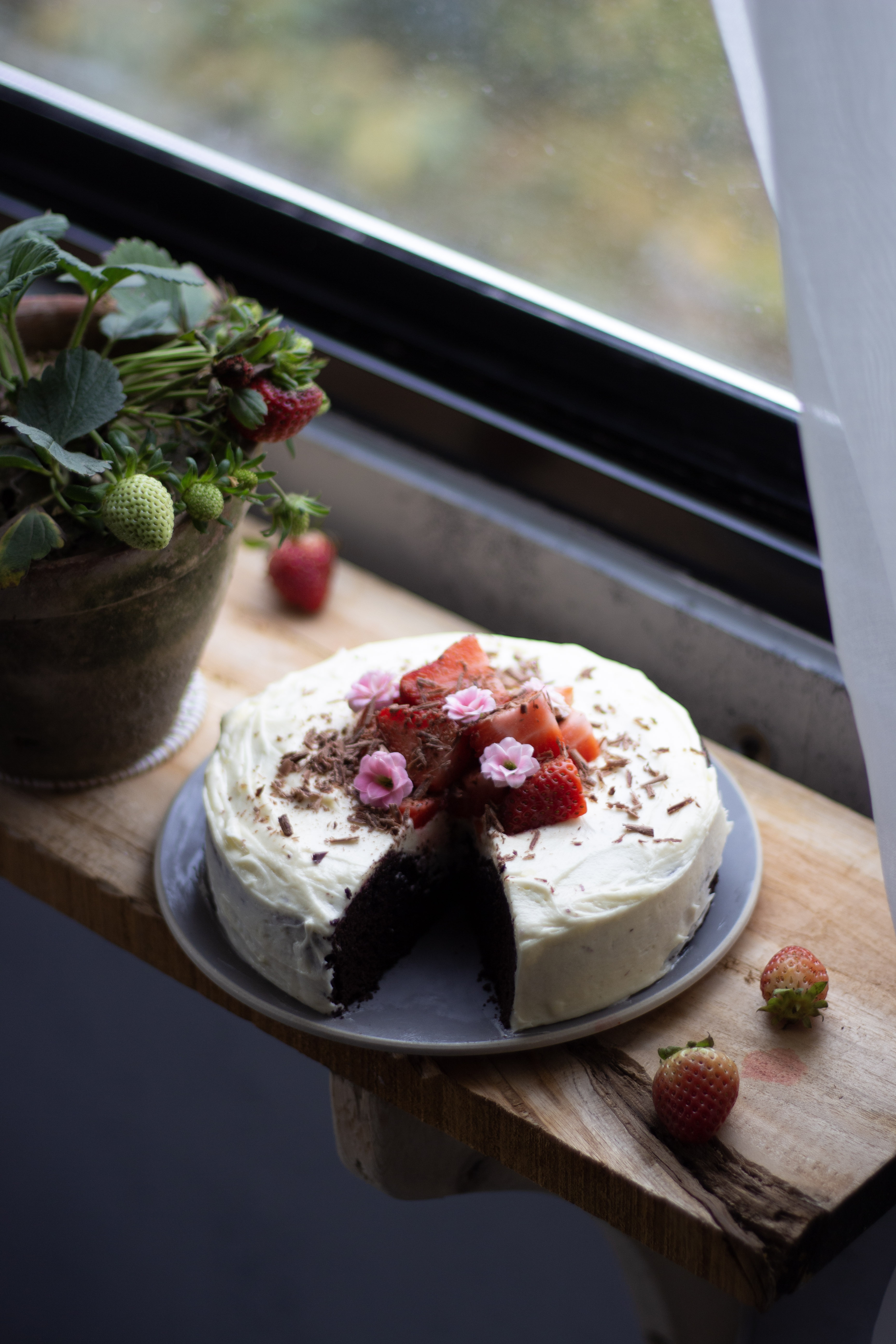 eggless strawberry chocolate cake frosting-
I top this rich eggless strawberry chocolate cake with my favorite cream cheese frosting. You can find the frosting recipe HERE. You'll be blown away by how yum this cake is. It's difficult to believe it's eggless. The best part is that the recipe is so simple to follow. You only need some basic ingredients and you'd be able to whip it up in no time. Now let's make some great use of the last few strawberries left and bake a perfect strawberry chocolate cake! Don't forget to share a picture with me on my Instagram using #BakeWithShivesh.
More strawberry chocolate recipes to try-
Before we jump into the recipe, I also want to thank you guys for being so incredibly supportive. I love it when you try out recipes from the blog and then take out the time to come back and tell me you liked the recipe. Going through your comments make me extremely happy. I hope you'd show the same kind of love and support to my new journey on YouTube. You can subscribe to my channel HERE and don't forget to stay tuned to the first video which goes live on 15th March'19.

Eggless Strawberry Chocolate Cake
Ingredients
1 + ½ cups maida (all purpose flour)- 180g
¾ cups cocoa powder- 75g
½ tsp baking soda -3g
1 tsp baking powder- 4g
¾ cup vegetable oil- 180mL
1 + ½ cups castor sugar -300g
1 cup Greek yogurt ( or curd hung over night)- 285g
½ tsp vanilla extract- 2.5mL
½ cup milk + 1 tsp white vinegar, mixed and rested for 5 minutes -120mL + 5mL
½ cup roughly chopped strawberries
cream cheese frosting, to top
Instructions
Pre-heat the oven to 180*C. Line a 9" baking pan with parchment paper.
Whisk cocoa, flour, salt, baking soda and baking powder into a bowl
In a large bowl, beat together oil and sugar until the mixture is pale and light
Add yogurt and mix well.
Beat in vanilla using mixer at low.
Add the flour mixture to the wet ingredients alternating with milk, starting and ending with flour mixture. Mix only until well combined. Don't over mix.
Carefully fold in the strawberries
Pour the batter into the pan and bake at 180*C for 30-35 minutes or until a skewer inserted in the center comes out clean.
Once the cake has cooled completely, take it out of the pan and frost with cream cheese frosting. I also like to decorate my cake with fresh sliced strawberries and chocolate shavings.
Your eggless strawberry chocolate cake is ready!