Eggless Strawberry Chocolate Cake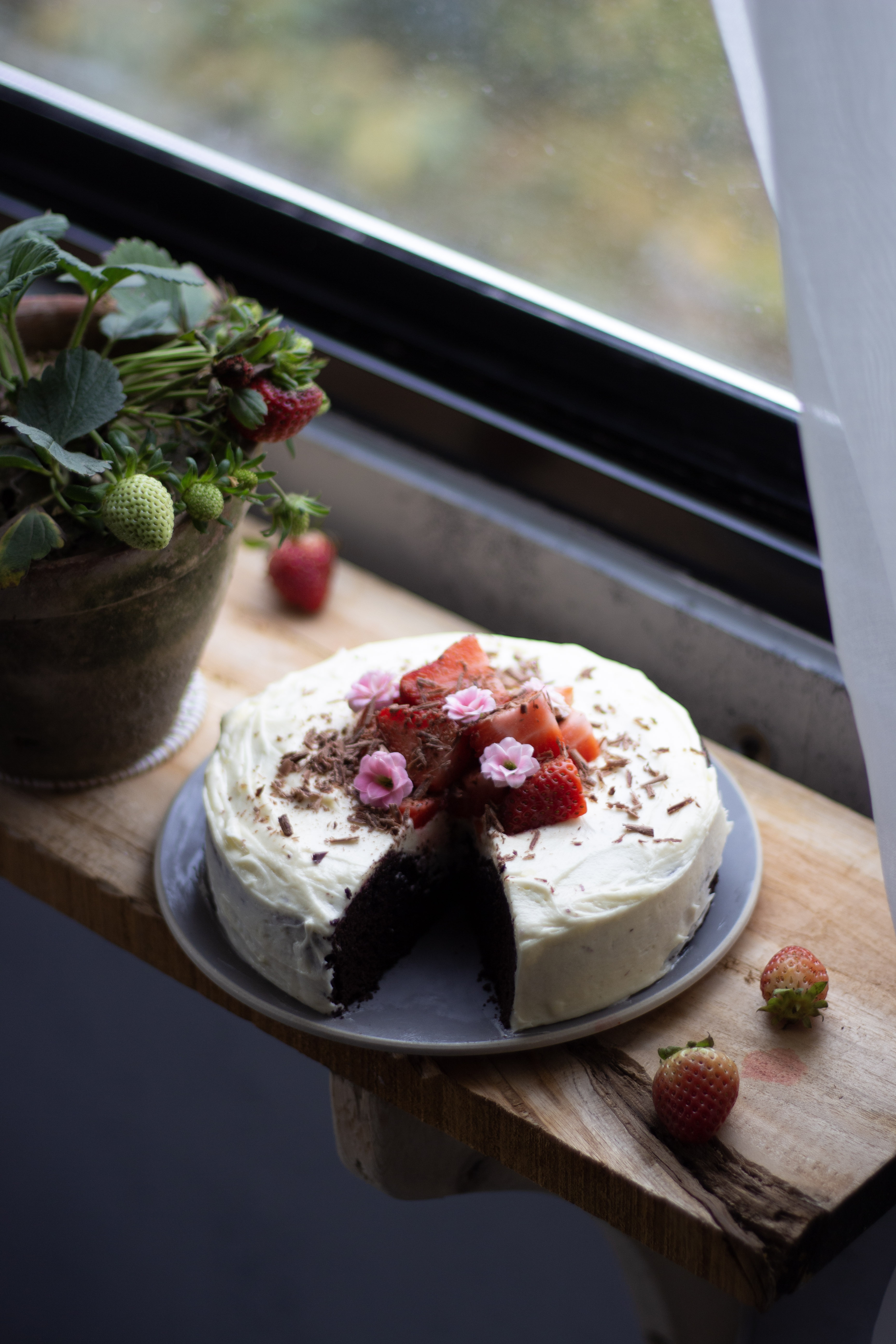 1 + ½ cups maida (all purpose flour)- 180g
¾ cups cocoa powder- 75g
½ tsp baking soda -3g
1 tsp baking powder- 4g
¾ cup vegetable oil- 180mL
1 + ½ cups castor sugar -300g
1 cup Greek yogurt ( or curd hung over night)- 285g
½ tsp vanilla extract- 2.5mL
½ cup milk + 1 tsp white vinegar, mixed and rested for 5 minutes -120mL + 5mL
½ cup roughly chopped strawberries
cream cheese frosting, to top
Pre-heat the oven to 180*C. Line a 9" baking pan with parchment paper.
Whisk cocoa, flour, salt, baking soda and baking powder into a bowl
In a large bowl, beat together oil and sugar until the mixture is pale and light
Add yogurt and mix well.
Beat in vanilla using mixer at low.
Add the flour mixture to the wet ingredients alternating with milk, starting and ending with flour mixture. Mix only until well combined. Don't over mix.
Carefully fold in the strawberries
Pour the batter into the pan and bake at 180*C for 30-35 minutes or until a skewer inserted in the center comes out clean.
Once the cake has cooled completely, take it out of the pan and frost with cream cheese frosting. I also like to decorate my cake with fresh sliced strawberries and chocolate shavings.
Your eggless strawberry chocolate cake is ready!
Recipe by
Bake with Shivesh
at https://bakewithshivesh.com/eggless-strawberry-chocolate-cake/