In today's world, we are always looking for cooler and more delicious substitutes to basic dishes. If you are this person, these breakfast cookies with cornflakes are going to be your favorite dessert slash breakfast! Every bite of these breakfast cookies is truly your express ticket into heaven. They are truly chewy and hearty and honestly, I really love their texture. Every bite is such a crunchy, wholesome bite, packed with crazy energy. Even when you have a sugar craving, instead of making a run to your nearest dessert place or ordering from one of the food apps, give yourself 40 minutes and bake these breakfast cookies. They will surely last you long, satisfy your sugar pangs thoroughly and even cost you less in the long run.
These breakfast cookies are filled with the deliciousness of cornflakes, which also gives off an amazing crunch to the cookies. Made with the simplest of the off-the-shelves ingredients, these cookies will make you keep on coming back for more and more. Plus, we all know that we could use some delicious and sweet breakfast cookies as the first meal of the day. Wouldn't we all absolutely love that?
What I love about these delicious breakfast cookies
What I really love about these breakfast cookies is the fact that they have a balanced taste and texture, and they are super customizable! Cookies are so versatile and accepting- you can do anything and everything with them! If you are a dry-fruit or a berry enthusiast, add some into these cookies, take your choco chips out and make yourself a healthier and wholesome cookie. If you are a chocolate lover, mix some choco chips in the batter as well as sprinkle some on top. You can also use white choco chips!
Moreover, these breakfast cookies can also be baked in the microwave. At 180 degrees, these cookies will take a maximum of 15-17 minutes depending upon your microwave.
How to get these chocolate chip breakfast cookies baked to perfection
Now, these breakfast cookies are so effortless and simple, you wouldn't even need to break a sweat. I have heard from a lot of people, even my interns, that baking cookies seems like such a horror task. But, trust the still alive and throbbing young chef in me when he says that cookies are the easiest dessert to bake! They never require out of the blue or exotic ingredients and their shelf life is the longest. The cookie dough is delicious and can be stored in the refrigerator for about 2 months. Moreover, you don't need to whisk them or keep mixing them like cake batters, and you can literally pop them in the oven as and when you like.
Now, I also know that most of you guys may not have an ice-cream scooper to get the perfect scoop of cookies onto your baking tray. But, what can be used as a hack is a tablespoon. Use a rounded tablespoon to scoop out your dough, level it up to the brim and pop it on your baking tray. If you prefer thick cookies as I do, you can repeat the tablespoon process and combine both the scoops.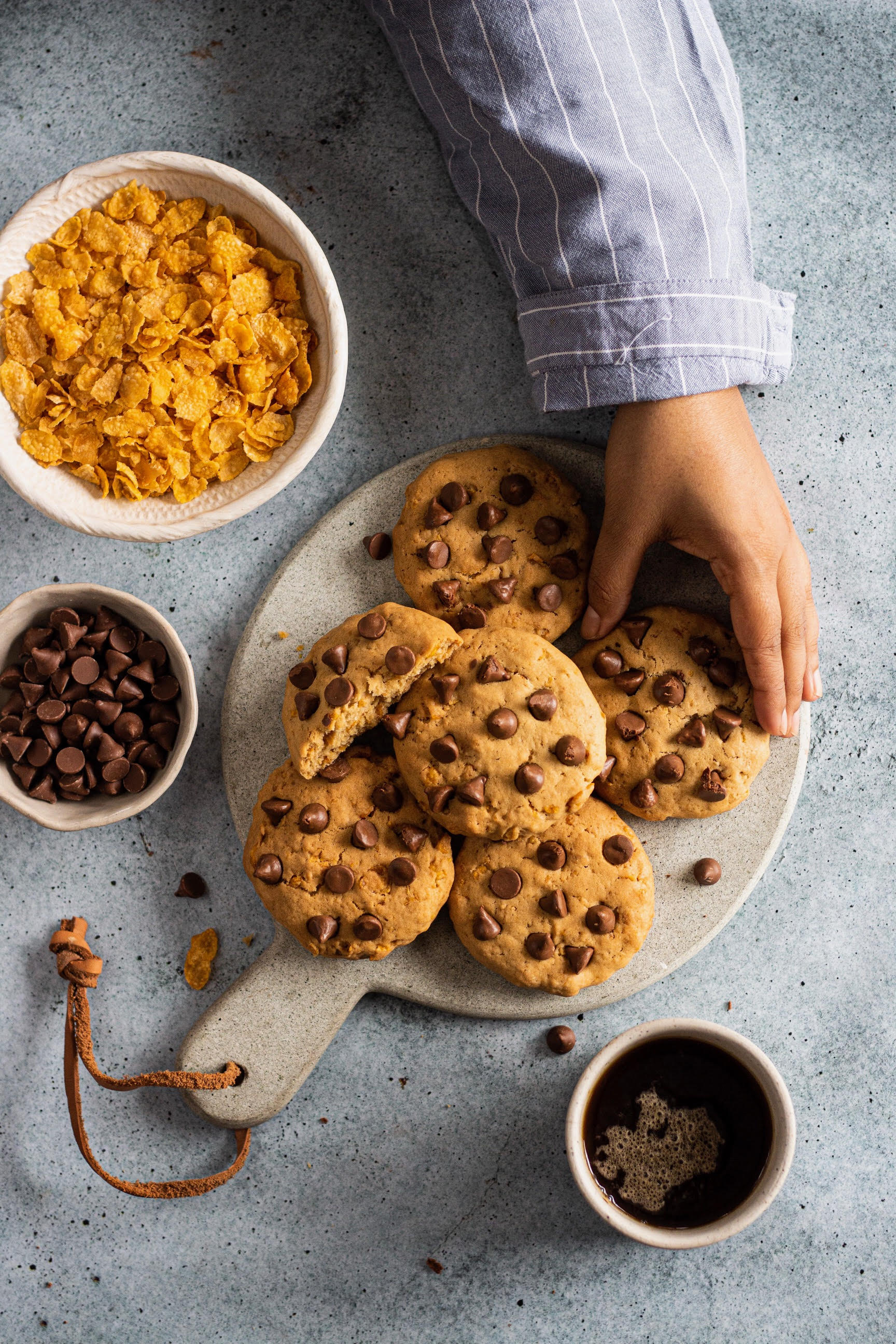 Cookie tips to never go wrong with these breakfast cookies
In addition to bringing new recipes to you guys every week, I also keep on adding Tips and Tricks articles on the blog. I do this in order to ensure that none of you find the recipes difficult and that you learn as you bake! I have a plethora of articles on getting your brownies right, your cookies right, your cakes perfect. In addition to this, I also have tips on food styling and phone photography which will help you grow your own personal blogs!
While this recipe of the breakfast cookies is not eggless, you can surely make Eggless Cookies from the blog, add in the same amount of cornflakes as mentioned below and gorge on! If you do bake these cookies, don't forget to post it on Instagram and use #bakewithshivesh.
Breakfast Cookies Recipe
Breakfast Cookies with Cornflakes
Ingredients
¾ cups all-purpose flour
¼ teaspoon baking soda
¼ cup butter, room temperature
¼ cup brown sugar
2 tablespoon castor sugar
1 teaspoon vanilla extract
1 egg
¾ cups Cornflakes
¼ chocolate chips
Instructions
In a bowl add flour and baking soda.
In a separate mixing bowl, beat butter and sugars using an electric mixer until pale and creamy.
Add in the egg and beat until combined.
Add the vanilla extract and mix.
Add Cornflakes crushing them slightly using your hands and mix in the dough until well combined.
Refrigerate the dough in the refrigerator for 30 mins to chill.
Once the dough has chilled pre heat the over at 180C
Scoop balls of dough using an ice cream scoop on place the cookie dough balls onto your prepared trays.
Flatten the dough balls slightly using your hands and top it with chocolate chips.
Bake at 180C for 15-20 minutes or until the edges become golden brown.