My readers love a good vegan recipe that is simple and easy to recreate at home. This simple vegan chocolate cake recipe is that and much more. I really wanted to give my vegan readers a recipe as well because everyone loves chocolate cake, right? This recipe uses no dairy but is as good as the other chocolate cakes. This vegan chocolate cake is flavorful and the texture is to die for. This vegan chocolate cake recipe does not call for any fancy ingredients- they're all pantry staples that we use for our usual baking. The recipe is also fairly simple. Anyone can follow through and whip up this delicious simple vegan chocolate cake.
I've made this cake on several occasions now. Especially for my cousins, who have been vegan for about three years now. They keep asking me to make vegan treats for them, which I do, once in a while. This simple vegan chocolate cake continues to be their favorite. Luckily, it's so quick and easy to make that I don't mind whipping it up now and then.
This vegan chocolate cake is
dark
rich
decadent
soft
moist
Ingredients For Simple Vegan Chocolate Cake
Staying true to it's name, this no-fuss recipe calls for very basic ingredients. Some recipes you will find on the internet will  require ingredients like apple sauce and vegan butter but that is not the case here. You only need simple kitchen staples like maida, sugar, cocoa powder, vegetable oil, vinegar, etc. I use brown sugar here because your regular white sugar is not always vegan. The brown sugar also makes the cake more moist. I use vegetable oil for this recipe. It is not only vegan but also makes the cake softer. Make sure you use a good quality cocoa powder for the cake.
How To Bake Easiest Eggless Chocolate Cake In Microwave
Looking for a vegan chocolate cake recipe for microwave?  All you have to do while baking this cake in the microwave is to reduce the baking time by 25%. So in the microwave this will only take 22-25 minutes at 180*C. Everything else remains the same.
How To Make Vegan Gluten Free Chocolate Cake
The recipe that I have shared here uses all purpose flour/ maida but you can make this a gluten free vegan chocolate cake by replacing maida with tapioca flour. I have personally not tried making  a gluten free version of this vegan cake but you should definitely give it a shot.
A lot of my readers have loved the chocolate cake recipes that I've posted here in the past and you can give these recipes a shot too:
If you bake this simple vegan chocolate cake at home, don't forget to share pictures with me by using #BAKEWITHSHIVESH. Happy Baking!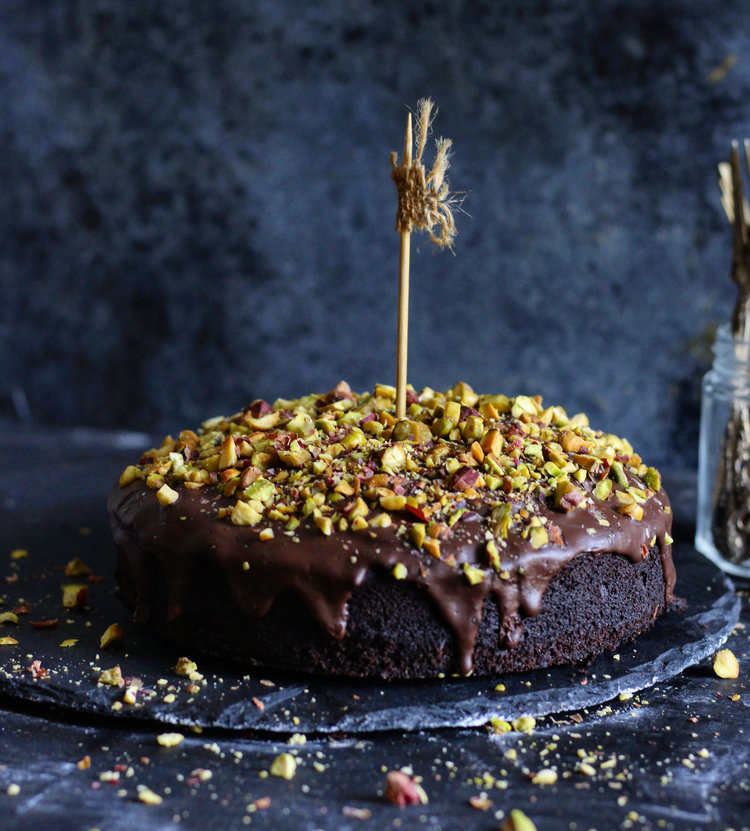 Vegan Chocolate Cake
Ingredients
2 cups all-purpose flour
1 + ½ tsp baking soda
½ tsp salt
1 + ½ tsp espresso powder
¾ cups cocoa powder
1 + ½ cups boiling hot water
1 cup organic brown sugar
¼ cup + 2 tbsp vegetable oil
1 tsp white vinegar
Instructions
PROCEDURE
Pre-heat your oven to 180*C. Line a 9" pan with parchment paper.
In a bowl, whisk together flour, baking soda,salt, espresso powder and cocoa powder
Pour the hot water into a large bowl. Add brown sugar, vegetable oil and vinegar. Mix well.
Gradually add the dry ingredients to the wet ingredients. Do not over mix- mix only until well combined and there are no flour pockets in the batter.
Pour the batter into a prepared cake tin and bake at 180*C for 30-40 minutes or until a skewer inserted into the center of the cake comes out clean.
Cover with dark chocolate, melted with one teaspoon of vegetable oil.