Vegan Chocolate Cake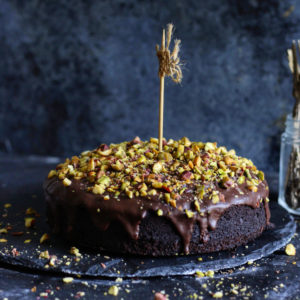 2 cups all-purpose flour
1 + ½ tsp baking soda
½ tsp salt
1 + ½ tsp espresso powder
¾ cups cocoa powder
1 + ½ cups boiling hot water
1 cup organic brown sugar
¼ cup + 2 tbsp vegetable oil
1 tsp white vinegar
PROCEDURE
Pre-heat your oven to 180*C. Line a 9" pan with parchment paper.
In a bowl, whisk together flour, baking soda,salt, espresso powder and cocoa powder
Pour the hot water into a large bowl. Add brown sugar, vegetable oil and vinegar. Mix well.
Gradually add the dry ingredients to the wet ingredients. Do not over mix- mix only until well combined and there are no flour pockets in the batter.
Pour the batter into a prepared cake tin and bake at 180*C for 30-40 minutes or until a skewer inserted into the center of the cake comes out clean.
Cover with dark chocolate, melted with one teaspoon of vegetable oil.