MORE CHOCOLATE CAKE RECIPES-
I have been making this chocolate cake for years now. It is probably the first cake I made and it is still my favourite. It is a chocolate cake after all! If you like chocolate (off course you do), you must make this back to basics chocolate cake. Warning- it is so good and so easy to make that you'll make it all the time.
My nani used to make the most delicious chocolate cake. I could never learn making it from her but this back to basics chocolate cake reminds me of her and her amazing cake. It brings back to many memories and with it the joy of the time I spent with my nani.
I usually like to cover this back to basics chocolate cake with chocolate or vanilla frosting but this time I decided to make chocolate ganache with it. This chocolate cake with chocolate ganache is a chocolate lover's delight. It only calls for two ingredients- cooking chocolate and cream. Make sure you use the best quality chocolate available. Please make sure you're not using a compound- use a real chocolate for the yummiest ganache.
Here are a few notes before you get started-
When you're combining wet and dry ingredients in the cake, make sure you do-not over-mix. Mix only until everything is well combined. If you over-mix, you will end up knocking out all the air, resulting in a dense cake.
For the ganache, I used fresh cream by Amul which is easily available in all grocery shops across India
I used milk chocolate in the ganache. You can use dark chocolate instead of milk chocolate.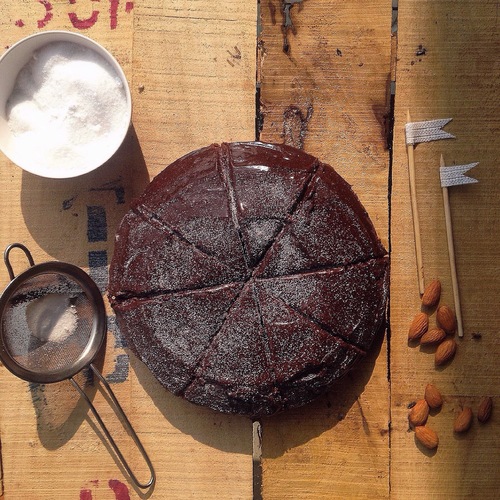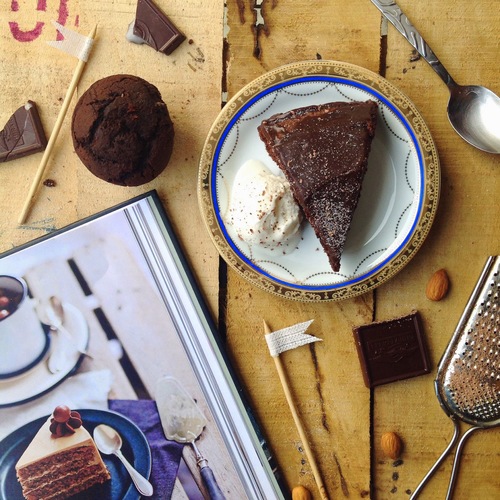 BACK TO BASICS CHOCOLATE CAKE
Ingredients
CAKE
1½ cups all purpose flour (maida) -180g
¾ cups cocoa powder - 75g
½ tsp baking soda-  3g
1 tsp baking powder- 4g
¾ cup vegetable oil -180mL
1½ cups castor sugar- 300g
2 eggs
½ tsp vanilla extract- 2.5mL
¾ cup milk + 1 teaspoon white vinegar- 180mL + 5mL
a pinch of salt
GANACHE-
1 cup cooking chocolate, coarsely chopped- 175 gm
½ cup fresh cream- 120 mL
Instructions
CAKE-
Pre-heat the oven to 180*C. Oil a 9" circular cake tin. Dust the with cocoa, tap out extra
Whisk cocoa, flour, salt, baking soda and baking powder into a bowl
In a large bowl, beat oil and sugar until the mixture is light and pale- about 3-4 miuntes.
Add eggs, one at a time and mix well after each addition
Beat in vanilla using mixer at low
Fold the flour mixture into the wet ingredients alternating with milk, starting and ending with flour mixture. Mix only until everything is well combined and there are no flour pockets in the batter.
Pour the batter into pans and bake at 180*C for 35-40 minutes or until a toothpick inserted in the center comes out clean
GANACHE-
On a double boiler with flame on medium low,cook cream and chocolate until the chocolate melts
Remove from heat and pour on the cake