'Tis the time to be jolly, friends!
If I have not already mentioned it, I absolutely love this season. Christmas is in the air the moment we touch December 1st and since then on, I can not stop but think about new, fun, and delicious recipes to bring ahead for you guys to sweeten your winters as well!
From whipping up and hogging on the yummiest of desserts to cozy winter evenings, what is there to not love about December, haha? And to make this month sweeter and yummier, I have 10 recipes that I think you guys should definitely try for the Christmas festival. I am sure in the following recipes, you can find something of your liking and I really hope you guys will love trying out the recipes!

1. Christmas Shortbread Cookies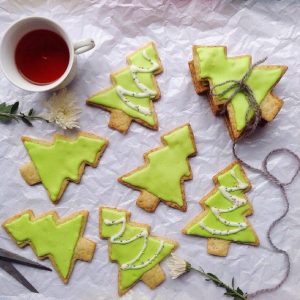 These cookies make for perfect Christmas presents that you can pack and gift. If you aren't feeling Christmas-y already, then I suggest you make these cookies.
They are super simple and require just 5 basic ingredients (psst- they are egg less). Decorating the cookies is the best part. You can gather a few friends and have a cookie decorating party- lots of cookies, lots of icing and lots of sprinkles.
Find the recipe here.
2. Christmas Punch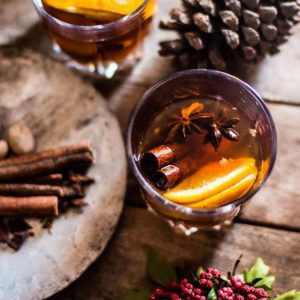 This Punch is so citrusy, warm, spiced and has the most beautiful fragrance.
Its tantalizing aromas and enchanting flavors make the Christmas punch all you need to celebrate!
Find the recipe here.
3. Orange Spice Christmas Cookies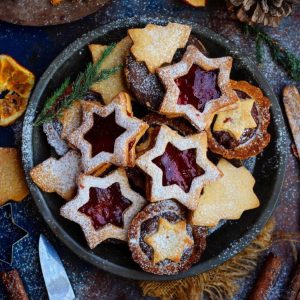 These (eggless) tea-infused cookies are perfect for the season- they are easy to make, festive and super pretty. What makes them even better is the Orange Spice. It has star anise, cinnamon, orange peel, and clove- basically all the goodness you need this winter. The notes of all these spices add so much to these simple and traditional cookies. I used whole tea leaves and simply crushed them in my cookie dough.
Find the recipe here.
4. Spiced Hot Chocolate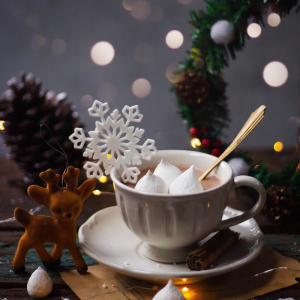 The onset of chilly winters reminds me of a warm, indulgent cup of delicious spiced hot chocolate which doesn't only render your fingertips warm but warms your soul- quite literally. As soon as there is a drop in mercury, I get this guilty craving for this spiced hot chocolate and everyone in my family loves it as well!
Find the recipe here.
5. Earl Grey Lemon Coconut Cake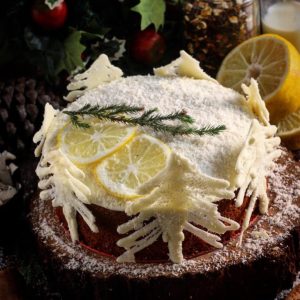 What is Christmas without a Christmas cake? I love Christmas cookies but only a cake can be the star of a Christmas dinner dessert table. This cake is light, flavorful and so Christmassy. It reminds me of a white Christmas. As most of you already know, I love lemon cakes. What makes this one special is the addition of Earl Grey Tea.
Find the recipe here.
6. Whiskey Caramel Sauce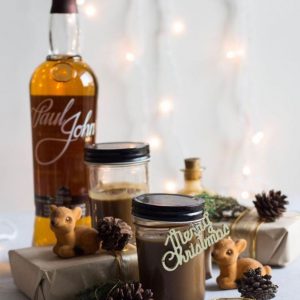 There are endless options of edible gifts that you can make but my favourite has to be a big jar of whisky infused caramel! Who doesn't love caramel? It is a fool-proof gift, has a long shelf life, it's easy to make and you can make big batches at one go. Isn't it the perfect Christmas gift?
Find the recipe here.
7. Chocolate Pies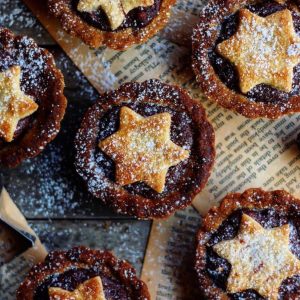 These chocolate pies are fun and festive. The flaky pie crust and the luscious chocolaty filling are a match made in heaven.
Find the recipe here.
8. Black Forest Pavlova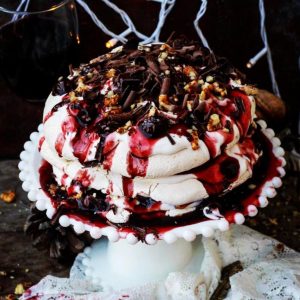 This Black Forest Pavlova has three layers of meringue, whipped cream, cherry filling, chocolate shavings, and crushed walnuts!
Merlot is a friendly wine. It is a fun, quintessential red for every noeuveu connoisseur. Its plummy smooth finish is further heightened when made from the ripe berry grown in the warmer climes of India. Merlot is easy on your palette and your mood. It goes perfectly well with this Christmas pavlova.
Find the recipe here.
9. Strawberry Jam Thumbprint Cookies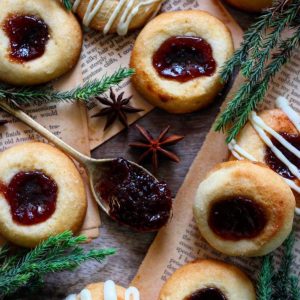 If you've started planning your Christmas baking as well, I've got the best recipe for you- thumbprint cookies! These strawberry jam thumbprint cookies are perfect for any occasion- they're easy and fun to make and super yum. I'm sure everybody will love these. Who doesn't love these simple to make but fancy looking cookies. I fill them with strawberry jam and voila! Beautiful, festive delicious cookies that are perfect for Christmas.
Find the recipe here. 
10. Quick Apple Strawberry Pie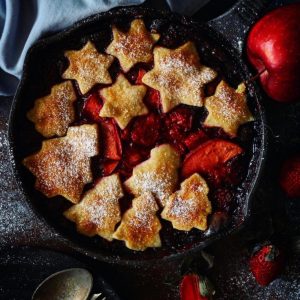 This Apple Strawberry Pie greets your mouth with a plethora of decadent textures and out of the world flavors.
It is perfect for parties, get-togethers, or just as a winter evening meal for one!
Find the recipe here.