Every year, the festive season is all about dressing up, packing up loads of gifts (and desserts), and celebrating with loved ones. However, this year we'll be celebrating in the comfort of our homes with our families and friends. This is the year when we can all bake delicious festive treats for everyone and send it across for them to devour.
I'm equally as excited for this and I've been cooking up some delicious festive treats with my team for you guys to recreate in your kitchens and enjoy! Brownies are my absolute favorite thing to bake, come any festive season. But this time, I wanted to give a traditional twist to the classic gooey, fudgy brownie. Hence came the Chikki Brownie Bites!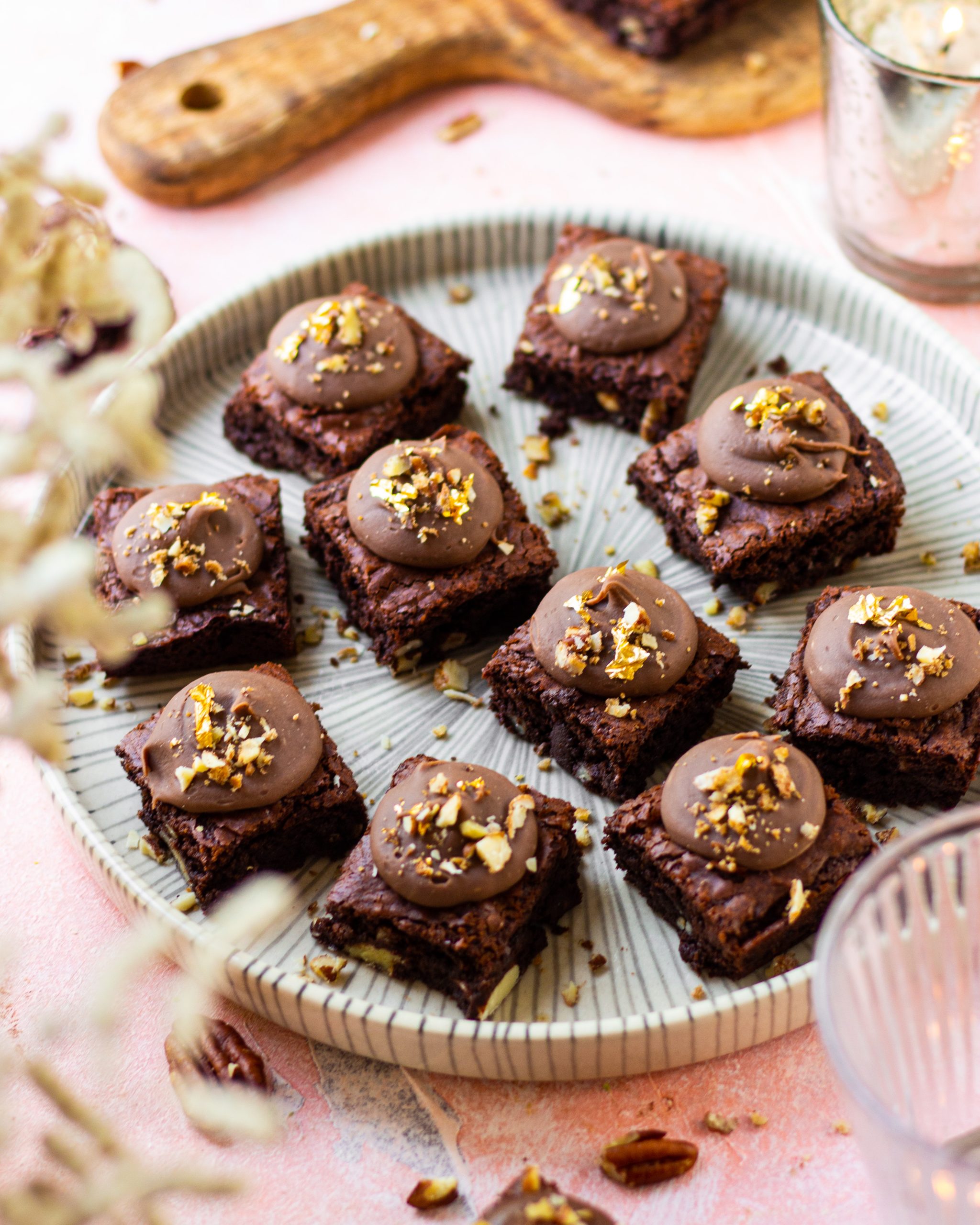 What is Chikki?
Chikki is a traditional Indian sweet generally made from nuts and jaggery/sugar. There are several different varieties of chikki in addition to the most common groundnut (peanut) chikki. Chikkis are made using a combination of ingredients. Special chikkis are made out of cashews, almonds, pistachios, and also sesame seeds. Though jaggery is the usual sweetener material, sugar is sometimes used as the base.
The preparation of chikkis consists of first preparing the hot jaggery syrup with a minimum of water. Then the nuts are added to the syrup to coat them and then transferred to a wooden mould. Then they are rolled to a thickness of about 6–8 mm using a wooden roller and placed into a steel plate for cooling, cutting into slabs, and packing. In homes, smaller quantities are hand-rolled with wooden rollers.
The festive flavors of Chikki for these Brownie Bites
There are three components of these Chikki Brownie Bites – Chikki, Brownies, and ganache. The chikki is made with some very festive flavors of jaggery and nuts. I use a mix of peanuts, pecan nuts and almonds but you can use any nuts that you have in hand. I mix the nuts with a syrup made of jaggery and water. Once it cools down and hardens, I chop it and add it to my brownie batter. I also add some jaggery separately to my brownies to give it a more festive feel!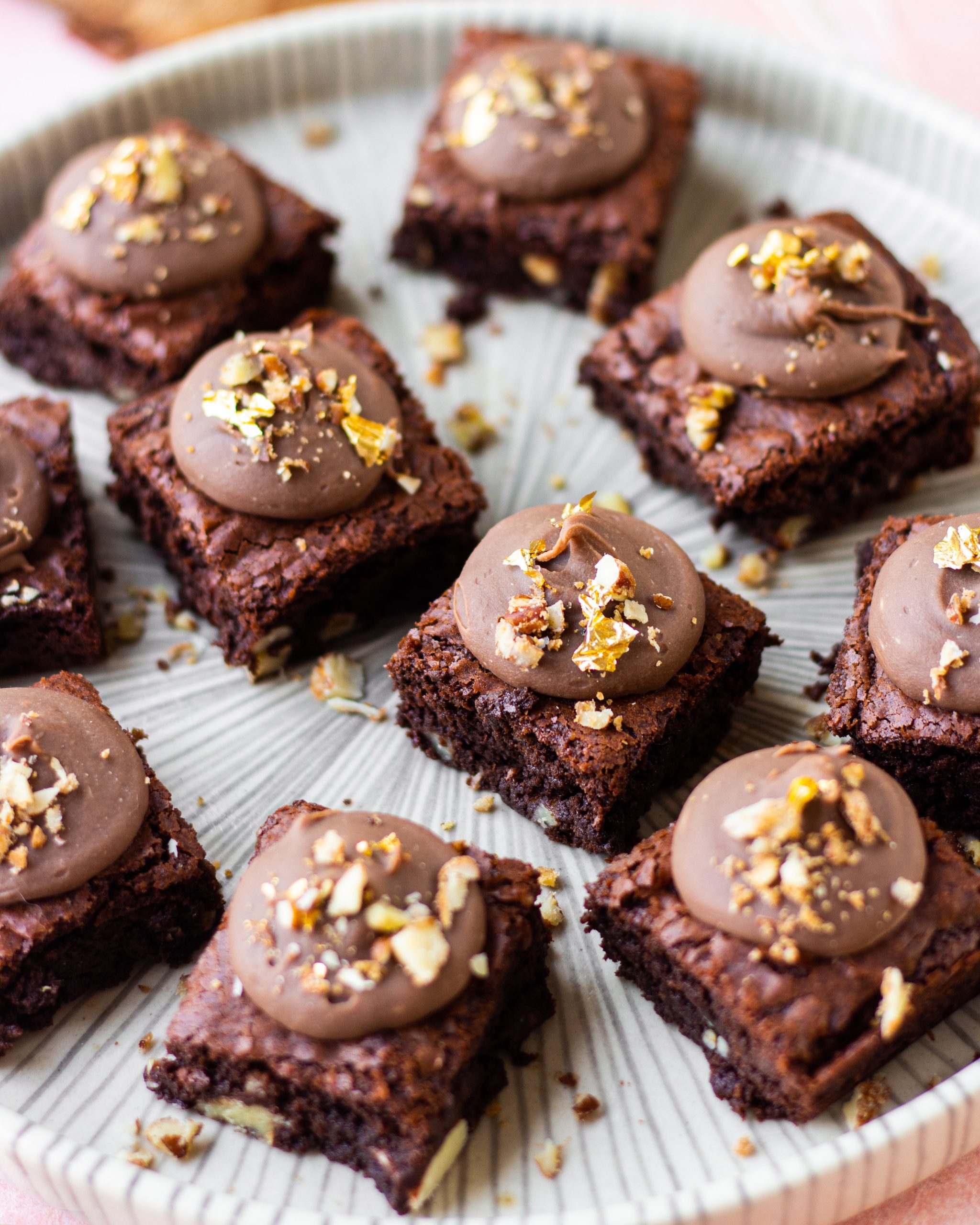 How to make Chikki Brownie Bites eggless?
While I make these Chikki Brownie Bites with egg, I understand that many of you don't consume eggs during the festive season. You can now make eggless fudgy chocolate brownies using the recipe and they're equally delicious. Just keep two things in mind- use the best quality chocolate that you can get your hands on and substitute the eggs with some Greek Yoghurt. That makes all the difference. Also, once your brownies are baking, let them cool completely before you try and slice them. They'll crumble very easily when they're still hot.
What can go wrong with brownies?
Now, all the tips and tricks articles on the website, including this one on the tips for the perfect brownies, are surely going to help you up to your dessert game to another delicious level. But first- how can one go wrong with brownies?
Using chocolate that's not of good quality is one of the very first mistakes that you can make with your brownies. The best brownies are always made with the best quality ingredients so if you can, splurge a little on the best quality chocolate you can get your hands on.
While making brownies, using granulated sugar instead of castor sugar can be a disaster as granulated sugar caramelizes on baking which will ruin the texture of your brownies. If you are using powdered sugar instead of castor sugar, make sure to sieve it before whisking away the brownie batter.
One of the most common mistakes that people make while baking brownies is overbaking them. In order to have that perfect amount of fudginess in your brownies, you need to bake it for the exact amount of time that's mentioned in the recipe so that you don't end up with hard, inedible brownies.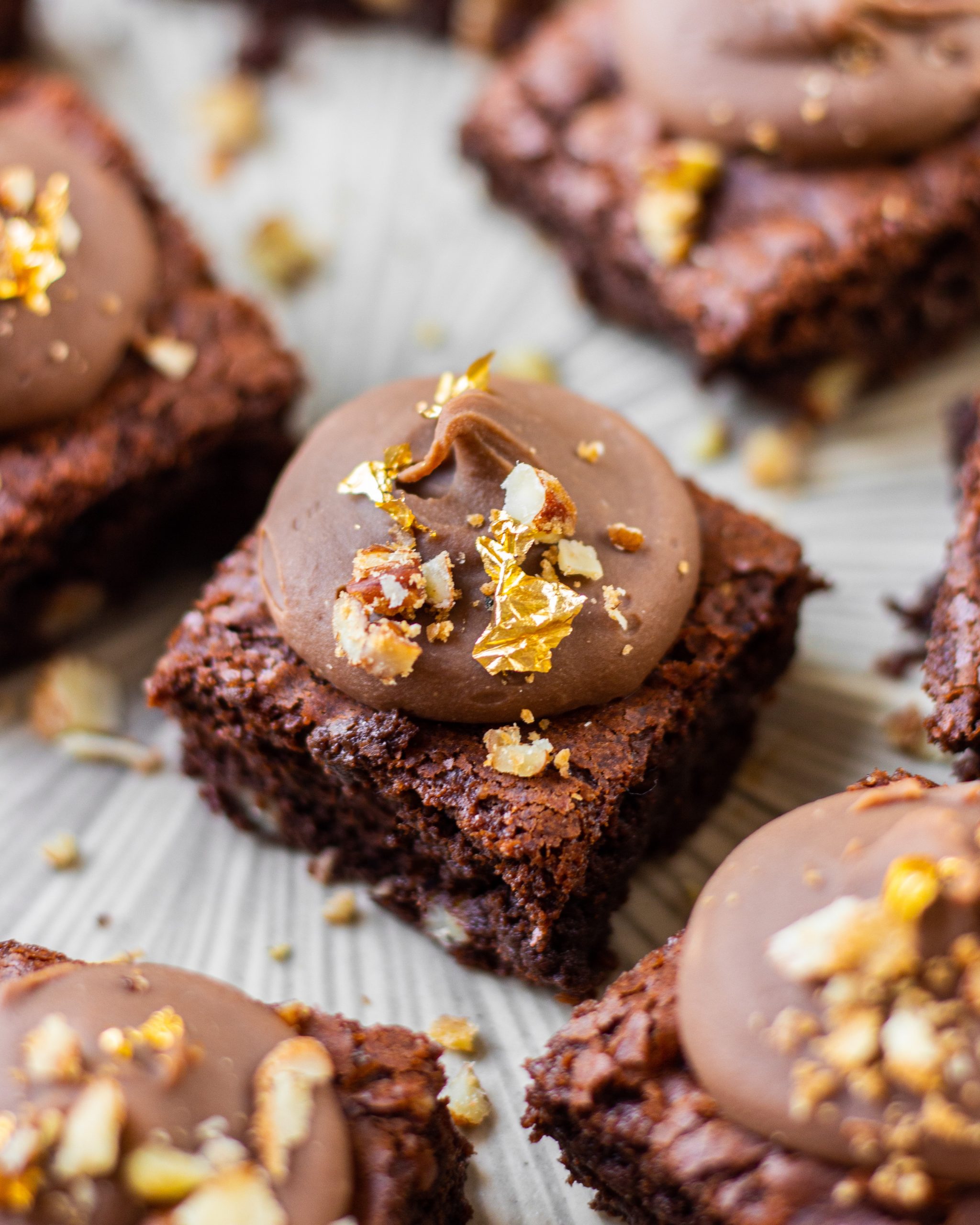 Tips for the perfect brownies
The making of a fudgy brownie requires only a few basic raw ingredients that are easily accessible- flour, fat, and sugar. It is how you use these ingredients and what you add to it that determines what comes out of your oven! These tips for the perfect brownies will only guide you to not make mistakes. They will advise you on the perfect permutations and combinations to reach your perfect brownies.
1. CHOOSING GOOD QUALITY INGREDIENTS 
Make sure to use the best quality chocolate and cocoa powder that you can get your hands on. The higher the cocoa, the more intense the flavor. When baking a perfect batch of brownies, every ingredient is important. You must always be aware of the quality of each ingredient and how it will affect your recipe.
2. SUBSTITUTING IT RIGHT
If you're making eggless brownies, you can substitute egg with Greek yogurt/ hung curd. Avoid using yogurt set at home as it has excess water which will make your brownie batter watery. Eggs act as leavening agents and also provide that gooeyness to the brownies, hence it's very important to get your substitute right, or else you'll end up with dry, cakey brownies.
3. BEATING YOUR SUGAR AND EGGS WELL
Beaten eggs are one of the keys to success when baking the perfect gooey brownies. It's very important to whisk these two ingredients well as this will help incorporate a lot of air in the batter and will ensure very soft and fudgy brownies that aren't too dense and flat. I recommend using a stand mixer, fitted with a whisk or paddle attachment or a hand-held mixer fitted with beaters or a hand-held wire whisk. When using a handheld mixer, make sure you circulate it through the mixture to ensure that no lumps are formed.
4. NO OVERBAKING/UNDERBAKING
Make sure you don't underbake or over bake your brownies because that makes all the difference. Always follow your recipe's baking time (toothpick test doesn't work here!) and bake your brownies until they're done. I usually bake my brownies for 30-35 minutes at 180 degrees Celsius and they turn out perfectly well but if you're following some other recipe, make sure you stick to 'em numbers!
Still facing issues with your brownies? Check this article on Brownie Fails and how to fix them!
Chikki Brownie Bites Recipe
Chikki Brownie Bites
Ingredients
For brownies
1 cup (175gms) dark chocolate
½ cup (113gms) butter
½ cup (100gms) caster sugar
½ cup (100gms) jaggery
2 eggs / 1 cup (285 g) Greek Yoghurt
½ cup (60gms) all purpose flour
1 tsp (4gms) baking powder
3 tbsp (22gms) cocoa powder
For gud chikki
½ cup (75gms) mixed nuts
6 tbsp(75gms) jaggery
1 + ½ tbsp (22ml) water
For Ganache
2 cups chopped chocolate
1 cup fresh cream
Instructions
In a saucepan set over medium heat, add the jaggery and water.
Let the jaggery melt and cook for about 2-3 minutes. Add in the mixed nuts and mix to make sure all the nuts are thoroughly coated in the jaggery caramel.
Carefully pour this mixture on to a silicone mat and allow to cool completely before chopping it up for the brownies.
Butter a 9x13" rectangular pan and pre-heat your oven to 180C.
In a saucepan set over low heat, melt butter and chocolate. Once melted set aside to cool.
Combine sugar, eggs and jaggery in a large bowl, using a whisk. Add the cooled chocolate mixture and mix well.
Add in the flour, cocoa powder and baking powder. Gently mix until no flour pockets remain.
Fold in the chopped chikki.
Transfer the batter to the baking dish.
Bake at 180C for 30 minutes-35 minutes. Let the brownies cool completely before cutting.
To finish it up for a feative look, pipe chocolate ganache, sprinkle some crushed chikki and add some gold foil.
If you do happen to make this recipe, do tag me on 
Instagram
and use #Bakewithshivesh. Happy festive season!