Chikki Brownie Bites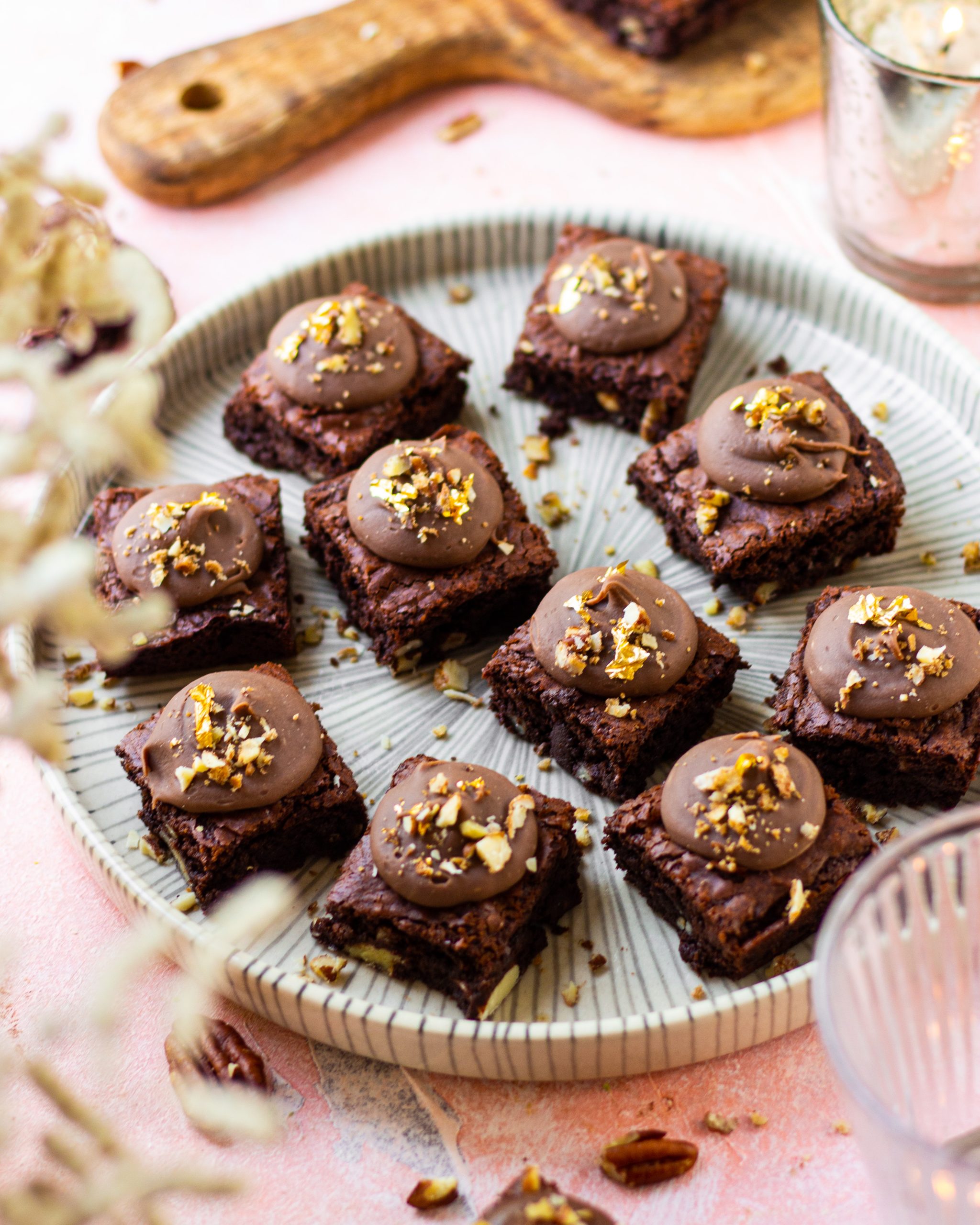 1 cup (175gms) dark chocolate
½ cup (113gms) butter
½ cup (100gms) caster sugar
½ cup (100gms) jaggery
2 eggs / 1 cup (285 g) Greek Yoghurt
½ cup (60gms) all purpose flour
1 tsp (4gms) baking powder
3 tbsp (22gms) cocoa powder
½ cup (75gms) mixed nuts
6 tbsp(75gms) jaggery
1 + ½ tbsp (22ml) water
2 cups chopped chocolate
1 cup fresh cream
In a saucepan set over medium heat, add the jaggery and water.
Let the jaggery melt and cook for about 2-3 minutes. Add in the mixed nuts and mix to make sure all the nuts are thoroughly coated in the jaggery caramel.
Carefully pour this mixture on to a silicone mat and allow to cool completely before chopping it up for the brownies.
Butter a 9x13" rectangular pan and pre-heat your oven to 180C.
In a saucepan set over low heat, melt butter and chocolate. Once melted set aside to cool.
Combine sugar, eggs and jaggery in a large bowl, using a whisk. Add the cooled chocolate mixture and mix well.
Add in the flour, cocoa powder and baking powder. Gently mix until no flour pockets remain.
Fold in the chopped chikki.
Transfer the batter to the baking dish.
Bake at 180C for 30 minutes-35 minutes. Let the brownies cool completely before cutting.
To finish it up for a feative look, pipe chocolate ganache, sprinkle some crushed chikki and add some gold foil.