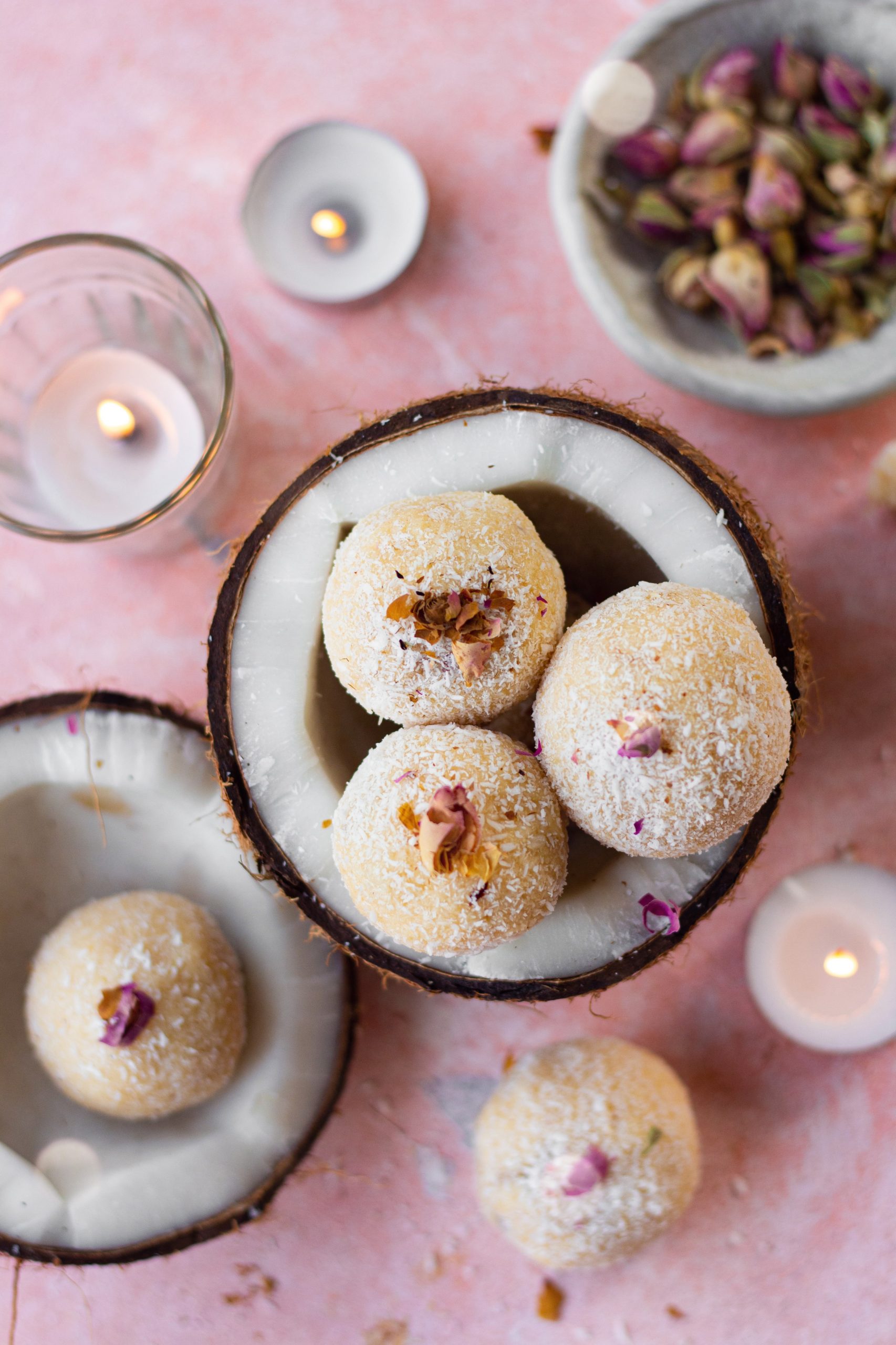 I don't think there will ever be a more appropriate time than this year to make homemade diwali treats for you, your family and of course, your friends! Just like all of you, I am really sad about not being able to celebrate like I always do but the one thing that is keeping me excited is making desserts. The recipe for these coconut laddoos is so easy, you can make them with your eyes closed. 
These coconut laddoos are the perfect coconut treat. So soft, perfectly sweet and you only need 3 ingredients to make them! You don't even need a stove or an oven or anything like that! Get your bowl and get your spatula and you are good to go!
3 ingredients for the best coconut laddoos
Just 3 basic ingredients and your absolutely decadent coconut laddoos will be ready! Let me take you through each ingredient:
Dry desiccated coconut 
Now the first thing people think of when they see shredded/desiccated coconut in a recipe is that what does it actually mean. They also think about what is the difference between the two, if any and can one be substituted for another. 
Shredded coconut is simply thin strips of coconut and this usually comes in the dry form in packages, while maintaining some amount of moisture. Desiccated coconut is much more finer in size than shredded coconut. This is not the same as coconut flour, so please do not confuse the two.
You can substitute shredded for desiccated coconut and vice versa but this also depends on recipe to recipe. The size of the coconut flakes matters only for its binding properties and whether it'll be able to hold its shape or not. For a recipe like one of these coconut laddoos, desiccated coconut is slightly better since the small and extremely fine coconut flakes will be beautifully bound into coconut balls after being mixed in with condensed milk. 
In addition to shredded and desiccated coconut, you will also find coconut flakes in the market. These are fairly big flakes and are more commonly used for garnishing. The big size of the flakes makes it really tough to incorporate them into batters and can hinder the binding stage of different mixtures and or batters. 
Condensed Milk
Condensed milk, or Milkmaid, as we very commonly call it is what brings these coconut laddoos together. I absolutely love adding condensed milk to my recipes. It is so nostalgic, and I'm a huge fan of the sweetness that they add to my recipes.
Every time I add condensed milk to a recipe, the quantity seems a bit excessive in the beginning but when the dessert comes together, the quantity of condensed milk actually fits perfectly. So if in any recipe the condensed milk seems excessive, I suggest you go along with it because reducing it's quantity will have an effect on the texture and taste of the final dessert. 
Gulkand filling for the coconut laddoos
I absolutely loved combining gulkand with the flavor of coconut and sweet condensed milk. Gulkand is actually a sweet preserve made from roses and believe it or not, it actually has a lot of health benefits!
Gulkand improves memory and eyesight, it helps relieve lethargy and it helps purify blood. So if anyone asks, these coconut laddoos filled with gulkand are totally a healthy treat, hehe. 
Don't worry about going to a special shop for purchasing gulkand. There are high chances that your local store will already have it. If however, you cannot find gulkand, you can fill the centre of these coconut laddoos with whatever you want or you can just eat them plain and simple. YUM. 
How to fill the coconut laddoos 
Filling the laddoos is just as easy as everything else in this recipe. All you need to do is take a small portion of the mixture, roll it into a rough sphere, flatten the sphere out and fill it with one teaspoon of gulkand in the middle. Once you have put the filling, then it is important to re roll the sphere in a way that all the edges are sealed and no filling is coming out.

If you want to fill these laddoos with other filling like some other fruit preserve such as raspberries or a dollop of ganache or anything like that then don't be afraid to take that ahead. Just make sure, whatever you are filling the laddoos with is something that is not too runny otherwise your laddoos won't be able to hold their shape and things will definitely get messy. 
Things to keep in mind while making coconut laddoos 
The process of making these laddoos could not be simpler. But to make sure you get the perfect laddoos, here is what you need to keep in mind: 
Use desiccated coconut because the finer coconut flakes will roll into much more stable laddoos than strips of shredded coconut. 

After mixing the coconut and condensed milk together, refrigerate the mixture for 20-20 minutes. This will help the mixture become slightly firm and your laddoos will then have a better overall structure. 

After you have filled the laddoos with gulkand, make sure to wrap it up nicely and form a smooth sphere again. This ensures the filling of the laddoo stays intact. 

If the laddoo is sticking to your hand while you're shaping it, gently rub a tiny bit of sunflower oil on your hands. This way the mixture won't keep sticking to your palms. 
This is definitely the easiest festive recipe that you can make and also the most delicious! I love seeing your pictures so make sure to tag me on my Instagram handle @shivesh17 when you make these adorable coconut laddoos. Happy baking and a very happy festive season! 

Coconut laddoos: quick diwali dessert
Ingredients
1½ cup (150gms) desiccated coconut
½ cup (150gms) condensed milk
4-5 teaspoons gulkand
Instructions
In a bowl add in desiccated coconut and condensed milk.
Mix the two till sweet condensed milk is evenly coated in between the desiccated coconut.
Cover the bowl and let it refrigerate for up to 30 minutes.
After refrigeration, portion out dough and make small spheres.
Flatten out the spheres and fill each laddoo with one teaspoon of gulkand.
Wrap up the coconut laddoo in a way that no gulkand can seep out.
Garnish the laddoos how you wish and enjoy!